Gone are the days when the only way to buy a car was to walk into a dealership with the fear of being pressured and "sold to." Customers today are much more educated—by the time they engage with a brand or dealership, they've already done price and quality comparisons and know something about financing options.
71% of buyers reported exhaustively researching and comparing vehicles online before purchase, while nearly half (45%) expect to wait until they are very or extremely certain a vehicle is a good fit before contacting a dealer. Armed with this knowledge, today's customers are in control as never before.
OEMs and dealers need to understand the entire customer journey to engage buyers at the right time and in the right manner.
One research report cited a customer journey that covered hundreds of digital touch points over several months before the customer finally leased the vehicle that met her needs. It included searches, video views, and website visits to the sites of manufacturers, dealers, and auto reviewers. And it covered moments of interest in quality, suitability for her family's needs, value, affordability, financing options, and where best to purchase. The implications for the auto industry are huge.
As a manufacturer, what do you do when your historical primary point of customer contact—the auto dealer, and therefore your chief channel to market—is no longer the only, or even primary, point of contact? And how do auto dealers succeed with their changing status?
AI-driven analytics help pinpoint where a customer's unique needs intersect with the needs of the OEM.
The customer engagement challenge
Over the past decade or so, original equipment manufacturers (OEMs) have stepped up their role in generating leads, which they then pass on to their dealers. Dealers follow up by facilitating a test drive and then, hopefully, closing the sale. But just as the leading OEMs are becoming proficient at this, the industry is rapidly changing beneath them.
To many OEMs, "selling a car" and keeping the production line flowing continues to be the main reason to generate leads—in fact, the main reason for the brand's existence. But the time is rapidly approaching when customers may still buy from a car brand, but they won't necessarily buy a car.
OEMs must find ways to proactively promote new ownership models and mobility services to loyal drivers, users, and customers.
Today's consumers want a seamless experience across all modes of interaction—physical and digital—that requires a correspondingly seamless data exchange among drivers, vehicles, dealers, and OEMs. But the majority of OEMs still separate their interactions with eCommerce purchasers— for example, from their dealers' interactions with potential drivers—even if they happen to be the same people. This needs to change if the overall driver experience is to become coherent and fluid.
So what's driving the future of lead management? Being able to manage inquiries from many sources, about many products, to many stakeholders.
Proliferating customer journeys: Anticipating and facilitating the paths customers may take drives customer engagement.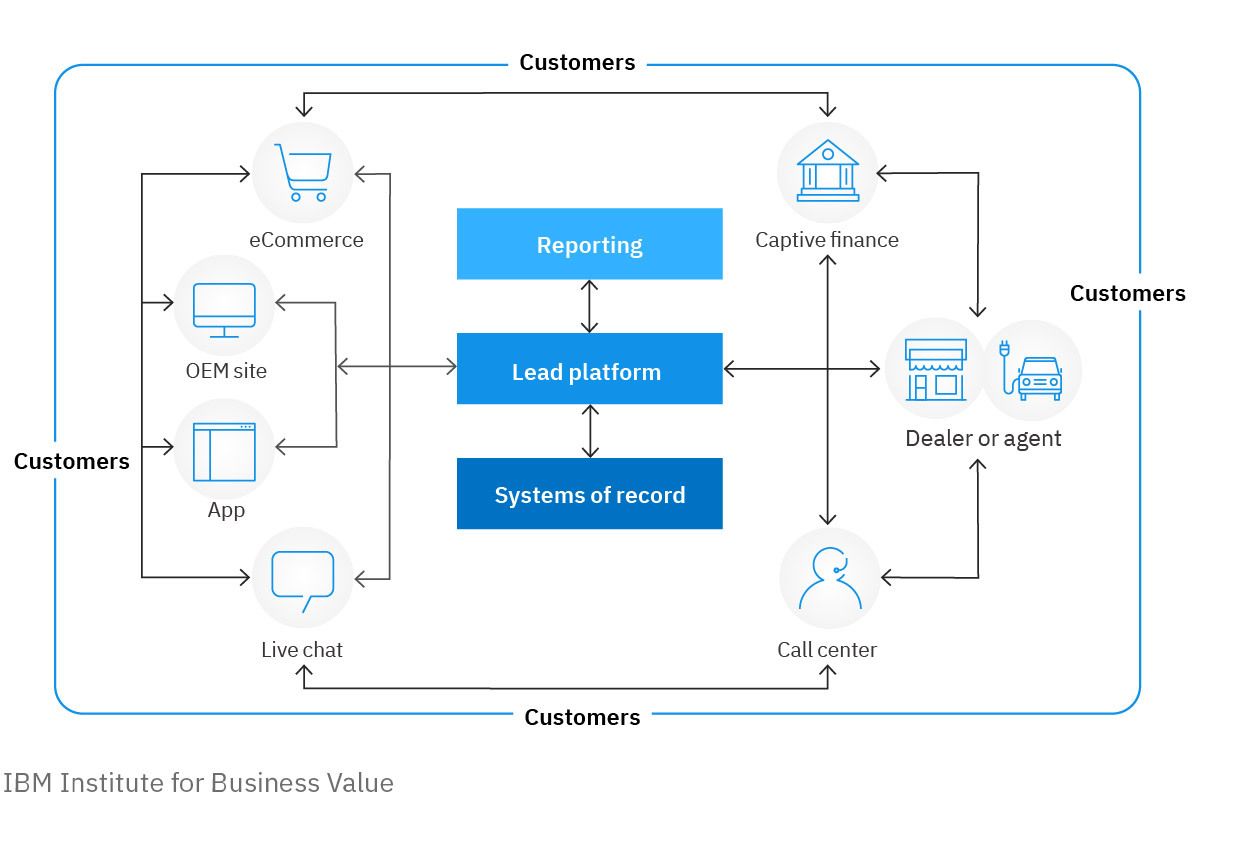 Read the full report to learn how your organization can get more from its sales leads and drive engagement throughout the customer journey.
---
---
---
Meet the authors
Russell Gowers, Associate Partner and Member, IBM Automotive Centre of Competency
Greg Hancock, Industrial Sector Lead, IBM Consulting
Noriko Suzuki, Global Automotive CoC, Industry Consultant IBM Consulting, IBM
---
Download report translations
---
Originally published 31 August 2021