Welcome to the golden age of technological innovation, where personal and organizational relationships are radically reimagined through digitization. This is an age when enterprises embrace collaboration and commerce by exponentially empowering new connections among expansive ecosystems of employees, customers and partners; digitization demands that businesses reinvent themselves within, and on the cloud; and a new Chief Information Officer (CIO) is emerging, possessing visionary thought fueled by business acuity and flexibility.
Business leaders understand that technology is key to gaining customers, market share and profitability (see Figure 1). However, to sustain customer-centric monetization models, the C-suite – especially CIOs –need to pursue opportunities that yield differentiated business value through technology.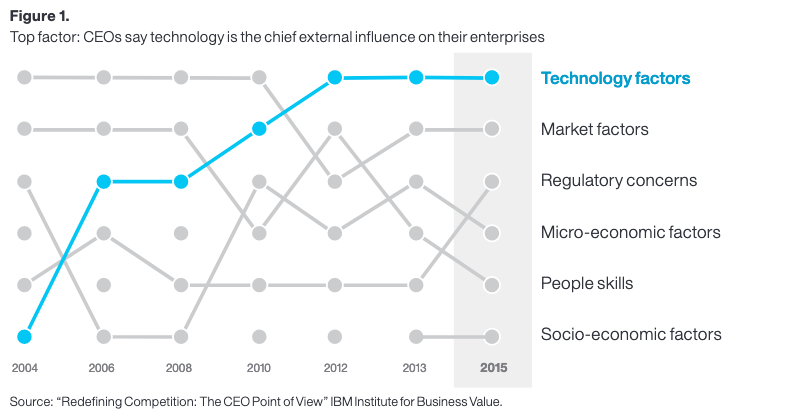 It's a new world, one in which the "I" in CIO is no longer just about "information," but also about innovation, ideation, investment and social interactions. CIOs require renewed strategic wherewithal to:
• Apply artificial intelligence to drive workload transformation within the IT organization and the business.
• Drive relevancy by building collaboration within and beyond traditional dimensions.
• Construct secure infrastructures that protect resources and assets.• Broker new ideas, anticipating future events and acting with agility.
• Broker new ideas, anticipating future events and acting with agility.
In a world where disruptive innovation is upending and unsettling the status quo, CIOs need to elevate their innovation IQ. To become smarter about driving value, CIOs should:
• Reinvent their IT organizational modelto foster and meet business demands into 2020 and beyond, especially in new digital and cognitive domains.
• Adopt "consumable" technology, moving away from proprietary thinking to tap into commercial APIs that offer greater ease of use, lower cost and greater expediency.
• Simplify IT through open standards and external talent engagement, augmenting organizational workforce proficiencies by embracing open standards, cloud technolo-gies and expanded skills.
---
---
---
Meet the authors
Michael Fitzgerald, Partner & CIO Advisory Global Leader, CIO Advisory Services
Daniel Gasparro, Associate Partner, CIO Advisory Services
Robert Murray, Partner & NA Practice Leader, CIO Advisory Services
Richard Warrick, Global Research Leader, Cloud, IBM Institute for Business Value
Anthony Marshall, Senior Research Director, IBM Institute for Business Value
---
Download report translations
---
Originally published 01 January 2016