The COVID-19 pandemic has had an extreme impact on business and economic activity—and it is only a matter of time before another risk event creates a significant disruption. Severe weather events caused by climate change, cyber-attacks that damage national infrastructure, economic instability, and political unrest are creating increasing uncertainty. And these disruptions won't wait their turn in line. They can—and often do—overlap, magnifying their untoward effects.
Such an interplay of overlapping disruptions could cause a domino effect that intensifies—and makes more difficult to predict—the economic chaos it creates. Not a very pretty picture. But in the long term, this climate of turmoil could act as a catalyst for increased innovation and, ironically, help the global economy move onto a new path that could deliver stronger growth.
From efficiency to resilience
The typical operating model over the last few decades has been focused on optimizing wherever possible to create leaner and more efficient processes and organizations. Case in point: just-in-time supply chains, where inventories are kept to a minimum and components and finished goods are delivered when and where they are needed without any margins or delays. Such an approach has served companies well in a business environment characterized by relative stability, reliable distribution channels and limited or localized disruptions. But in this new era of risk, it's time for a shift in focus to cultivate resilience, toughness, and ability to weather many different kinds of storms.
At the heart of a resilient business and operating model is innovation that makes the enterprise adaptable.
At the heart of a resilient business and operating model is innovation that makes the enterprise adaptable. These include a workforce that is able to work safely and effectively from anywhere, agile working methods embedded within every workflow, and operational business continuity throughout a company's supply chain, manufacturing, and distribution networks. Moreover, a truly resilient enterprise must be able to respond to rapidly shifting demands through active customer engagement and insight.
Scenario envisioning is the future of corporate strategy
The disruptions associated with the new enhanced risk profile of the global economy are of such a nature that traditional planning approaches will be inadequate to support corporate strategy and operations. The emphasis on current state and trends as the point from which a forward-looking perspective is developed cannot adequately capture the potential opportunities and challenges faced by companies in a more elevated and disruptive risk environment. For example, merely projecting forward from previous years' data would not have enabled you to strategize or plan for the disruption associated with COVID-19.
If current trends are no longer sufficient as a guide for future direction, it will increasingly be necessary to turn the traditional strategy process on its head. Leaders will need to start by thinking about potential future states and work backwards to understand implications for today and the best ways forward. To do so, companies need to embrace scenario envisioning.
Campanies can use scenario envisioning to plan for multiple future outlooks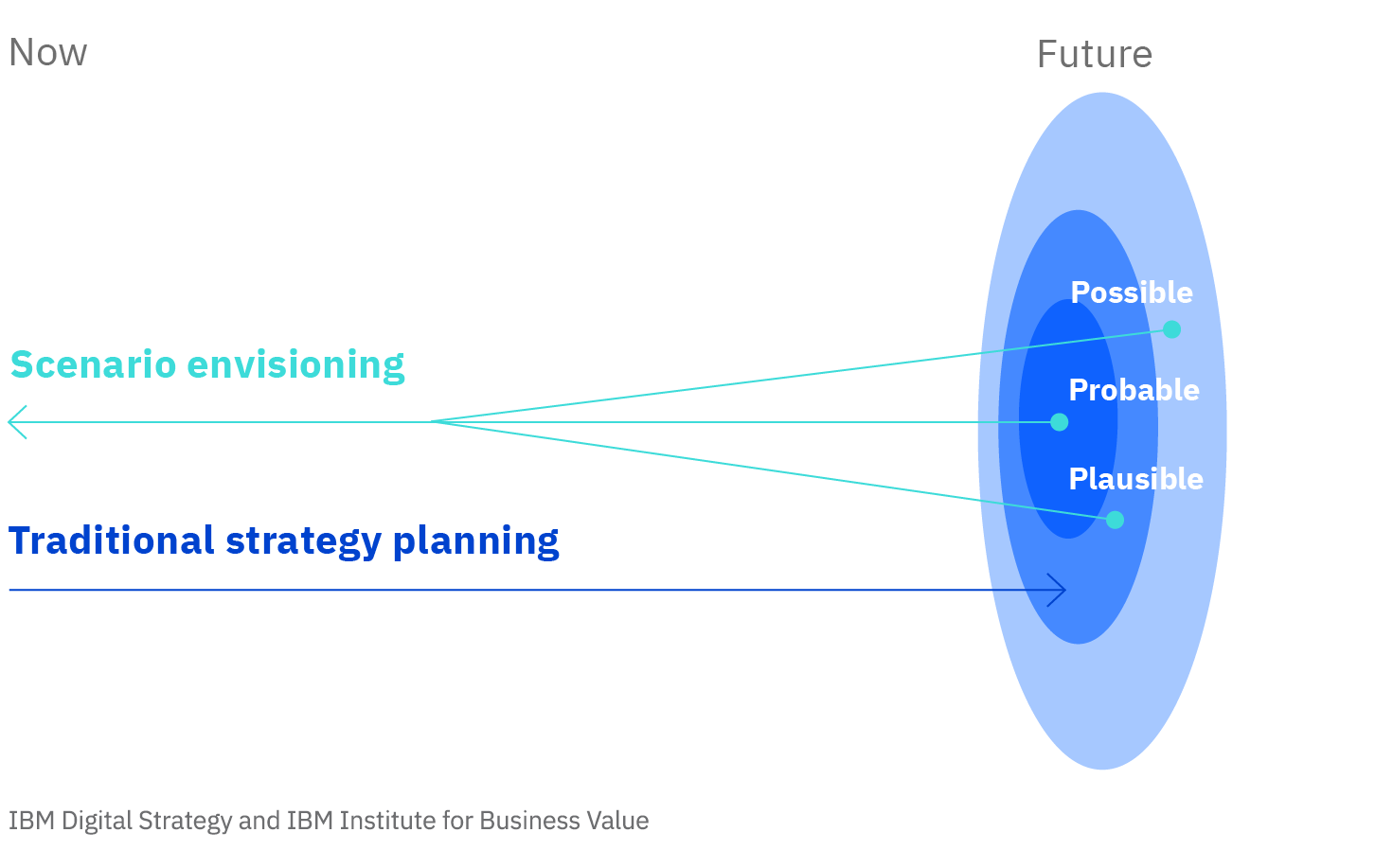 In practical terms, scenario envisioning provides a rigorous and structured framework for defining scenarios and ascertaining their potential impact on your organization. It is based on defining the key dimensions that will shape different potential future outlooks and analyzing the implications for your business in each scenario. Such an approach will enable companies to create strategies and operations that are able to thrive in different future scenarios rather than attempt to optimize within a current set of assumptions.
Learn how scenario envisioning can help companies foster resilience and navigate elevated risk is an ever-shifting environment.
---
---
---
Download report translations
---
Originally published 21 August 2020