Throughout history, shopping has involved taking a trip, planned in advance, to a favorite store for which a consumer made time. Then, the ecommerce revolution upended that predictable relationship and activity. In lieu of going to a store, people increasingly purchased goods and services online and sight unseen. Yet, it's only recently, a decade or so since the advent of the smartphone, that a fundamental change truly occurred.
Thanks to mobile technology and social media, consumers have been rewired as it pertains to shopping, and it may usher in one of the industry's biggest shifts in consumer behavior. Today's always-on consumers come highly informed with specific demands pertaining to price, ingredients, delivery options, production methods, and much more. And they shop whenever and wherever the mood strikes them, in so called "micro moments," often while doing other tasks. In other words, consumers today shop anywhere, anytime, and increasingly, any way they want.
Further, consumers are now driven by "micro-needs" that reveal their desires for specific products or attributes that conform with what they consider important or valuable. Traditionally, the industry produced and carried offerings that varied only slightly from locale to locale, largely based on macro factors such as sales volume, climate, and competitive intensity, to name a few. It's now important to offer items based on specific qualities tailored to meet consumers' demands, such as products that are certified as organic, fresh, environmentally friendly, parabens-free, and the like. Over 70 percent of respondents say they are looking for specific attributes that are important to them when choosing a brand.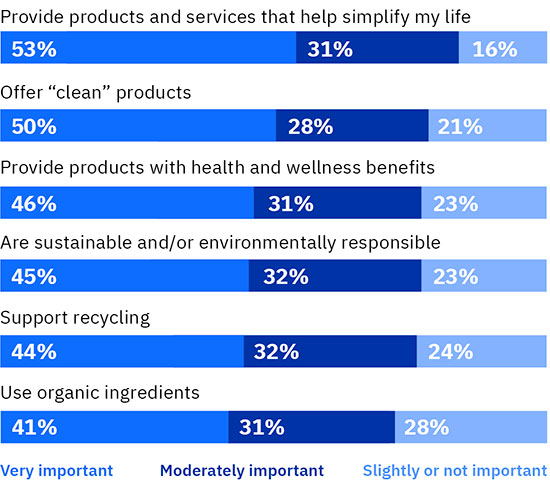 Paradoxically, as consumer shopping continues to shift toward digital touchpoints, the store is more important than ever, even as its role morphs into something new. For shoppers who crave convenience and immediacy, stores have become critical nodes in the omnichannel supply and fulfillment ecosystem. For consumers who desire experiential and/or communal shopping, stores have become showcases for them to have hands-on engagement with products and brands.
These wide-ranging requirements have radically transformed the retail and brand landscape over the past five years. To better understand how consumer preferences and priorities keep changing, as well as the resulting impacts on brands, the IBM Institute for Business Value, in association with the National Retail Federation, conducted a research study of 18,980 consumers in 28 countries. We asked about shopping habits, drivers of brand and product choice, consumption patterns, and the willingness to change behavior based on a variety of personal values and beliefs.
---
---
---
Meet the authors
Karl Haller, Partner, IBM Consulting Consumer Center of Excellence
Jim Lee, Partner, Distribution Sector, IBM Consulting
Jane Cheung, Global Consumer Industry Research Leader, IBM Institute for Business Value
---
Download report translations
---
Originally published 18 December 2019