The world has witnessed the birth of Watson within all kinds of new industries over the past few years, with it bringing new understanding to some of the world's most complex problems. I've touched on how Watson has been working to improve lives one sector at a time, although I think it's important to look to the future of a world driven by Watson.
We've seen how cognitive capabilities help us quickly sort through data and navigate problem-solving with heightened insight, but we're just getting started. From tackling obstacles in infrastructural sectors like education or transportation to curing the formerly incurable diseases, cognitive insights are moving our world forward. Problem-solving becomes more efficient, no matter the scale.
Now, we bring Watson to marketers.
Bringing Watson to customer engagement
Today, IBM's offerings serving marketing, commerce, and supply chain have embedded Watson capabilities and will be known collectively as Watson Customer Engagement. This is the new era of customer engagement – powered by cognitive technology.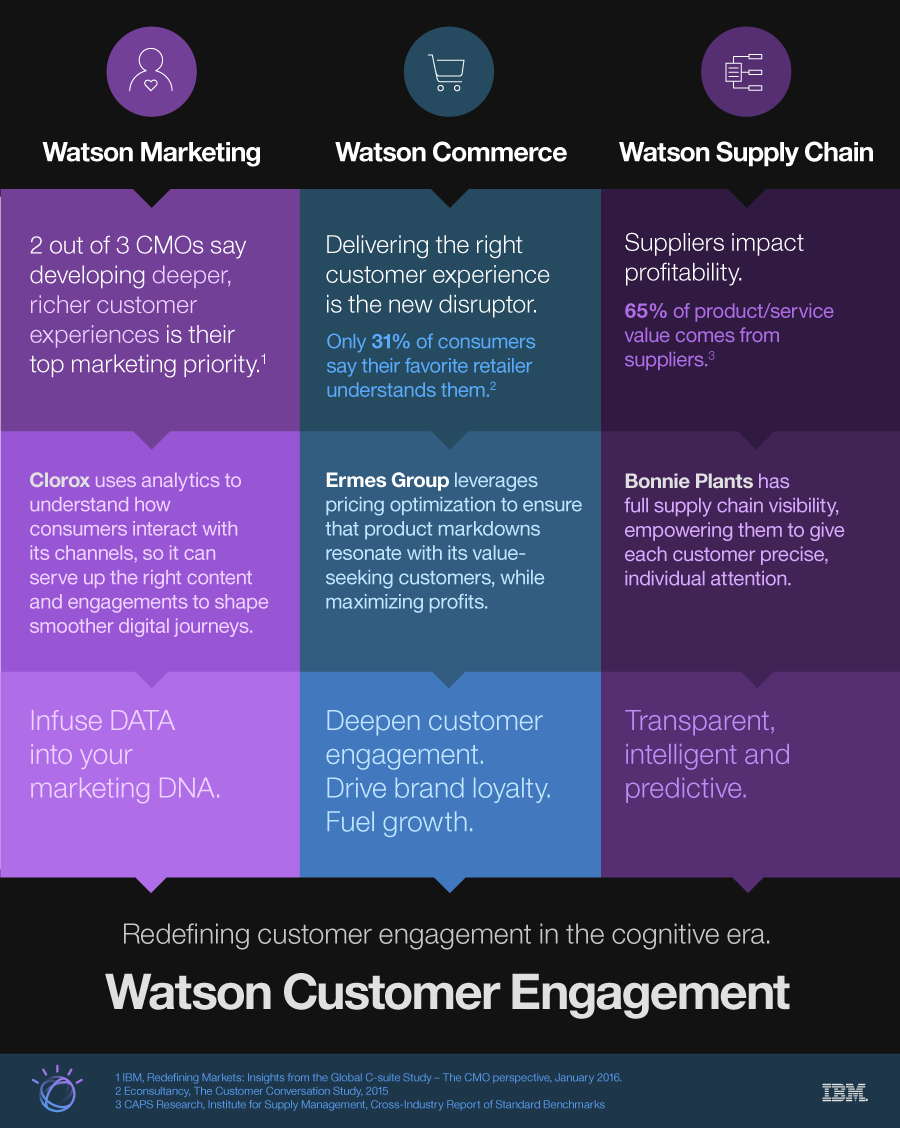 Watson Customer Engagement empowers organizations to put customers at the center of all their marketing, commerce, and supply chain activities, transforming the entire customer experience. Watson Customer Engagement features an array of new cognitive offerings including IBM Watson Customer Experience Analytics, IBM Watson Content Hub, IBM Watson Order Optimizer, and the latest, IBM Watson Commerce Insights Framework. With the power of cognitive, organizations across all industries and of all sizes can more effectively engage with their customers, gleaning insights from every touchpoint and leveraging them to deliver high-value experiences.
[Read the press release: New IBM Studies Reveal Brands Struggle to Meet Demands of Today's Consumers Including Members of Generation Z.]
Watson Customer Engagement encapsulates how we bring Watson to marketing, commerce, and supply chain practitioners. We saw this in action last year at IBM World of Watson. These three practitioners working together with Watson to become a highly competent and agile team, overcoming even the most difficult business obstacles.
Take this real-life application, for example. A storm is surging near the regional supply center of a worldwide smart watch company. This obstacle will inevitably delay product shipment for them shortly before a major launch. When the supply chain practitioner recognizes the problem, she builds a task force to assemble, promote, and ultimately sell a new product mix. The commerce practitioner was in a pinch. But with this slightly different product mix, he'll have a window of opportunity to meet upcoming revenue targets. This brings us to our marketing practitioner, who must make changes to his campaigns accordingly. He quickly responds to the revised product mix by adjusting his offerings in his nurture campaigns. With the site refreshed and these updated marketing campaigns, consumers are shifted toward this new product mix just in time.
While this vignette is just a glimpse into the future for marketers, it gives us an idea of how future teams can collaborate to improve business with the help of Watson Customer Engagement.
Marketing in the cognitive era
A new era of cognitive business is emerging, and customers expect companies to know them — really know them. Marketing in the cognitive era is about using insights in new ways to elevate the entirety of the customer experience, and building lasting connections with customers to withstand the changing dynamics of the evolving marketplace.
2/3 of CMOs regard developing deeper, richer customer experiences as their top marketing priority.1
Changing the customer experience begins with data. Consumers will readily share valuable data with companies in exchange for valuable interactions. Making sense of fragmented data — dark data — is the key differentiator between those companies which will transform data into valuable experiences and those that won't.
88% of all available data is dark to most organizations.2
In a cognitive business, marketing solutions will understand, reason, and learn from the data, serving up ever-smarter, contextual recommendations that help you create and precisely tune the entire customer experience to enhance brand value, deepen customer connections, and fuel strategic growth.
With the power of cognitive insight on your marketing team, agility takes on a whole-new meaning. Marketers can now employ more intelligent analytics that learn with them, helping them stay one step ahead of customers. Personalization is now sharper and more refined, with cognitive insights improving the quality of every interaction. Cognitive tagging keeps marketers organized, arming them with the perfect content at the perfect moment, thereby giving them more time to focus on what really matters.
The future of marketing is here. The future of marketing is Watson.
Learn more about the possibilities you can illuminate with Watson Marketing.
Unleash the power of Watson Marketing to deepen customer connections, grow brand value, and fuel strategic growth. Read the Watson Marketing Manifesto.