Brands are actively employing "Millennial" experts to develop business, product and marketing strategies to find success with younger customers. Why? Millennials are a different breed of consumer with many opting for experiencers over products. At the same time, Millennials aren't the last generation to shake the foundation of business. Behind them are Centennials aka Generation Z who represent society's first truly digital native. What they value, why and how they make decisions pushes consumerism further away from how companies sell, market and serve today. Naturally brands will also hire Centennial specialists to build bridges to younger markets. But I'd argue that's not enough.
It's not enough for brands to act "hip" or cool. That's exactly when customers see right through you.
How Millennial and now Centennial customers align with brands reflects a digital-first lifestyle that doesn't play out in today's analog-first business environment. Executives still do not live the brand the way their customers do. In fact, older executives tend to judge younger behavior rather than appreciate it. That means the decisions that are made on behalf of younger customers are done so from a detached perspective rather than one of empathy.
Brands have to dig deep to the very core of what that brand represents and invest in the very things that align it with the ideals and aspirations of their customers. This is true regardless of age. Those insights then need to inspire the reinvention of products, services and entire customer journeys and every touch point. Every day that this doesn't happen, relevance and the essence of what connects customers and community erodes. This is especially true in retail. Time and time again, customers are deciding with their wallets or ewallets. Every time they do, they create opportunities for companies to earn their business or they show laggards why they're losing relevance with evolving markets.
You Don't Even Know Me
Generation Z was born in the mid-1990s and beyond, and are estimated to be between 2 and 2.5 billion strong. And this highly connected, informed, and seemingly elusive group isn't hiding what's important to them. You just have to be willing to listen and to act.
Did you know that over 70% of 15,000 surveyed Gen Zers influence family decisions on buying furniture, household goods, and food and beverages?
This insight comes from anew report published by IBM Institute for Business Value in partnership with the National Retail Foundation, "Uniquely Generation Z: What brands should know about today's youngest consumers."
But that's just the beginning.
Gen Zers are mobile first and in some cases mobile only.
They're always on.
They practically live in Snapchat, Facebook and Instagram.
24% work part-time, 22% make money online and another 16% are self-employed (already!)
Gen Z represents $44 billion in estimated buying power.
Generation Z has almost zero patience or attention span for dated websites, slow apps or any processes where friction inherint. Remember, every app, UI and system they use is designed for how their brain works and every one of them serves as an engagement standard for which you compete against.
Gen Z Represents a New Blueprint for Retail and eTail
This is a time to re-imagine retail, both online and in store. In IBM's study with NRF, 67% of Gen Zers reported that they prefer to shop in a store, only 22% using a browserand just 13% via an app "most of the time." This may be due in part to younger Gen Zers' youth and lack of access to credit cards. But still, this is an opportunity to take insights from user experience design from the best apps and real world experiences to bridge digital and phsycial customer journeys for a new era of consumerism.
Let's start with this, Gen Zers demand highly personalized interactions, value quality over price and want to be engaged with the brand across all channels. Yet according to IBM and NRF, only 19% of retailers can provide a highly personalized digital shopping experience. It's critical that all channels emulate those that they use for everyday communication. Anything less is simply foreign or stepping back in time. A mere 17% can provide more than in stock/out of stock information on product availability. And, 84% do not offer any in-store mobile services.
So what are retailers and brands to do?
First, companies must bring not only expertise about Centennials (and Millennials) into the C-Suite, but also those decision-makers must be empathetic to their aspirations, behaviors and values. It's not enough to try to be cool or use their tools or new technologies to "fake it until you make it." You also need a constant feed of data translated into insights and action. Connected customers of all ages (I refer to them as Generation-Connected or Generation-C) want personalized, differentiated brand experiences.
One approach is cognitive experience design. For example, IBM's Watson Customer Engagement group introduced new Congnitive Engagement solutions that examines customer data and combines it with data on other critical factors such as weather patterns, pricing trends, buying behaviors, and supplier availability to deliver personalized experiences that customer demand.
Harriet Green, General Manager at IBM Watson Customer Engagement, General Manager of IBM Watson Customer Engagement, believes what will separate winners from everyone else is, "compelling personalization regardless of where the customer is."
Data science only gets us so far. Data scientists interpret data based on the standards set before them. Cognition though, has to do with how a person (or system) understands the world and in turn, defines how to behave in it. It is the set of mental abilities or processes that are part of nearly every human action. Intelligent platforms that think or try to think like the very people we're trying to understand brings us closer to more genuine, effective and perhaps, innovative engagement.
In the meantime, get to know, appreciate, and emulate Millennials, Centennials and all of Generation-C for who they are, what they love, how they behave and why and also, their desired outcomes and aspirations. Then let it all inspire you to build a new genre of experiences that are designed for them. Don't just bolt-on new things on old paradigms. That's the difference between trendy CX and strategic experience design. Only one delivers meaningful engagement and builds trust and loyalty.
Additionally, IBM and NRF offer a set of questions you can use as a checklist for developing a new roadmap to generational CX strategies:
Do you know your Gen Z customers and what they really want?
How are you changing the way your business operates to better serve these young consumers? 

What capabilities do you have in place to allow Gen Zers to individualize their brand experiences and make them their own? 

How can you leverage Gen Zers' entrepreneurial capabilities to create new revenue models and drive competitive advantage? 

How can you use transformational technologies, such as cognitive computing, the Internet of Things, "bot" technology and collaborative ecosystems, to differentiate your brand experience for Gen Zers? 

What safeguards do you have in place to counter potential data breaches and privacy threats?
How does being transparent influence your security and privacy policies?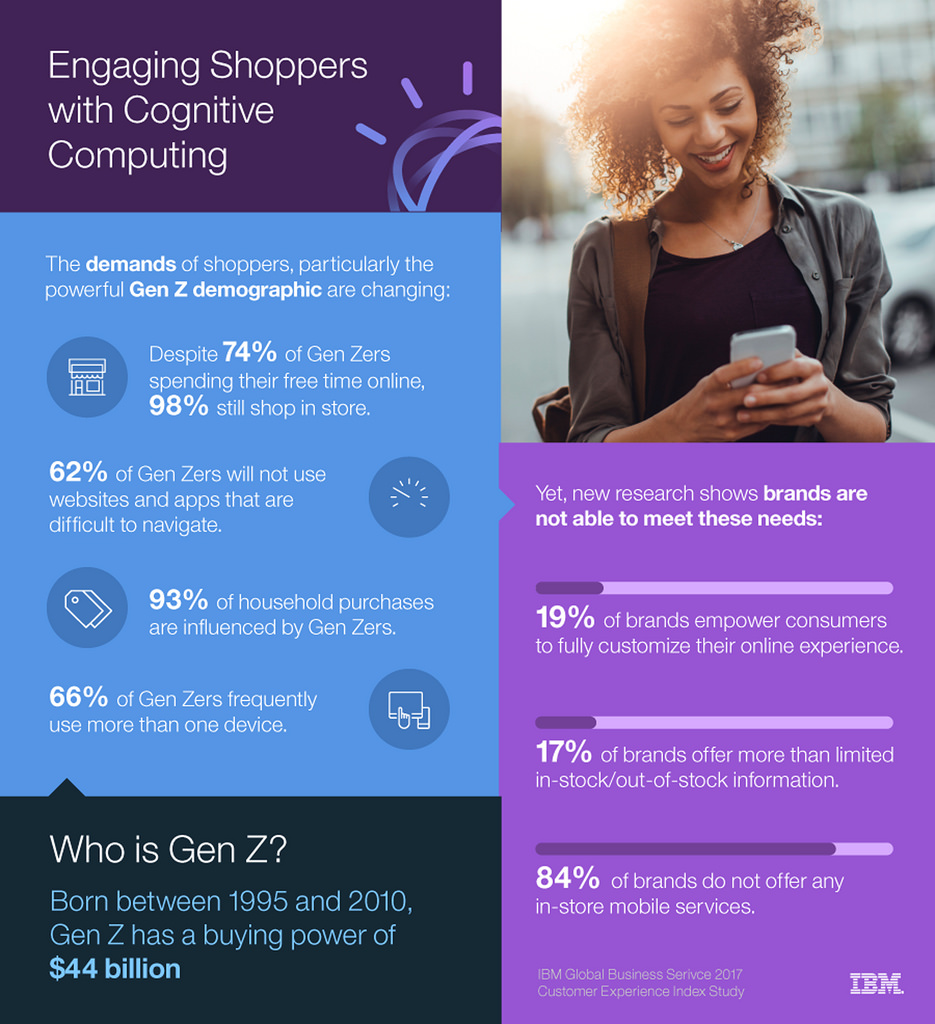 Brian Solis is principal analyst at Altimeter, a Prophet company. He is also a world renown keynote speaker and best-selling author. Please follow him on Twitter, LinkedIn and Facebook. Brian is a paid contributor to THINK Marketing.
---
Want to learn more about how your company can redefine customer engagement in the cognitive era? Register to attend Amplify 2017 in March 20-22 at the MGM Grand in Las Vegas, NV. Find out how cognitive technologies can illuminate new insights from your customer data analysis, help you deepen customer connections and fuel strategic growth.