News flash! Marketers are now focused on new customer acquisition. (I'm certain this has never, ever been noted before by your business.) When you consider the enormous amounts of time, energy, and resources brands commit to feeding the top of a conversion funnel (display ads, SEO, events, TV, radio, FSIs, etc.), it's clear that acquisition is, and will always be, a high business priority.
Unfortunately, the prevailing expectation still seems to be that prospective customers will find exactly what they're looking for the first time they visit a website and will immediately make a purchase. Just have a look at your conversion rates for first-time visitors to see how often that's true. My bet: hardly ever.
Aramark Uniform Services brought this challenge to IBM in 2016, and we identified opportunities to boost its email acquisition and subsequent engagement. One of our recommendations was to employ a lightbox pop-up opt-in form to better capitalize on new visitor traffic to the homepage. The dramatic results you're about to see for Aramark's new welcome emails represent the impact of some additional strategic changes that may strike you as surprisingly simple:

Here are the three easy steps we took to make these results possible:
Step #1: Make it obvious
The chronic issue plaguing so many brands today is that while there might be a good value proposition for opting in for promotional emails, the method for subscribing is virtually invisible.
If your email opt-in is currently sitting in the footer of your homepage or buried somewhere within site navigation, it's simply not enough to say that more prospects would connect with your brand if the email opt-in was more prominent. Those responsible for your homepage need to see results like those above (hint: you should totally share this) to justify a lightbox takeover for your email opt-in call to action.
What I love even more about what Aramark did is that it wasn't shy about the size of the lightbox – it wanted to make sure that new homepage visitors saw and understood the value proposition: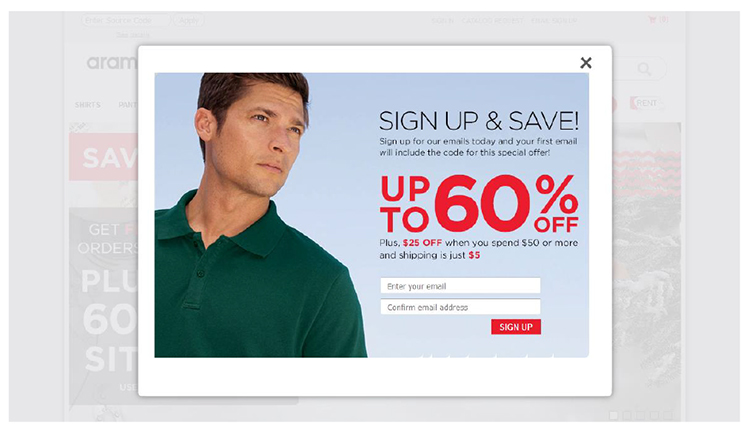 My advice to brands is to be as aggressive as you can without negatively impacting the customer experience. Here's a simple litmus test: Ask someone who's never visited your website to see how long it takes to sign up for promotional emails. If it's longer than a few seconds, your email opt-in CTA isn't conspicuous enough.
Step #2: Don't delay
Another new customer acquisition challenge that persists is the gap that stands between the website and your email marketing system. While it may seem overplayed that prospects crave instant gratification and expect a welcome email immediately, the biggest reason brands need to minimize the time from opt-in to welcome email is that you can't afford to squander a once-in-a-lifetime opportunity to make the right first impression.
A prospect who's gone through the trouble of searching, clicking through to your website, and opting in for your emails can't be described as anything other than a hot potato. With so many marketing messages competing for your contacts' attention across channels and platforms, engaging quickly is imperative.
Aramark decided to invest in not only making the email opt-in offer highly visible, but also building out the system integrations needed to speed the welcome email deployment time from up to one week from opt-in to within one day. While it's easy to say in hindsight that the investment was worth it, the business leadership bought into ensuring that those who expressed interest in Aramark were immediately rewarded.
Step #3: Make first purchase a no-brainer
The biggest credit I can give to Aramark is that it wasn't shy with its introductory offer. Free shipping? Child's play. 10 percent off your first order? Is that all that a new customer is worth to you??
Offering $25 off the first $50 order speaks volumes about not only how much Aramark wants to grow its customer base, but how much it stands behind its products and wants new customers to try and see for themselves.
Senior marketing analyst Matt Montrose, who led the Aramark charge internally, summarizes it well: "Our primary goal with the opt-in lightbox was to improve the growth rate of our 'emailable' customer base. We put a lot of emphasis on the user experience because we wanted to make it as fast and easy as possible for a customer to opt in and take advantage of the introductory offer."
Residual benefits and future considerations
While Aramark's primary objective is well on its way to being achieved, we also started noticing other benefits of this new customer acquisition approach as we dove deeper into the data. For example, Aramark is now seeing inactive customers, who hadn't recently purchased a product, reactivating. Furthermore, long-time customers from its catalog business are now trying out online ordering for the first time.
Understandably, every business has different margins and tolerances for the cost of acquiring a new customer. Weighing your average order value (AOV) and three-year customer lifetime value (LTV) will enable you to find the right offer.
Now, imagine flighting an offer like Aramark did as part of a February football event or a Facebook and display ad campaign. Perhaps a conversation for next time!
For more email tips and strategies, please check out IBM's "2016 Email Marketing Metrics Benchmark Study."