In business, you can be the disruptor or the disrupted. The me-too guy, or the visionary. Often, the difference comes down to how soon you recognize the next wave of innovation. Per IDC, we're entering the cognitive age of marketing. IDC predicts that half of all companies will use cognitive technology by 2020.
Want to learn more on what the buzz around cognitive is all about and how you can tap cognitive technology to make better decisions as you're creating and delivering customer experiences? At the Amplify conference in Las Vegas on March 20th-22nd, you'll experience, first hand, how the power of cognitive is taking marketing, commerce and supply chain transactions to the next level of performance. Here are three ways to get in on the Amplify action:
1) Attend in person
To reap the conference's full learning and networking benefits, your best bet is to attend Amplify in person, where you can explore Watson tools at the Cognitive Concourse – providing you with a full immersive experience of the power of cognitive technology. You'll be able to see, up close and personal, the latest innovations and hottest trends in improving customer experience, campaign automation, customer experience analytics and personalization, as well as digital commerce, fulfillment/order management, and store engagement.
You'll also be able to attend keynoteand trends and directions sessions as well as innovation talks that will introduce seamless offerings that connect all aspects of the journey to create unparalleled customer experiences and focus on how you can redefine your customer engagement strategies, deliver personalized experiences for your customers, and expanding your expertise – all in today's cognitive era.
Register today and we'll see you there!
2) Join the Tweetchat
Get insights from host Jay Baer and more than a half-dozen industry-leading panelists in this interactive Tweetchat about how artificial intelligence and cognitive technologies are changing the digital marketing landscape: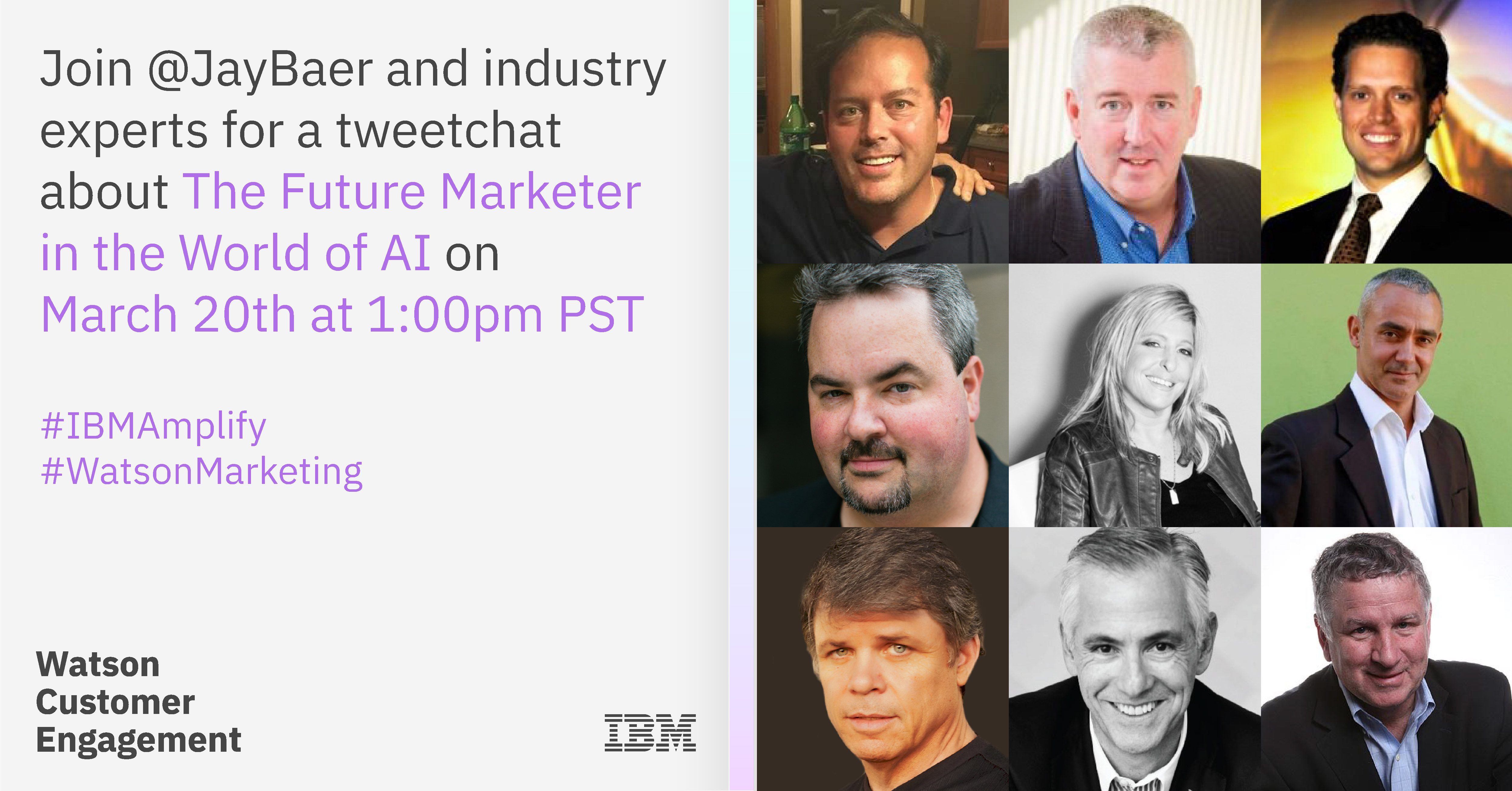 Questions will include:
1. How is #AI revolutionizing the way brands connect with customers?
2. How are brands using cognitive technology behind the scenes to create a better customer experience?
3. Man and machine unite! How can artificial intelligence help spur creative thinking?
4. What are ways cognitive technology can help make the lives of marketers easier?
5. As a consumer, how can cognitive computing help deliver what you want before you even know you want it?
6. Where are there more opportunities to leverage cognitive technology to enhance your customers' everyday lives?
7. Kids these days! How can marketers be prepared to reach the younger, more connected generations?
8. What are you most looking forward to learning at #IBMAmplify?
3) Livestream the keynote
If you can't join us in person, you can still attend some of your favorite keynotes and "Trends & Directions" sessions by registering for the Amplify 2017 livestream.
Forrester recently predicted: "2017 will be the year when businesses gain direct access to powerful customer insight via new cognitive interfaces and other AI-related tech." Well, it's 2017 and IBM has cognitive customer engagement tools ready for you. Are you and your business ready for cognitive?