"E-commerce"….How many times have you heard that word since the dawn of the consumer Internet more than 20 years ago now?
Way more than just a few times if I had to guess, though surprisingly enough there's actually still some companies that are only now getting with the program and launching e-commerce in their organizations.
My friend and past colleague, Brian Solis, calls this phenomenon, and the companies caught within it, a form of Digital Darwinism, as he so defines in the below quotation.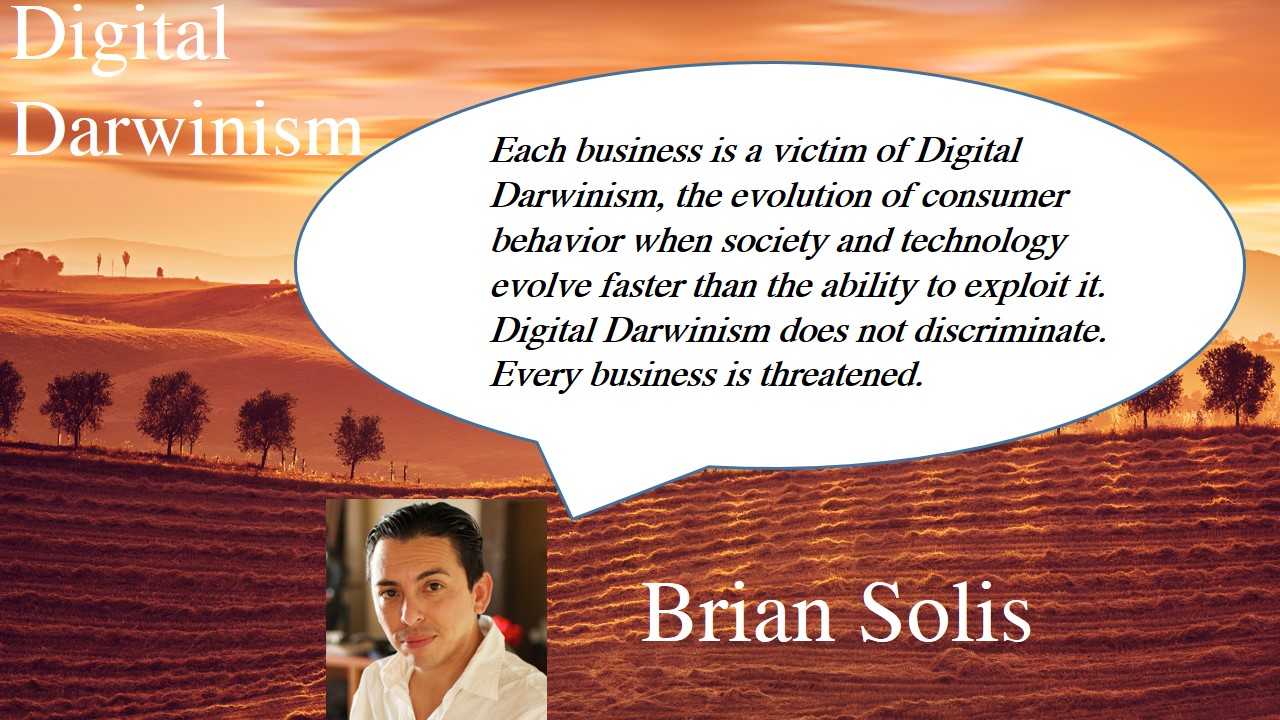 Survival of the fittest in the face of digital competition is real and continues to accelerate, fueled by rapidly advances in technology and the simple fact that just "having" an e-commerce site will not cut it.
It's better to look at this challenge as an opportunity. Companies that are proactive can choose this moment to take a more competitive view of their approach to digital marketing and the selection of new technology, instead of just waiting for Darwin's day of reckoning.
Compare this to how, recently, many later-developing countries have effectively leapfrogged developed countries with modern telecom systems. Then envision how your company might now do the same online.
For all of those other companies out there still running simple, static e-commerce sites with a basic product catalog, SEO, shopping cart, and checkout, now's definitely not the time to get complacent. The days of having just a basic e-commerce site will be over sooner than you may think!
Chief e-commerce officers and directors alike need to quickly assess and understand what's happening to the online world around them as it rapidly evolves from static e-commerce to what we're calling e-commpetition.
So just what is e-commpetition and how can we identify, embrace, implement, and fine-tune the online platforms, tools, and solutions which will allow us to effectively e-commpete and triumph?
Digital marketing is at the core of this, and just as professional athletes continuously learn, develop, and refine specific skill sets and capabilities to become the very best in their chosen sport, e-commpetitors now need to develop, roll out, and continuously improve the below technologies and skill sets.
Key Building Blocks for E-Commpetition:
1:1 Personalization
Pay more than lip service to the term personalization; take action

Source, implement, and configure B2C CRM as a first step

Utilize your CRM to better understand, personalize, and connect to your consumers through the combined approach of dialogue and outreach described below
Dynamic Website Sequencing
Is your website static? How can it be built to best configure and sequence product information and offers for each visitor based on interests, past purchases, and go-with products?

On both an individual and group level, think about site presentation utilizing segmentation to leverage your efforts over larger groups

View and optimize the customer journey for customers and visitors
Dialogue and Outreach
Think 1:1 digital marketing campaigns based on CRM knowledge, group communications, and campaign planning

Better compete with data-driven content creation and agile content management, leading to more effective and measurable content marketing programs

Drive performance with targeted email marketing, social marketing, event marketing, and mobile marketing campaigns to reach consumers in all media

Create and engage consumers through community, reviews, feedback, and chat, and combine influencer marketing, social advertising, and social listening to develop the ultimate competitive mix of social media marketing
Integrated Analytics
Integrated analytics from your e-commerce will strengthen your ability to truly e-commpete and win across key capabilities

Think of how site integrated analytics can be leveraged for both improved lead management and ongoing loyalty management as you develop and exploit fully integrated data management platforms for tag management and marketing automation
Cognitive Shopper Assist
Leverage the use of cognitive tools to help shoppers in complex selection processes. Not only will you surprise and delight customers, you will also reduce costly returns
Cognitive Merchandiser Assist
Some of the above points may sound daunting, but, through use of augmented intelligence (aka cognitive), all this data can be analyzed, managed, and actioned upon faster and more effectively, getting you results!
Today's post represents only the beginning, as the first in our upcoming e-commpetition series of posts, each digging further into better understanding and defining the emerging best practice capabilities online marketers will need to not only survive, but prosper.
And as the phenomenon of e-commpetition continues to accelerate, so will the available platforms for competition and effective components. But, as we sit today, the above list represents a great starting point to establish and begin growing your organization's skills.
Frankly speaking, selecting, developing, and implementing an e-commerce platform that's purposefully designed and wired for e-commpetition will make the coming life-or-death business battle easier for every firm. Fortunately, there's partners like IBM already pioneering in these areas, ready to assist and act as guides as you begin to build out the initial components of what will ultimately become your Matrix Retail and Endless Store solutions.
I am looking forward to further defining, developing, and sharing details on the above "Key Building Blocks for E-Commpetition." As e-commerce continues to morph into e-commpetition, I will be pleased to provide all with ongoing pointers and guidance, if you're ready to take up the challenge.
The marathon for e-commpetition supremacy has already started. Racing against the competition for sales and customers is nothing new for hardened retail merchants. But it's clear that, in the online world, e-commerce is no longer enough, and the time has come to win through e-commpetition!
One of IBM's selected Global Futurists, Jeff Ashcroft is a retail, commerce, supply chain, social, and marketing expert currently working with Tangentia. In 2007, he founded the SupplyChainNetwork.com blog and, in 2010, brought together 35 top-level Marketing Pros to create The Social SMO Blog, as well as launched MarketerMonday #MMchat. Jeff is a paid contributor to THINK Marketing.