A great thing about WOWing your customers is they will often become brand advocates and help promote your business through word of mouth marketing and social media.
The eight points below share some of the best strategies I have used to create many great customer experiences and these have undoubtedly helped my business grow.
Enjoy the post and, if you have not already, make sure to check out part 1.
1. Focus on awesome customer experiences
People are more likely than ever to share their customer experiences online so there are more reasons than ever to make your customer experience remarkable.
After delivering the most WOW worthy part of your experience ask your customers to share with their friends on social media. Offer an incentive, like a chance to win one of your products or services free, if they share their customer experience with a hashtag unique to your business.
One example of an awesome customer experience that increased my loyalty was when Audiense mailed me a custom t-shirt with my name on it, and sent me a handwritten note thanking me for working with them.
Although this probably did not cost them a ton of money it showed that they really cared and I was more than happy to post a pic showing my new shirt off to my social media audiences.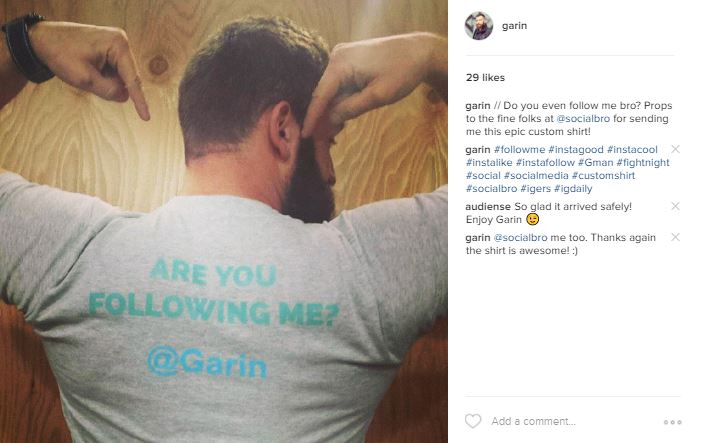 2. Make it super easy for someone to buy from you
Make it super easy for your customers to find where to buy from you and make your shopping cart super simple to use.
The fewer fields your customers have to use online, the fewer people will abandon your shopping cart, so eliminate all fields on the front end of your shopping cart that are not vital to the delivery of your product or service.
If you are selling a digital product there, is no need for you to capture your customer's billing address before the purchase is made, for example.
If you want to capture a bunch of information about your customers I recommend doing so after a commitment to purchase has been made. The easier it is for people to buy your product the more people will.
3. Offer multiple options for customers to contact you
You can't be available 24 hours a day to provide customer support, but you can implement technology that is.
Voicemail, live chat on your website (Olark is a good option), and auto respondents are three easy to use technologies that you can leverage to communicate with your customers and help them explain their situation to you even if you are sleeping or busy.
Encourage your customers and prospects to use these technologies to reach out to you and this will help you engage and help your best prospects.
Untrustworthy businesses are hard to contact, so be easy to contact by multiple methods and this will create trust that will lead to more sales.
4. Rapport is king
The more rapport you can create with your customers, the more those customers will want to continue working with you in the future.
Creating rapport can take many forms, both explicit and covert.
Explicit rapport is when you explicitly find commonalities between your customers and you.
For example, if your customer mentions they have a dog and you have a dog as well you can create a conversation about your dog that will lead to the commonality that comes with quality rapport.
Covert rapport is stealthy commonalities that create connection between two people without explicitly calling it out.
Using similar style and length in emails is one covert way that makes for ease of communication and helps create connection on an almost subconscious level.
5. Make time to chat with your customers
Rapport comes more from taking the time to get to know your customers and connect with them on a personal level than it does from obsessively focusing on the product or service you offer.
Start your emails with a question or two asking how your customers are doing. Questions are a great way to get a response, which is why they are one of the scoring components of a cool and free new plugin for Gmail called Respondable.
Respondable by Boomerang looks at factors like word count, question count, and subject length to give you an idea of how likely your email is to get a response.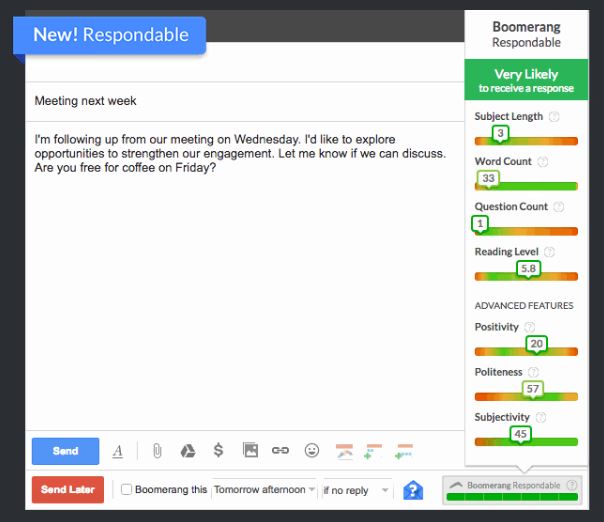 When I go to get a hair cut, for example, I'd rather not talk about my hair the whole time. I'd much rather talk about my family, a good movie I saw recently, or anything else that makes for a quality conversation.
Although I do care how my hair looks the quality of the conversation I have with my stylist matters every bit as much as the cut itself when it comes to my overall satisfaction with my experience.
Hair stylists are masters of rapport and have such strong levels rapport with their clients their customers refuse to go to anyone else: This is the level of rapport you should be aiming for.
Customers are not people you should be trying to sell to just once. They are people you should deliver WOW worthy experiences to so they decide to make it a custom to work with you again in the future.
6. Make your customers laugh
Humor is your friend when it comes to making sales.
If you can make your customers laugh they will buy plenty from you and be happy while they do.
One place to start is with self depreciating humor.
For example, I've got a huge beard and I make fun of it all the time. I tell people that my beard doubles as a habitat for squirrels, and that I have a side gig as Santa in the winter.
IBM Futurist, Branden Moskwa, does a great job of using self humor on the landing page for his web development company as you can see in this screen capture from his website below.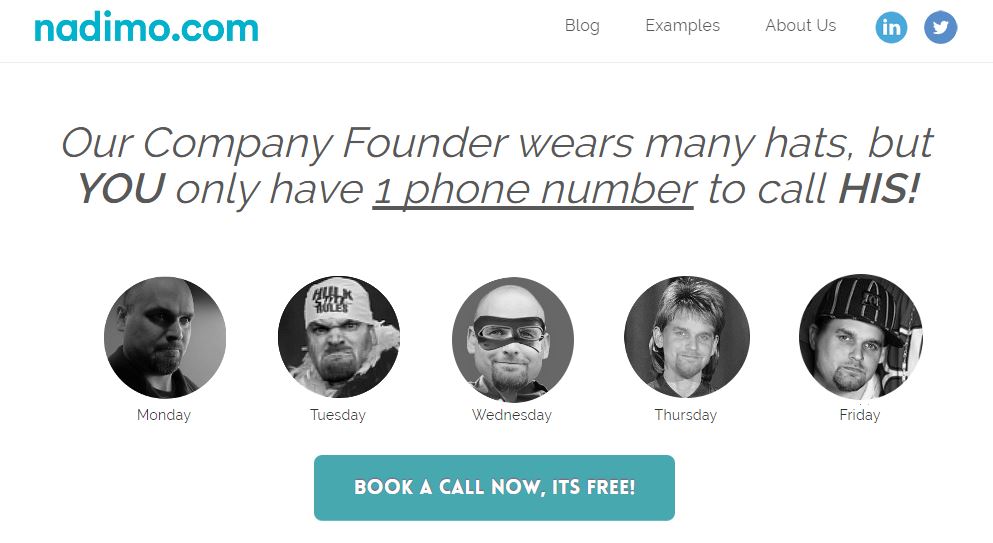 When you make fun of yourself, it's all good because of course it's not always true, and it's a great way to break the ice.
Be wary of making fun of your customers because if they take it the wrong way there's not much you can say to solve the situation.
7. Show your customers you care
It pays to pay attention to your customers. Take time to look into details like the photos your customers post on social media, if they have any pets, and anything else that could hint to what your customer is passionate about. Take the time to Google your customers and check out what they are up to and interested in online.
One of my customers posts a ton of pictures of his dog, and even has his dog on his phone case: Clearly he loves his dog. I spent as much time talking about dogs with him as I did my product and he wasted no time signing when I presented my offer. I doubt if he would have had the same enthusiasm to do business if we just spent all of our time talking about my product.
8. End on a high note
When it's time to say goodbye to your customer go the extra mile to make the ending of your experience with them a positive one.
If your customer is with you in person don't just say goodbye to them at your desk. Walk them to the door and get the door for them. This is called the Grandma Goodbye. If you combine it with a follow up thank you text or video message that's 100% "WOW" worthy.
Taking the time to go the extra mile and caring enough about your customers to do what most other marketers won't will get you the kind of customer loyalty and brand advocates that most marketers can only dream of.
What do you do to make your customers say "WOW" about your business and create an awesome customer experience?
Garin is a Web Developer, Marketing Strategist, Growth Hacker, Bodybuilder, and Entrepreneur from Toronto who loves the hustle. You can find him @Garin on Twitter & Instagram.
Garin is a paid contributor to THINK Marketing.