Technical Blog Post
Abstract
Using the PlantsByWebSphere sample Application to generate APM data for monitoring.
Body
So you've installed the APM v814 Base or Advanced software on your WAS server and want to monitor the server, but don't have an Application ready yet to put some load on.   You can use the PlantsByWebSphere sample application that comes with WAS 7.x or higher (WAS 8.x, WAS 8.5.x, WAS 9) to generate some load on the server and then view the data in your APM v814 console. 
Note that when you first install WAS v8.x onwards, the  PlantsByWebSphere sample application does not come installed by default.  You have to install the sample applications (which will install the jar file), but you will then need to actually deploy the sample application in your WAS admin console before you begin to use it.   Here is a detailed technote with screenshots that show the actual steps on how to install, deploy and use the PlantsByWebSphere sample application.  In addition to the PlantsByWebSphere sample application, WebSphere also installs other sample applications if you chose to install them during the WebSphere software install itself.
Once you've deployed the sample applications, you can bring up the application in your browser and run some sample transactions on it.  (If you want to automate traffic load, you can use the Robotic Rational scripts and generate some load.)  Once you've generated some manual or automated traffic, you can then go back to your APM console and observe the data in few minutes.  High-light your monitored WAS instance on the APM console (bottom left panel) and you should see the data show up on the APM right panels.  Usually the data appears in about five minutes, please see my screenshot below for an example of how it looks.  Once you have your own Applications deployed, you can also put load on your regular applications and then see its data in the APM console.  Here is how it looks for the PlantsByWebSphere application with a script generating automated traffic on the monitored WAS server.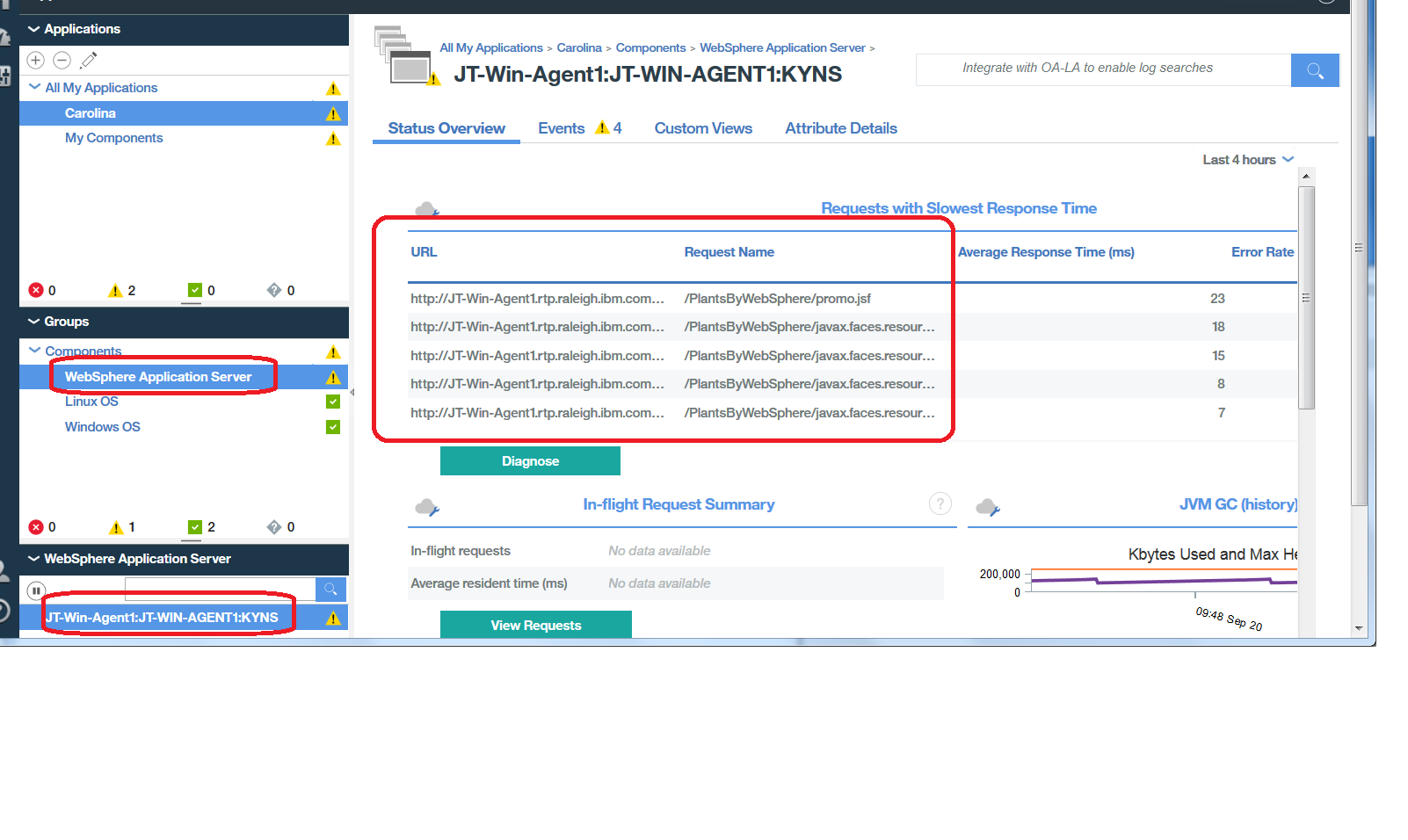 Good luck.

Noel Lewis
ITCAM / APM / ICAM L2 Support team
Subscribe and follow us for all the latest information directly on your social feeds:
[{"Business Unit":{"code":"BU053","label":"Cloud & Data Platform"},"Product":{"code":"","label":""},"Component":"","Platform":[{"code":"","label":""}],"Version":"","Edition":"","Line of Business":{"code":"","label":""}}]