Troubleshooting
Problem
Attempts to generate a report fails with "Report Generation Fail, Review the report data source configuration" from within IBM Rational Requirements Composer (RRC) / IBM DOORS Next Generation (DNG)
Symptom
When you configure template in Rational Publishing Engine (REP) and generate a report in RPE everything works and the report is generated.
After deploying the report into RRC and generating it in the RRC reporting interface it fails:


Report Generation Fail, Review the report data source configuration

Cause
The issue here is that the Data Source Schema name used in the template ("RRC") does not match to any of the data source schemas provided by DNG.


Environment
This example is for a report in RRC/DNG but it would be the same for any part of Collaborative Lifecycle Management (CLM).
Diagnosing The Problem
In both these cases both reports will generate a report correctly from the RPE interface. Once you integrate the report into RRC/DNG or any part of CLM and try to generate the report it will fail.
Resolving The Problem
The definition for the Data Source schemas for RRC/DNG is defined in Rational Requirements Composer data sources.

This is the way that DNG expose information in order RPE is able to use it as an input. Data Source Schema names used in the RPE template needs to match with the ones provided by DNG.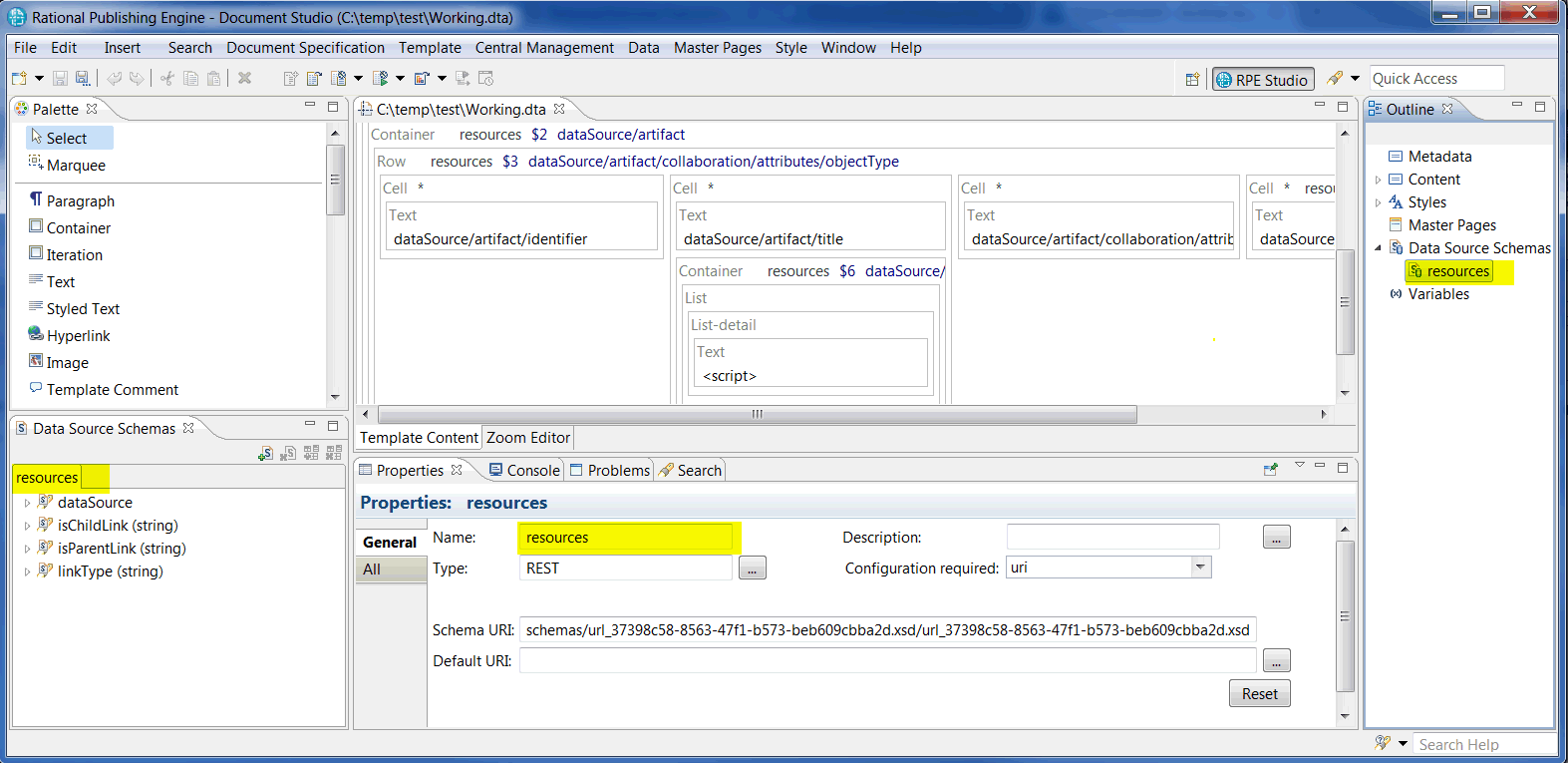 Related Information
[{"Product":{"code":"SSWMEQ","label":"Rational Requirements Composer"},"Business Unit":{"code":"BU059","label":"IBM Software w\/o TPS"},"Component":"Reporting","Platform":[{"code":"PF016","label":"Linux"},{"code":"PF033","label":"Windows"}],"Version":"4.0.4;4.0.5;4.0.6;4.0.7","Edition":"","Line of Business":{"code":"LOB02","label":"AI Applications"}}]
Document Information
Modified date:
16 June 2018