How To
Summary
Learn about the IBM Power Systems in particular the Power10 server range presented as Infographics.
Objective

Environment
If you need more information, then read the IBM Redbooks and Announcement Letters on these Servers:
 
Redbooks:
Latest Power performance numbers:
IBM Power Performance Report, POWER7 to Power10, 12 July 2022 
Announcements:
These slides are now available as a YouTube video:
31 minutes long and briefly covering each subsection.
Other Power10 videos from the author: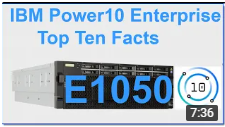 Power10 Enterprise E1050 - up to 96 CPU cores and 16 TB memory
Power10 Scale-out E1024 with many pictures externals and internal and parts removed
Power10 Scale-out E1024 with live hand-held video
---
Download the Power Infographics PowerPoint presentation
:
These slides are the authors opinions and not IBM statements. All errors are mine.
Check all details in the Redbooks, which are more carefully proofread and edited by a larger team.
Send feedback, corrections, and questions to my email at the end of this article.
You are welcome to use the slides and replace my name with yours.
Hopefully, you are saying positive things about these amazing new Power10 servers.
Version 20, 5 August 2022 PowerPoint file. Check back here for updates.
Steps
Additional Information
---
If you find errors or missing information, then email me:
Subject:

Power10 Infographics

Email:

nag@uk.ibm.com
[{"Business Unit":{"code":"BU058","label":"IBM Infrastructure w\/TPS"},"Product":{"code":"SWG10","label":"AIX"},"Component":"","Platform":[{"code":"PF002","label":"AIX"}],"Version":"All Versions","Edition":"","Line of Business":{"code":"LOB08","label":"Cognitive Systems"}},{"Business Unit":{"code":"BU054","label":"Systems w\/TPS"},"Product":{"code":"HW1W1","label":"Power -\u003EPowerLinux"},"Component":"","Platform":[{"code":"PF016","label":"Linux"}],"Version":"All Versions","Edition":"","Line of Business":{"code":"","label":""}},{"Business Unit":{"code":"BU058","label":"IBM Infrastructure w\/TPS"},"Product":{"code":"SWG60","label":"IBM i"},"Component":"","Platform":[{"code":"PF012","label":"IBM i"}],"Version":"All Versions","Edition":"","Line of Business":{"code":"LOB57","label":"Power"}}]
Document Information
Modified date:
05 August 2022