How To
Summary
Chatbot is a question-and-answer system that provides a dialog interaction between you and the system. The responses to your Chatbot inquiries are typically links to relevant product content from a variety of sources including the IBM Knowledge Center, articles written by technical support engineers, plus more.
Objective
How to access Chatbot
You can access Chatbot from the QRadar SIEM product support page by clicking the blue Chat with Support button at the bottom, right of the page. It is also available from your Cases page. 
Note: You do not need to be signed in to use Chatbot unless you ask to open a case. 
How to interact with Chatbot
After pushing the button, a chat dialog will open. Enter your question, using keywords or phrases, then push the Send button or press Enter on your keyboard.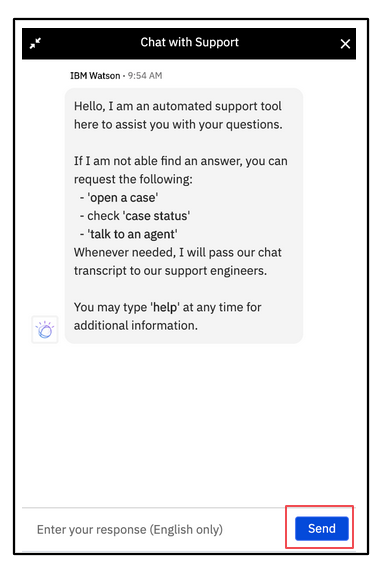 For example, enter "what device supported modules are available?" and Chatbot will return potential answer(s).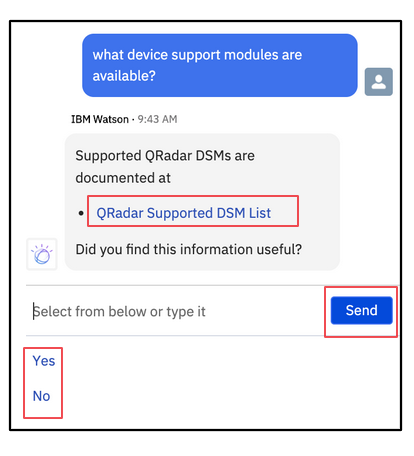 View the information by clicking on the link.
Help Chatbot learn by clicking or typing Yes or No to indicate if the response was helpful. If you answer No, Chatbot will dig deeper by requesting further details or presenting you with categories and other answers to select from. 
Chatbot's knowledge grows daily, so make sure to check back frequently.
[{"Business Unit":{"code":"BU059","label":"IBM Software w\/o TPS"},"Product":{"code":"SSBQAC","label":"IBM Security QRadar SIEM"},"Component":"","Platform":[],"Version":"All Versions","Edition":"","Line of Business":{"code":"LOB24","label":"Security Software"}}]
Document Information
Modified date:
06 May 2019