News
Abstract
IBM MaaS360 customers who use Certificate Pinning need to ensure apps installed on iOS and Android need to upgrade to latest store app before certificate rotation by 6 July 2022.
Content
Summary: 
Customers who have certificate pinning enabled are requested to upgrade their agent versions to the latest Google Play Store and Apple App Store versions of the MaaS360 App at the earliest opportunity. Upgrading to the latest version will avoid impact to enrolled devices with certain iOS and Android MaaS360 app versions.
Affected Versions:
MaaS360 App for Android version 7.70, 7.71, 7.75

MaaS360 App for iOS versions 4.20 to 4.92
Reason:
Due to the change in intermediate certificate issues by our certificate authority, the certificate bundled with our agent requires an update. This issue is resolved in the later versions of the agents.
Action:
For customers with devices with the installed App versions listed in the 'Affected Versions' section and have SSL Certificate Pinning enabled, the devices need to upgrade to the latest version of App in the Google or Apple App Store. 
Impact:
The affected devices with App version listed in the 'Affected Versions' section that is not upgraded to latest App version will stop communicated to the MaaS360 portal.  Fixing device will require the device to be uninstalled and re-enrolled to the MaaS360 app. 
How to know if customer is using Certificate Pinning?
Log in to the MaaS360 Administrator Portal
Navigate to Setup> Settings >
Select 'Advanced Settings'
Scroll down to bottom
If box 'SSL Certificate Pinning' is selected, then Certificate Pinning is enabled.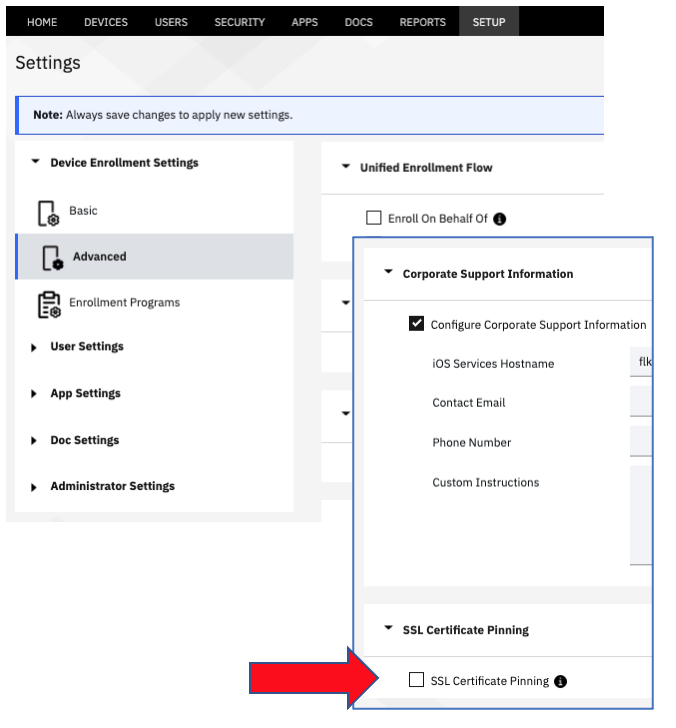 How to find devices with app version with possible impact?
Log in to the MaaS360 Administrator Portal
Go to advanced search and search for Versions listed in section 'Affected Versions'
[{"Type":"MASTER","Line of Business":{"code":"LOB24","label":"Security Software"},"Business Unit":{"code":"BU059","label":"IBM Software w\/o TPS"},"Product":{"code":"SSYSXX","label":"IBM MaaS360"},"ARM Category":[{"code":"a8m0z00000006zaAAA","label":"APPS"}],"Platform":[{"code":"PF025","label":"Platform Independent"}],"Version":"All Versions"}]
Document Information
Modified date:
09 June 2022