Notification
Risk classification
Informational
Subcategories for Informational notifications
Troubleshooting & Fixes
Affected Domain
Any TS4500 and TS7700 with call home functionality enabled
Abstract
The TSSC/IMC client configuration information configured for call home must be matching the Cognitive Support Platform (CSP) profile information.
Description
When call home is being enabled on TSSC/IMC, client contact information is configured per client requirements.
With the introduction of the Cognitive Support Platform (CSP), any incoming call home record is matched against a client profile within CSP.
It is vital that the client information comprised of Business Name, Phone Number and possibly Email Address as configured within TSSC/IMC, matches what is present within the CSP client profile.
Recommended Action
The client contact information as configured on TSSC/IMC can be reviewed and modified by the client or alternatively IBM support as follows:
After login to TSSC/IMC access the "
Call Home Settings
" menu: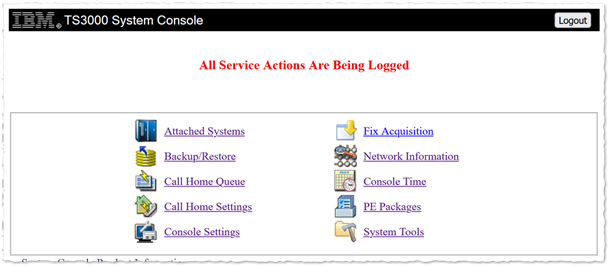 From here access the "
Location Settings
":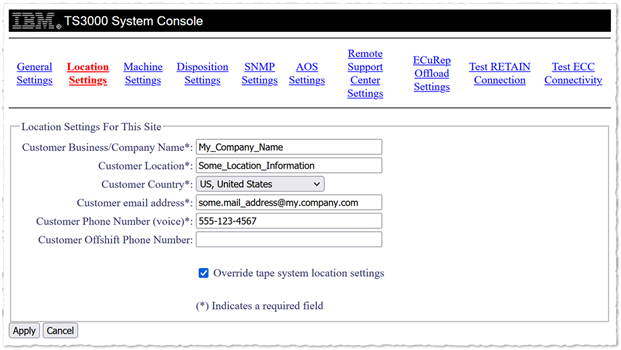 The "
Customer Business/Company Name
", the "
Customer Phone Number (voice)
" and possibly the "
Customer email address
" must match the client profile within CSP: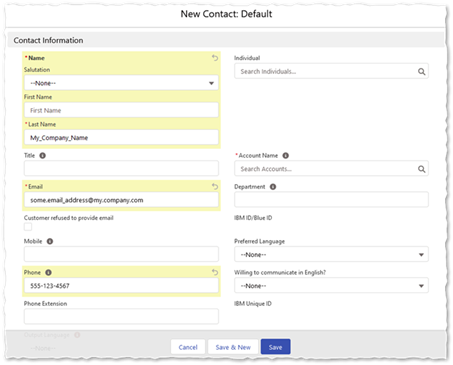 For a proper profile match to occur the following rules apply:
The Customer Name must match verbatim
Either the Phone Number or the Email Address must match in addition to the Customer Name

The Phone Number doesn't take in account any non-numeric values as they may be present for entries such as:
555-123-4567 Opt2
555-123-4567 x9876
Ideally no such additional values are present but rather only the actual phone number, here 555-123-4567
The Email Address option requires a minimum TSSC/IMC code level of v9.2.11 to be installed
Some clients are currently using the Customer Name field to describe the specific machine such as:
Here "

NA

" may refer to this system to be located in North America, "

H1234

" the systems Serial Number and "

DC5

" a reference to a Data Center 5.
In such case the result would be the need of specific CSP profiles for each individual system, which may become cumbersome when a larger number of systems is deployed, each requiring their own corresponding CSP client profile.
To simplify CSP registration for such systems, a TSSC/IMC improvement is pending, allowing multiple strings separated by a blank/space character.

With the pending TSSC/IMC improvement, the second string "

Desired_Profile_Value

" is what needs to match the CSP client profile, allowing for a single CSP profile to be used for multiple systems.
"
Customer Business/Company Name
" separated into First Name / Last Name fields in CSP client profile: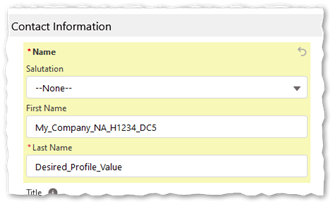 Date first published
12 August 2021
[{"Risk Classification":"Informational","Line of Business":{"code":"","label":""},"Business Unit":{"code":"BU054","label":"Systems w\/TPS"},"Product":{"code":"STFS69","label":"TS7700"},"ARM Category":[],"Platform":[{"code":"PF025","label":"Platform Independent"}],"Version":"All Versions"},{"Risk Classification":"Informational","Line of Business":{"code":"","label":""},"Business Unit":{"code":"BU054","label":"Systems w\/TPS"},"Product":{"code":"STQRQ9","label":"TS4500 Tape Library (3584)"},"ARM Category":[],"Platform":[{"code":"PF025","label":"Platform Independent"}],"Version":"All Versions"}]
Document Information
Modified date:
01 December 2021