How To
Summary
This document explains how you can subscribe to receive notifications whenever new versions of a software product are released and its associated KB articles updated.
Objective
To keep you informed about new releases, updates, patches, alerts about critical issues, KB articles, and other changes to the software products you select.
Announcements and KB articles are generally associated with specific products. For this reason, if you sign up for notifications for a particular product, you receive notifications whenever KB articles and announcements about that product are added or updated.
Steps
Follow these steps to sign up:
 
Go to the IBM Support Community web page:
         

https://www.ibm.com/mysupport/s/

Sign in with your IBMid.
 
Click Go to My Notifications.

 
 
Click Delivery preferences

 
When the Delivery preferences window appears, select your delivery options for email, frequency, and so on. Then, click Submit.


To subscribe to notifications, enter the name of the product you want to be notified about, or click Browse for a product.


If you enter "Aspera", you get a list of all products whose names include that string (that is, all Aspera products).  If you enter "Aspera o", you get a list of all products whose names have the word "Aspera" followed by a space and "o". (The search is not case sensitive.) For example:


 
When the list of products appears, click Subscribe for each product you want notifications for. 
 
When you click Subscribe, the Select document types dialog appears. From this dialog, you can choose which document types you want to be notified about for this product. All boxes are checked by default. Clear the checkboxes for doc types you don't want to receive.  Then, click Submit.


Once you subscribe to a product, the product name has a check mark, and the text is green with an option to unsubscribe.
To receive notifications for other products, repeat these steps for each product.
Additional Information
Under
Product Subscriptions
 is a listing of the products you subscribed to.  To see what notifications you receive, click the 
View
link next to the product. You can also edit which document types you want to receive for this product, and click
Unsubscribe
to discontinue receiving notifications for it.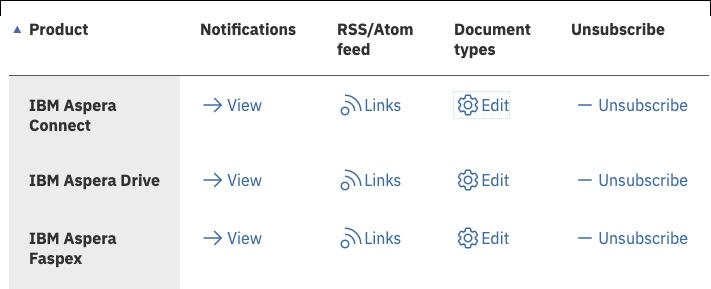 If you decide later you prefer not to receive notifications, you can edit your delivery preferences and clear the box for Send notifications via email.
 
Related Information
[{"Business Unit":{"code":"BU053","label":"Cloud & Data Platform"},"Product":{"code":"SS8NDZ","label":"IBM Aspera"},"Component":"","Platform":[{"code":"PF025","label":"Platform Independent"}],"Version":"ANY","Edition":"","Line of Business":{"code":"","label":""}}]
Document Information
Modified date:
02 April 2020