Detailed System Requirements
Abstract
The following table provides links to high-level or detailed system requirements that are sorted by type, operating system, or component.
Content
Open the detailed system requirements to see complete descriptions of hardware requirements, supported operating systems, prerequisites, and optional supported software.

The detailed reports provide information about the minimum product and maintenance levels that must be installed before opening a problem report with IBM Software Support for IBM Watson Explorer.

The following links provide information specific to the Foundational Components, Analytical Components, and Content Analytics Studio. After you open a report, you can specify filters and generate new reports to include or exclude different types of requirements. To specify report filters while you view system requirements, expand Report filters, click Edit, select the components that you want to learn about, and then click Apply. The following example produces a report that contains information about the web browsers that are supported by the Foundational Components and Analytical Components.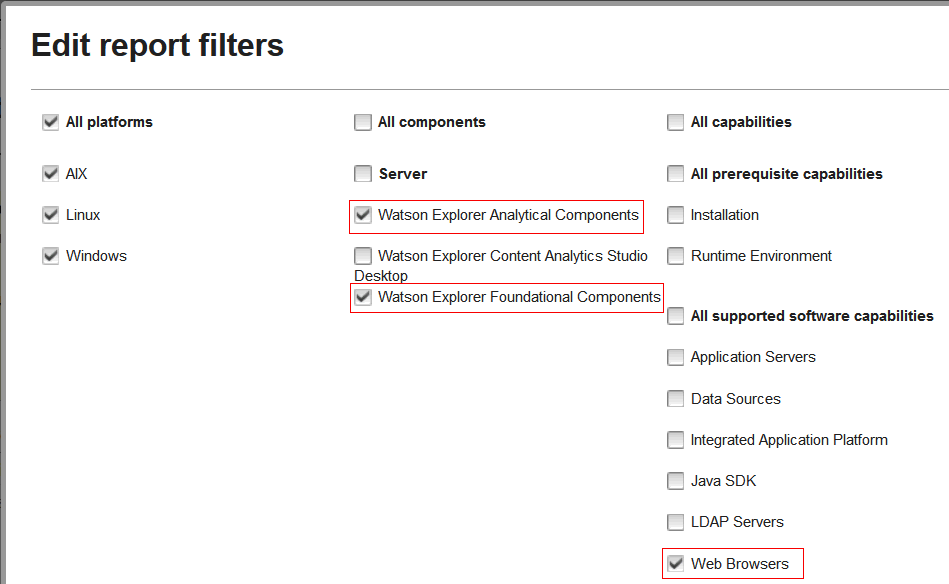 Compatibility reports are available for all software products
See the IBM software product compatibility reports for information about supported operating systems, system requirements, and optional supported software for any IBM product.
---
---
Watson Explorer Version 12.0.3
System Requirements for oneWEX
System Requirements for Foundational Components
System Requirements for Analytical Components
Related requirements
System Requirements for Content Analytics Studio
---
Watson Explorer Version 12.0.2
System Requirements for oneWEX
System Requirements for Foundational Components
System Requirements for Analytical Components
Related requirements
System Requirements for Content Analytics Studio
---
Watson Explorer Version 12.0.1
System Requirements for oneWEX
System Requirements for Foundational Components
System Requirements for Analytical Components
Related requirements
System Requirements for Content Analytics Studio
---
Watson Explorer Version 12.0.0
System Requirements for oneWEX
System Requirements for Foundational Components
System Requirements for Analytical Components
Related requirements
System Requirements for Content Analytics Studio
Original Publication Date
26 February 2018
[{"Business Unit":{"code":"BU053","label":"Cloud & Data Platform"},"Product":{"code":"SS8NLW","label":"IBM Watson Explorer"},"Component":"--","Platform":[{"code":"PF016","label":"Linux"},{"code":"PF033","label":"Windows"}],"Version":"12.0.0;12.0.1;12.0.2;12.0.3","Edition":"","Line of Business":{"code":"LOB10","label":"Data and AI"}}]
Document Information
Modified date:
16 July 2019