Question & Answer
Question
How do I upgrade my copy of IBM Security Secret Server?
Answer
IMPORTANT: If you are upgrading to 10.7.000000, note that using SQL Server 2008 R2 as the database for Secret Server is no longer supported. For more information, see the release notes.
How upgrades work
Secret Server periodically polls the update server to detect new updates. If the 'Allow Automatic Checks for Software Updates' option is enabled in the Admin | Configuration menu, you will see the 'An update is available (xx.x.xxxxxx)' link after logging in with an administrator account. 

Use the following steps to upgrade versions 10.5 and higher.
Before you begin
You must have access to account credentials for the server that is hosting Secret Server AND the SQL Server instance hosting your Secret Server database.
Have a recent backup of the application files and database available.
If you use clustering, stop the application pools on all of the servers except the one that is currently the "primary."
How to upgrade
From a computer that has outbound network access, click on the upgrade link to go to: 
http://
yourinstance
/Setup/Home
. If your computer does not have outbound network access, see 
Upgrading Secret Server without outbound access.
Select 
Secret Server Upgrade Available 
to continue.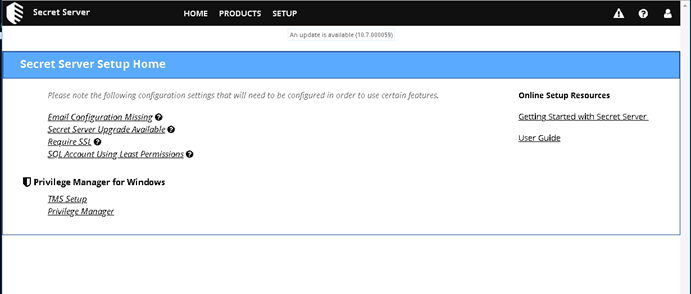 Enter maintenance mode. Back up your Secret Server application folder and your Secret Server database. Check the box on this page and click 
Continue
.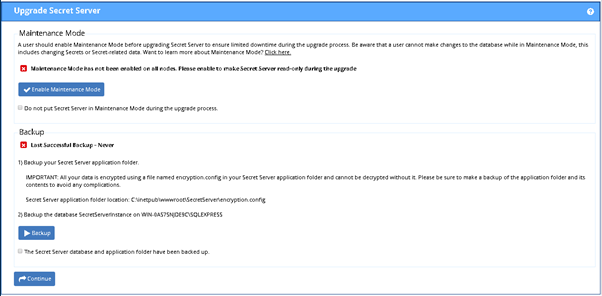 Click 
Download Latest Version
, wait for the download to complete, then click 
Install this Version


Select Upgrade to begin.

The upgrade is processed automatically. After the upgrade is complete you will see the following page. Click 
Return to Home 
to return to the dashboard.

If you use web clustering, now you can return to the instructions here: 
Upgrading Secret Server with Web Clustering
.
[{"Business Unit":{"code":"BU059","label":"IBM Software w\/o TPS"},"Product":{"code":"SSWHLP","label":"IBM Security Secret Server"},"Component":"--","Platform":[{"code":"PF025","label":"Platform Independent"}],"Version":"All Versions","Edition":"","Line of Business":{"code":"LOB24","label":"Security Software"}}]
Document Information
Modified date:
30 January 2020