Question & Answer
Question
Is there a way for a user to reopen an offense after it has been closed?
Answer
No, at this time it is not possible to reopen a closed offense.
What does a closed offense look like?
Closed offenses have a red (X) icon

in the Flag column.
Why can't I see closed offenses in the Offenses tab?
By default, closed offenses and hidden offenses are filtered from the view when the Offenses tab is selected.
How can I show closed offenses?
Users can show closed offenses by clicking the text (Clear Filter) for the Exclude Closed Offenses option under the Current Search Parameters section.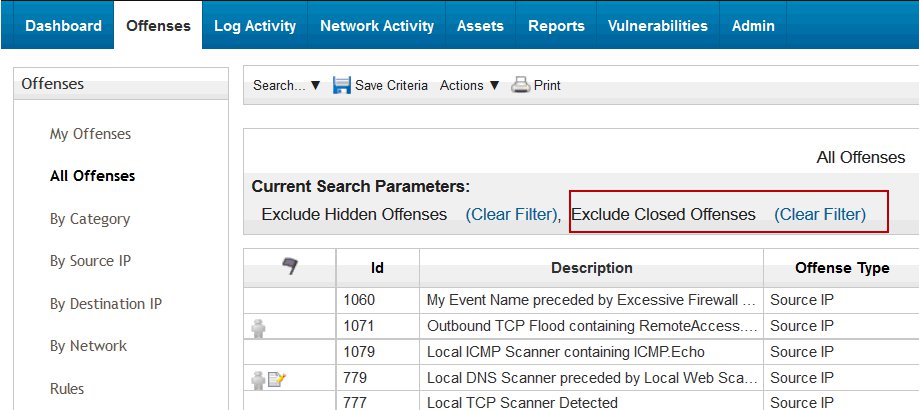 How can I request that this feature be added to future versions of QRadar?
If you would like to see this feature in future releases of QRadar, you can submit a Request for Enhancement (RFE).
To open a Request for Enhancement (RFE) for QRadar:
1. Click the following link to go to the QRadar SIEM RFE page:
https://ibm.biz/BdRPx5
2. Log in to the support portal page.
3. Click the
Submit
tab and fill in the required information.
Where do I find more information?
If you have additional questions or some of this content is not clear, you can see the QRadar forum or contact customer support:
[{"Product":{"code":"SSBQAC","label":"IBM Security QRadar SIEM"},"Business Unit":{"code":"BU059","label":"IBM Software w\/o TPS"},"Component":"--","Platform":[{"code":"PF016","label":"Linux"}],"Version":"7.1;7.0;7.2","Edition":"","Line of Business":{"code":"LOB24","label":"Security Software"}}]
Document Information
Modified date:
02 April 2020