Question & Answer
Question
Is there a way to create a new work group for use on work orders?
Answer
New work groups that can be used on work orders can be created in the Person Groups application. The members of the group can be added in the People section of the Person Group tab.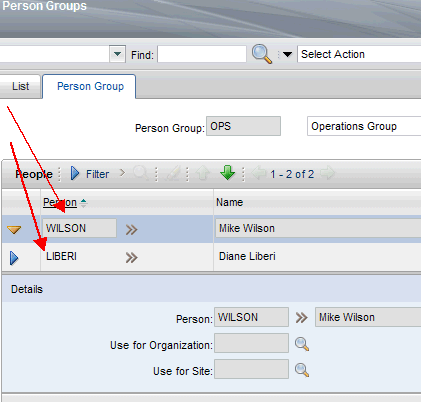 The importance of the people to the group can be defined by setting a sequence number for each of the members of the group. This value helps to indicate to a Workflow process, the order in which assignments should be made.
In addition to listing the primary members of the group, alternatives for those members can also be defined.
Once the group has been created and saved, it can then be used on work orders in the Responsibility Section.
[{"Product":{"code":"SSLKT6","label":"Maximo Asset Management"},"Business Unit":{"code":"BU055","label":"Cognitive Applications"},"Component":"Person Groups","Platform":[{"code":"PF002","label":"AIX"},{"code":"PF010","label":"HP-UX"},{"code":"PF016","label":"Linux"},{"code":"PF027","label":"Solaris"},{"code":"PF033","label":"Windows"}],"Version":"6.0;6.1;6.2;6.2.1;6.2.2;6.2.3;6.2.4;6.2.5;6.2.6;6.2.7;6.2.8;7.1;7.1.1;7.5;7.6","Edition":"","Line of Business":{"code":"LOB02","label":"AI Applications"}}]
Document Information
Modified date:
17 June 2018