Question & Answer
Question
In my business we associate commodity codes with inventory items, is it possible to add them to Maximo?
Answer
Yes. Many companies use commodity codes to define similar types of items in their inventory. These commodities can be represented in Maximo by commodity groups and commodity codes. In the Item Master application for example, you can go to the Select Action menu and choose "Add/Modify Commodity Codes". From the menu displayed in the screen shot below you can add commodity groups and commodity codes associated with that group.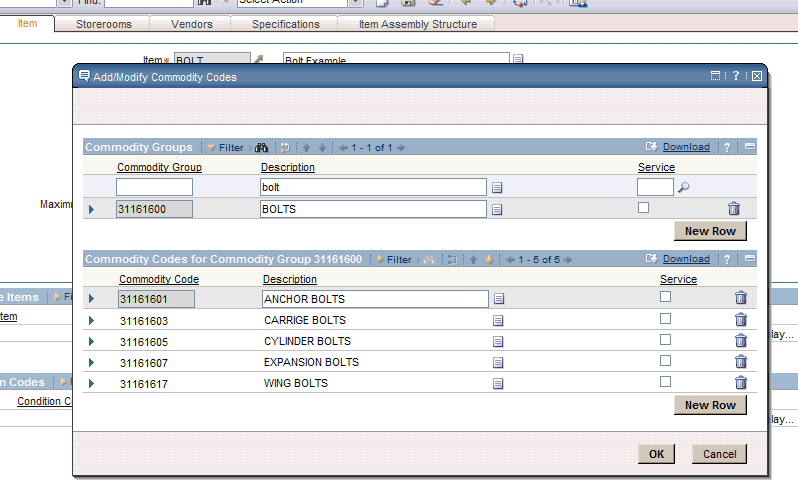 Once the groups and codes have been added to Maximo, you can then use the following options displayed below to associate them with your specific item.
Selecting the commodity group: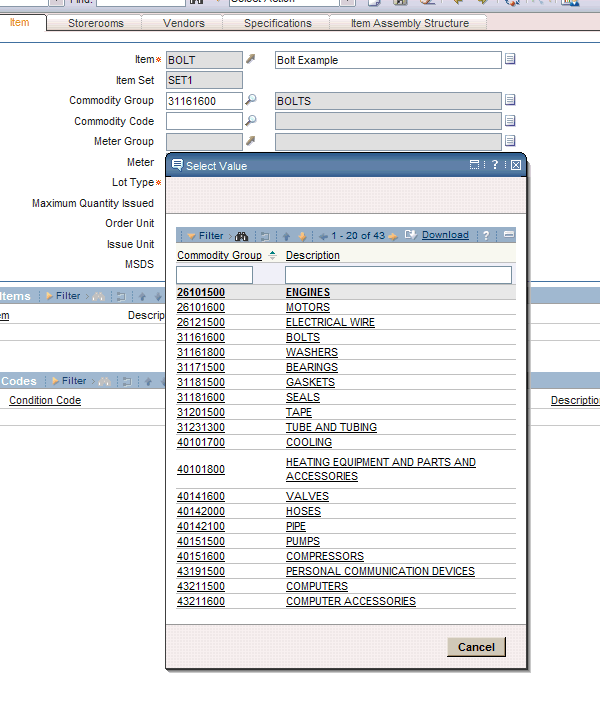 Selecting the commodity code associated with the group:
[{"Product":{"code":"SSLKT6","label":"IBM Maximo Asset Management"},"Business Unit":{"code":"BU055","label":"Cognitive Applications"},"Component":"Inventory","Platform":[{"code":"PF002","label":"AIX"},{"code":"PF010","label":"HP-UX"},{"code":"PF016","label":"Linux"},{"code":"PF027","label":"Solaris"},{"code":"PF033","label":"Windows"}],"Version":"6.0;6.1;6.2;6.2.1;6.2.2;6.2.3;6.2.4;6.2.5;6.2.6;6.2.7;6.2.8;7.1;7.1.1;7.5;7.6","Edition":"","Line of Business":{"code":"LOB02","label":"AI Applications"}}]
Document Information
Modified date:
17 June 2018