Troubleshooting
Problem
This document will help you to understand the class name standard prefixes being used for identifying Industry Solution components.
Resolving The Problem
A Maximo environment can have many components installed aside from the Maximo Base Services.
During your business processes you may find an error related to a specific class name, but you are not sure about the component or Industry Solution in Maximo that is responsible for such class.
In the example below you will see
plusd
. (which means Utilities):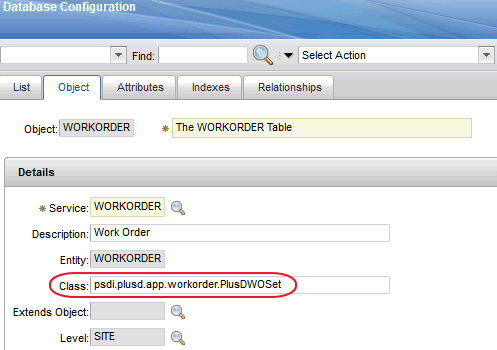 Each Add-On or Industry Solution that you install in Maximo, has a class name standard that helps to identify the Industry Solution component that the class is associated to:
Industry Solution
Prefix
IBM Maximo Calibration
IBM Maximo for Life Sciences
PLUSC
IBM Maximo Linear Asset Manager
-
IBM Maximo for Nuclear Power
PLUS
IBM Maximo for Transportation
PLUST

IBM Maximo for Oil and Gas

IBM Maximo Health, Safety and Environment Manager

PLUSG
IBM Maximo for Utilities
PLUSD
IBM Maximo for Service Providers
PLUSP
IBM Asset Configuration Manager
PLUSA
IBM Maximo Spatial Asset Management
PLUSS
IBM Maximo for Aviation
PLUSM
IBM Maximo for Civil Infrastructure
PLUSX
Should you need any assistance, please contact IBM Maximo Support.
[{"Business Unit":{"code":"BU055","label":"Cognitive Applications"},"Product":{"code":"SSLKT6","label":"Maximo Asset Management"},"ARM Category":[{"code":"a8m50000000CbPBAA0","label":"Industry Solutions"}],"ARM Case Number":"","Platform":[{"code":"PF025","label":"Platform Independent"}],"Version":"7.1.0;7.5.0;7.6.0;7.6.1","Line of Business":{"code":"LOB02","label":"AI Applications"}}]
Document Information
Modified date:
30 September 2020