Troubleshooting
Problem
Configure automatic restart of application server.
Symptom
When I reboot my application server, Maximo automatically restarts but not the Primavera Remote API servers.
Resolving The Problem
To resolve the issue:

1. Go to the WebSphere Integrated Solutions Console.

2. Go to the Application Servers section and select a server name: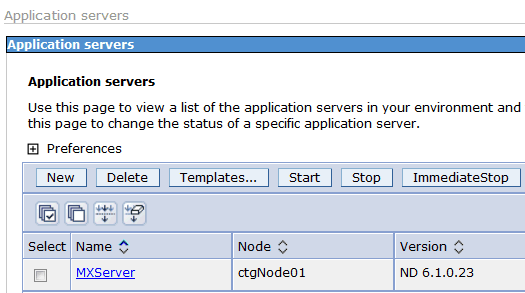 3. Go to the Server Infrastructure section.

4. Expand the Java and Process Management section.

5. Select Monitoring Policy:




6. Click OK.

7. Click on the Node Restart State.

8. Change from STOPPED to RUNNING for the Application Server:



9. Click "Apply" and then click "OK".
[{"Product":{"code":"SSLKT6","label":"IBM Maximo Asset Management"},"Business Unit":{"code":"BU055","label":"Cognitive Applications"},"Component":"System Related","Platform":[{"code":"PF025","label":"Platform Independent"}],"Version":"7.1;7.5","Edition":"","Line of Business":{"code":"LOB02","label":"AI Applications"}}]
Document Information
Modified date:
17 June 2018