Technical Blog Post
Abstract
Displaying Related Cases in ICM 5.2
Body
A really long time ago, I described how you could use the Case List widget to display a list of "Related Cases"; cases that are somehow related to the case you are currently looking at.
This has been a pretty popular solution customization so I thought it was about time I updated it for ICM 5.2.x.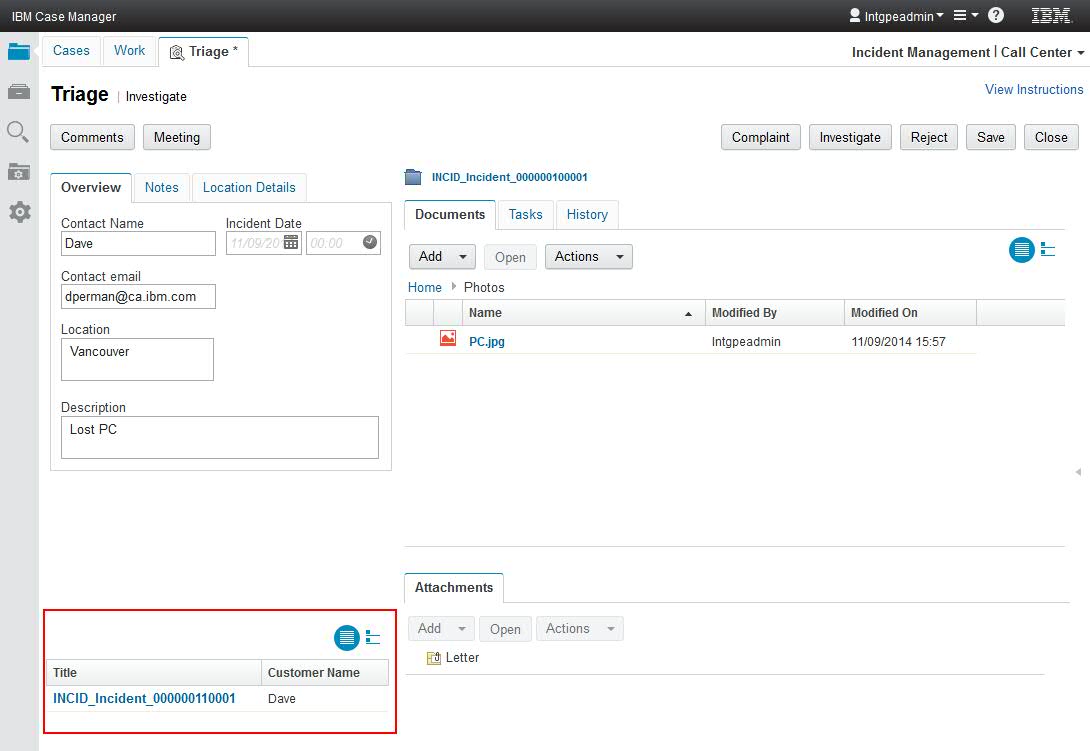 The use case here is that you want to display a list of related cases on a work details page that is used to process a task step for a particular case. You can easily modify the first bit if your Case List happens to be on another page (eg. payload.caseEditable.
Add a case list widget to your Work Details page
Use the wiring settings to disable the Select Case broadcast event. This ensures the case list does not interfere with other page widgets like the Case Infomation
Add a Script Adapter widget to the hidden page area
Enter the following script in the Script Adapter
Wire the inbound event of the Script adapter from the Page Container's "send Work Item" event
We use a broadcast event in our script so no need to wire the outbound event
  var solution = this.solution;  var params = {};  var self = this;    /* This is good practice. Makes reusing scripts much easier */  var prefix = solution.prefix;    params.ObjectStore = solution.getTargetOS().id;    var custID = payload.workItemEditable.propertiesCollection[prefix+"_CustomerID"].value;  console.log ("Customer ID: ",custID);    var caseObj = payload.workItemEditable.icmWorkItem.caseObject;    /* The following call ensures that the case data is loaded before we go try and get the case ID */    caseObj.retrieveCachedAttributes(function(caseObject) {      var caseID = caseObject.caseIdentifier;      console.log ("Case ID: ",caseID);        /* Find all of these */      var criterion1 = new ecm.model.SearchCriterion({"id": prefix+"_CustomerID", "name" : "Customer ID", "selectedOperator": "STARTSWITH", "defaultOperator": "STARTSWITH", "dataType": "xs:string"});      criterion1.value = custID ;      criterion1.defaultValue = custID ;      criterion1.setValues( [custID]);        /* But omit this one */      var criterion2 = new ecm.model.SearchCriterion({"id": "cmAcmCaseIdentifier", "name" : "Title", "anded": true, "selectedOperator": "NOTEQUAL", "defaultOperator": "NOTEQUAL", "dataType": "xs:string"});      criterion2.value = caseID;      criterion2.defaultValue = caseID;      criterion2.setValues( [caseID]);        params.criterions = [criterion1, criterion2];      params.CaseType = ""; /* all case types */      params.solution = solution;        var searchPayload = new icm.util.SearchPayload();      searchPayload.setModel(params);        searchPayload.getSearchPayload(function(payload) {          self.onBroadcastEvent("icm.SearchCases", payload);      });  });            
[{"Business Unit":{"code":"BU053","label":"Cloud & Data Platform"},"Product":{"code":"SSCTJ4","label":"IBM Case Manager"},"Component":"","Platform":[{"code":"PF025","label":"Platform Independent"}],"Version":"","Edition":"","Line of Business":{"code":"LOB45","label":"Automation"}}]