Question & Answer
Question
Is there a way to add users to a duplicated or new security group?
Cause
Message indicates that I "do not have the correct privileges". I am logged in as a super user with all security privileges.
Answer
The log in user must have authorize group reassignment to the group that you wish to add

To add a user to a group:
Log in as maxadmin.
Go to the Users application.
Bring up the maxadmin user.
Go to the Actions menu and select "Authorize Group Reassignment".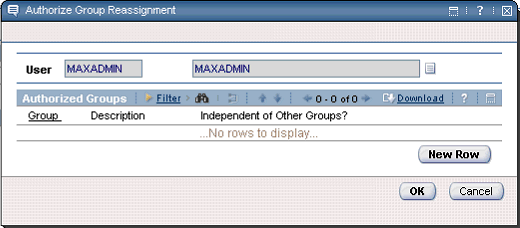 Click "New Row" and select the group you wish to add:
e.g. TOOLMGR
Click OK.
Bring up the user you wish to have access to this group:
e.g. ADAMS
Go to the Groups tab.
Click on "New Row" and add the TOOLMGR group.


Save the record and the message "Record has been saved" is displayed.
[{"Product":{"code":"SSLKT6","label":"IBM Maximo Asset Management"},"Business Unit":{"code":"BU055","label":"Cognitive Applications"},"Component":"Users","Platform":[{"code":"PF002","label":"AIX"},{"code":"PF010","label":"HP-UX"},{"code":"PF016","label":"Linux"},{"code":"PF033","label":"Windows"}],"Version":"6.2.1;6.2.2;6.2.3;6.2.4;6.2.5;6.2.6;6.2.7;7.1;7.1.1;7.5","Edition":"","Line of Business":{"code":"LOB02","label":"AI Applications"}},{"Product":{"code":"SSLKTY","label":"Maximo Asset Management for IT"},"Business Unit":{"code":"BU053","label":"Cloud & Data Platform"},"Component":"","Platform":[{"code":"","label":"All"}],"Version":"","Edition":"","Line of Business":{"code":"LOB36","label":"IBM Automation"}},{"Product":{"code":"SSWK4A","label":"Maximo Asset Management Essentials"},"Business Unit":{"code":"BU055","label":"Cognitive Applications"},"Component":"","Platform":[{"code":"","label":"All"}],"Version":"","Edition":"","Line of Business":{"code":"LOB02","label":"AI Applications"}}]
Document Information
Modified date:
13 April 2021