Technical Blog Post
Abstract
New IBM Redbook - Designing and Operating a Data Reservoir
Body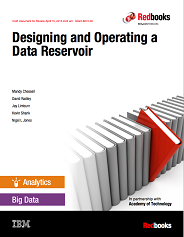 The team here are pleased to announce that after many nights researching, writing and editing, a new IBM Redbook is due to be published entitled 'Designing and Operating a Data Reservoir'.
The book takes you through the steps an organization should go through when designing and building a data reservoir solution, In this book we base the scenario around a pharmaceutical company, however the discussions, principals and patterns included in the book are relevant for any industry.
A data reservoir provides a platform to share trusted, governed data across an organization. It empowers users to engage in the sharing and reuse of data to ensure that an organization can fully leverage their most important asset. - Data. A data reservoir allows for collection of vast sets of data that can be curated, shaped and monitored to allow advanced analytics to be constructed offering new insights to an organization about their data.
See this blog post for more background on the need for a data reservoir:
5 Things to Know About a Data Reservoir
The new IBM Redbook, as been authored by thought leaders in the data management space and will be available as a full IBM Redbook publication shortly. In the mean time the draft is available directly from the IBM Redbooks website:
Designing and Operating a Data Reservoir
We'd love to hear your feedback on the book and would be keen to hear your stories around data reservoir solutions.
Make Data Work
Jay
[{"Business Unit":{"code":"BU053","label":"Cloud & Data Platform"},"Product":{"code":"SS9PZ7","label":"InfoSphere Master Data Management"},"Component":"","Platform":[{"code":"PF025","label":"Platform Independent"}],"Version":"","Edition":"","Line of Business":{"code":"","label":""}}]