Troubleshooting
Problem
Applications on the X-Force App Exchange are developed by IBM Business Partners. Who do I contact for application support?
Cause
There are hundreds of applications on the IBM X-Force App Exchange, created by IBM and IBM's business partners. Application support is detailed on the X-Force App Exchange for each application. Administrators must be aware of how to get support for application issues. A support case might need to be resolved by a business partner or an independent software vendor who developed the application, instead of the QRadar Support team.
Resolving The Problem
The best way to identify whether an app is supported by IBM or by a third-party vendor is to filter IBM Apps from Business Partner Apps. A Support field for each application includes the direct contact information for the support team that can assist the administrator. Filters are available from the QRadar Assistant App or directly on the IBM X-Force App Exchange website to help identify application ownership.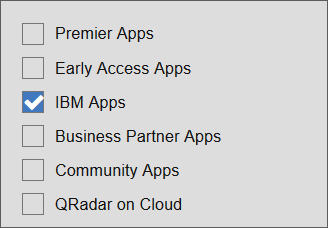 Figure 1: Users can filter for IBM developed apps, early access, or business partner provided content.

About IBM supported applications
On the IBM X-Force
®
App Exchange, IBM apps are denoted by the IBM Security Shield icon. These IBM Security applications display a link to the
IBM Customer Support
portal. This link prompts users to log in and create a case with the QRadar Support team to investigate issues for IBM developed applications. For a logs required for your application case, see
Applications 101
. IBM developed applications are fully supported, except for applications installed on QRadar Community Edition appliances. QRadar Support does not take cases for QRadar Community Edition, only for enterprise users with QRadar SIEM.
When do I open a case QRadar support?
Applications that fail to install on repeated attempts or installs with errors, open a case with QRadar Support. Administrators who see repeated errors when installing one or more applications can contact QRadar Support for assistance. Recurring installation problems or issues that impact multiple applications are typically a sign that the QRadar applications framework needs a review for service, certification, or other issues.
When multiple applications display empty tabs in the user interface. Empty tabs that are not resolved by restarting the application from the QRadar Assistant App are typically related to framework or service issues. 
Issues related to moving applications between the Console and a App Host appliance, along with application backup and restore are common issues where QRadar Support can assist. 

Figure 2
: IBM applications can be identified by the logo, the
by IBM QRadar
field, or the Support field.
About early access applications
Applications that display an
</>Early Access
tag provide administrators with an opportunity to work with an application in a prerelease state. Early access applications are provided 'as-is', without warranty, and are not fully supported. QRadar Support advises administrators to not install early access applications on production deployments. Issues related to early access applications can be posted on the
IBM QRadar Applications forum
page.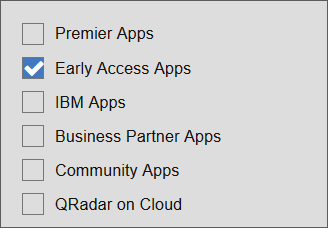 Figure 3
: To filter for early access applications, use the
Early Access Apps
check box on the IBM X-Force App Exchange.

Figure 4
: Support contact area. Some applications might provide forum support as a method to help administrators.
Applications by IBM Business Partners
Applications developed by business partners include the vendor name in the title, such as by Qualys. All applications on the X-Force App Exchange for QRadar are IBM validated and complete a compatibility and security review by a development team within IBM. The X-Force App Exchange lists a unique contact for all business partners to contact the vendor's support team who developed the application. All business partners have contacts to IBM teams and support cases must be logged initially with the business partners development team. The
Support
field indicates the primary contact for your support case.  
When do I open a case with a Business Partner for help?
Issues with the functionality or configuration of an IBM  Business Partner app must start with the business partner support team.
If the Business Partner believes the issue belongs with QRadar Support, do NOT close your case. Instead, collect the details and open a secondary case with the QRadar Support team. It is important to include the case number from your Business Partner in your QRadar Support team case, along with a description of the issue. In some circumstances, QRadar support might request a call with all relevant parties to troubleshoot the application. It is important to keep the Business Partner support case open until the problem is resolved.
Defects identified in a Business Partner application require development work from the responsible party.
To resolve issues, Business Partners must submit a new build of the application to the IBM App Validation team. The application must pass a validation and security review before an update can be published. QRadar support has no involvement in the validation or release process for Business Partner applications.
Where to start
Open a case with the Business Partner's support team.

Describe your issue, provide the application version, and your QRadar version.
Note: The QRadar version is important as the application might not be compatible with the QRadar API version on your Console.
Administrators can retrieve logs from individual applications for review by the business partner's support team.
Applications are updated regularly. If you have an issue with an application, verify the latest version is installed before you open a support case. Administrators can integrate the QRadar Assistant App with the IBM X-Force App Exchange portal to use one-click application updates.
Applications developed by other IBM product teams
The X-Force App Exchange includes applications developed by other IBM product teams. Both IBM Professional Services, and other IBM products build applications as integration points to share data with QRadar, such as the IBM Resilient QRadar Integration app. These applications are developed by IBM; however, support for the app would start with the responsible support team.

Figure 5
: IBM applications developed as integrations with QRadar include unique support contact information.  
Information about applications
Administrators can review the Additional Information section on the X-Force App Exchange before you install an application. Additional information is provided for administrators about application memory usage, resource units, QRadar on Cloud Support, multi-tenancy application support, and minimum QRadar version details.
Figure 6
: Each application includes unique resource and compatibility information.
[{"Business Unit":{"code":"BU059","label":"IBM Software w\/o TPS"},"Product":{"code":"SSBQAC","label":"IBM Security QRadar SIEM"},"Component":"QRadar Apps","Platform":[{"code":"PF016","label":"Linux"}],"Version":"All Versions","Edition":"","Line of Business":{"code":"LOB24","label":"Security Software"}}]
Document Information
Modified date:
02 June 2020