Technical Blog Post
Abstract
WebSphere / IBM MQ Migration Guide
Body
The WebSphere / IBM MQ Self-help Migration Guide is designed to help users choose, plan, and simplify the process of migrating from an older version of MQ to a new version. If you are running z/OS, see our related blog entry WebSphere / IBM MQ for z/OS Migration Guide.
You can click on Migration Guide to run it in your web browser or download the PDF using the "Download Now" button at the bottom of this blog entry.
This guide is broken down into the following parts:
Planning your Migration
This section contains guidelines and references to help you Check Pre-reqs for your planned target version to ensure compatibility. As shown in Figure 1, this section allows you to check pre-requisites that are specific to MQ as well as other related IBM products for your target version. This step is critical to ensure overall compatibility and support.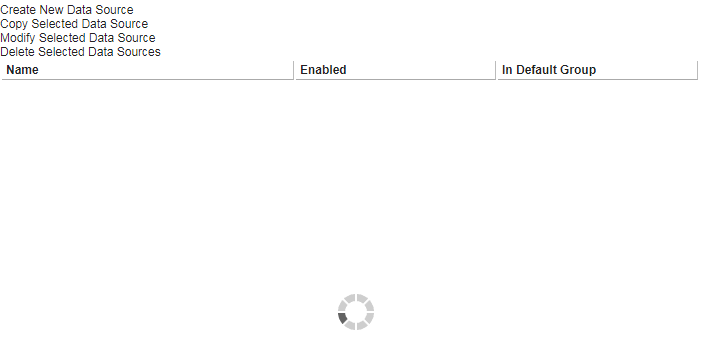 Figure 1
Determine your migration path
As shown in Figure 2, to determine your migration (or upgrade) path you may need to check the product documentation of your current release and review new features offered in the later releases to which you may be migrating. This will help you find specific features available in these releases and give you a better idea of which release you should migrate to. There is also a link to the planning guide for the target release that provides information on what is involved in the migration to that release, so that you can plan the order and extent of the migration of components and other resources. The potential impact covers any specific major effect or change that is associated with any of the releases, so as a user you are aware of the potential impact that the migration may have.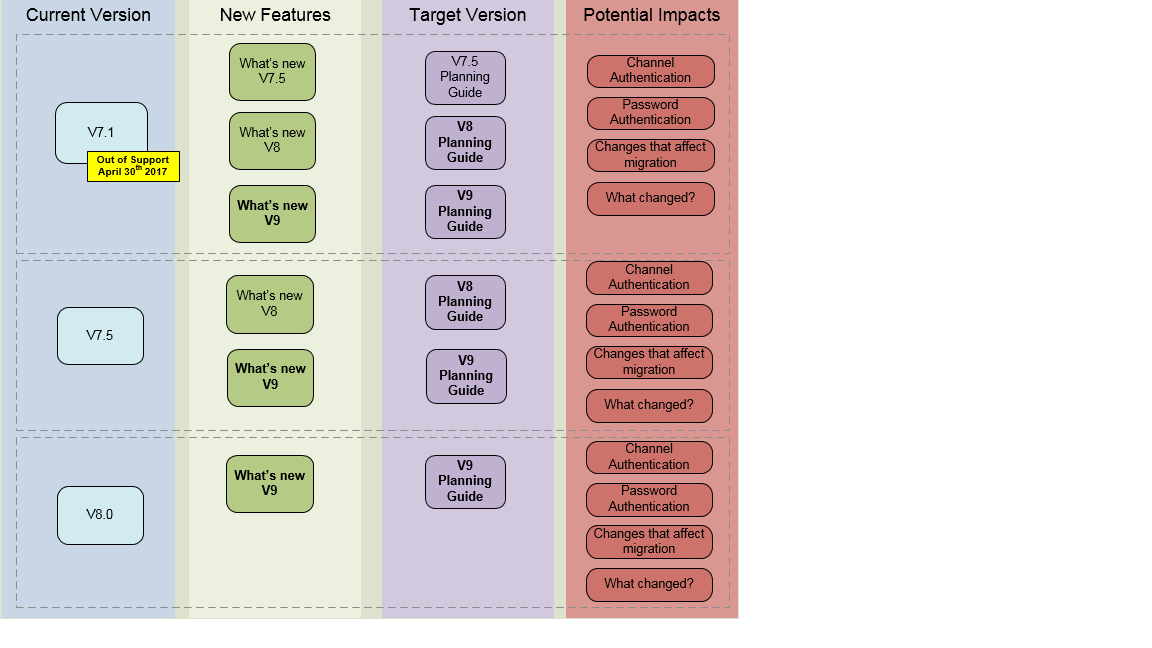 Figure 2
Preparing for your migration
As shown in Figure 3, this section details the migration options and considerations for each of the options. It also contains an explanation of the differences between the migration methods as they relate to MQ.

Figure 3
Executing your Migration
Once you have decided what target version you will be migrating to and planned for the migration option, you can review this section for executing your migration. As shown in Figure 4, this section lists the tasks of installation and executing the migration option.
Figure 4
Supplemental Info
The supplemental info section lists the useful migration resources including a compilation of all the links provided through the entirety of this guide into a single pdf file for your convenience. See Figure 5.

Figure 5
Case Studies
This section includes two sample scenarios.

Figure 6
Conclusion
The Migration Guide is built to walk users step by step through the MQ migration process, from planning to execution. The guide also contains a list of useful links and resources that migration users would typically need to follow, regardless of any environment distinction. Click the "Download Now" button below to download the interactive PDF.
Disclaimer:
THE DOWNLOAD(S) ARE PROVIDED "AS IS," WITHOUT WARRANTY OF ANY KIND, EITHER EXPRESS OR IMPLIED, INCLUDING BUT NOT LIMITED TO THE IMPLIED WARRANTIES OF MERCHANTABILITY AND FITNESS FOR A PARTICULAR PURPOSE OR NON-INFRINGEMENT OF PATENTS, COPYRIGHTS OR OTHER PROPRIETARY RIGHTS OF OTHERS. NEITHER THE AUTHOR NOR IBM WARRANT THAT THE FUNCTIONS, ROUTINES, AND DATA CONTAINED IN, OR GENERATED AS A RESULT OF THE DOWNLOAD(S), WILL MEET YOUR REQUIREMENTS OR BE ERROR-FREE. The entire risk related to the quality and performance of the download(s) is with you. In the event that there is any defect, you assume the entire cost of all necessary services, repair or correction. IN NO EVENT WILL THE AUTHOR OR IBM BE LIABLE TO YOU OR TO ANY THIRD PARTY FOR ANY DIRECT OR INDIRECT DAMAGES (INCLUDING, WITHOUT LIMITATION, LOST PROFITS, LOST SAVINGS OR OTHER INCIDENTAL OR CONSEQUENTIAL DAMAGES) ARISING OUT OF THE USE OR INABILITY TO USE THE DOWNLOAD(S), EVEN IF THE AUTHOR OR IBM HAS BEEN ADVISED OF THE POSSIBILITY OF SUCH DAMAGES. Some jurisdictions do not allow the exclusion of implied warranties or the limitation or exclusion of liability for incidental or consequential damages, so some of the above may not apply to you."
[{"Business Unit":{"code":"BU053","label":"Cloud & Data Platform"},"Product":{"code":"","label":""},"Component":"","Platform":[{"code":"","label":""}],"Version":"","Edition":"","Line of Business":{"code":"","label":""}}]