News
Abstract
The IBM Support Insider blog provides you with regular updates on what's new and changing in IBM Support.
Content
IBM Support Insider
is a modern and mobile-friendly blog where you can discover how we're transforming your support experience with new programs, tools and AI.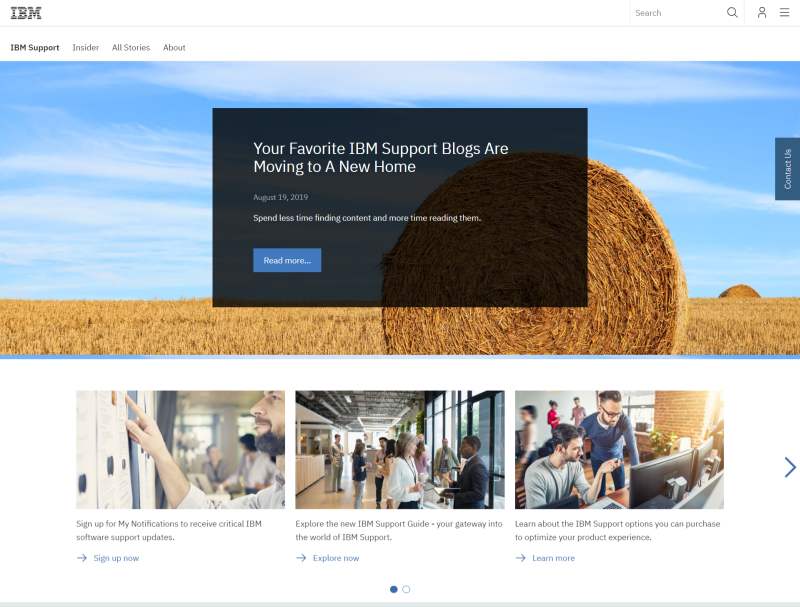 Here are several interesting news items we shared this year:
In addition to updates on your support experience, you'll also find the following upcoming content in the blog:
Thought leadership: insights and ideas around trends and technologies in technical support
Events: announcements of upcoming events
Interviews: conversations with key leaders from IBM Support
If there are topics you'd like to see in the blog or comments you'd love to share with us, use the Contact Us tab in the IBM Support Insider to send us your feedback.
[{"Business Unit":{"code":"BU059","label":"IBM Software w\/o TPS"},"Product":{"code":"SSPRJQ","label":"IBM Engineering Lifecycle Management Base"},"ARM Category":[{"code":"a8m50000000L3DPAA0","label":"Continuous Engineering"}],"Platform":[{"code":"PF025","label":"Platform Independent"}],"Version":"All Version(s)","Line of Business":{"code":"LOB02","label":"AI Applications"}},{"Business Unit":{"code":"BU059","label":"IBM Software w\/o TPS"},"Product":{"code":"SS7DVG","label":"IBM Engineering Lifecycle Optimization - Method Composer"},"ARM Category":[{"code":"","label":""}],"Platform":[{"code":"PF025","label":"Platform Independent"}],"Version":"All Versions","Line of Business":{"code":"LOB02","label":"AI Applications"}},{"Business Unit":{"code":"BU059","label":"IBM Software w\/o TPS"},"Product":{"code":"SSUB2H","label":"IBM Engineering Lifecycle Optimization - Engineering Insights"},"ARM Category":[{"code":"","label":""}],"Platform":[{"code":"PF025","label":"Platform Independent"}],"Version":"All Versions","Line of Business":{"code":"LOB02","label":"AI Applications"}},{"Business Unit":{"code":"BU059","label":"IBM Software w\/o TPS"},"Product":{"code":"SSUVYQ","label":"IBM Engineering Systems Design Rhapsody"},"ARM Category":[{"code":"","label":""}],"Platform":[{"code":"PF025","label":"Platform Independent"}],"Version":"All Versions","Line of Business":{"code":"LOB02","label":"AI Applications"}},{"Business Unit":{"code":"BU059","label":"IBM Software w\/o TPS"},"Product":{"code":"SSUVV6","label":"IBM Engineering Test Management"},"ARM Category":[{"code":"","label":""}],"Platform":[{"code":"PF025","label":"Platform Independent"}],"Version":"All Versions","Line of Business":{"code":"LOB02","label":"AI Applications"}},{"Business Unit":{"code":"BU059","label":"IBM Software w\/o TPS"},"Product":{"code":"SSUC3U","label":"IBM Engineering Workflow Management"},"ARM Category":[{"code":"","label":""}],"Platform":[{"code":"PF025","label":"Platform Independent"}],"Version":"All Versions","Line of Business":{"code":"LOB02","label":"AI Applications"}},{"Business Unit":{"code":"BU059","label":"IBM Software w\/o TPS"},"Product":{"code":"SSUVLZ","label":"IBM Engineering Requirements Management DOORS Next"},"ARM Category":[{"code":"","label":""}],"Platform":[{"code":"PF025","label":"Platform Independent"}],"Version":"All Versions","Line of Business":{"code":"LOB02","label":"AI Applications"}},{"Business Unit":{"code":"BU059","label":"IBM Software w\/o TPS"},"Product":{"code":"SS3JSW","label":"IBM Sterling B2B Integrator"},"ARM Category":[{"code":"","label":""}],"Platform":[{"code":"PF025","label":"Platform Independent"}],"Version":"All Versions","Line of Business":{"code":"LOB02","label":"AI Applications"}},{"Business Unit":{"code":"BU059","label":"IBM Software w\/o TPS"},"Product":{"code":"SS4TGX","label":"Sterling File Gateway"},"ARM Category":[{"code":"","label":""}],"Platform":[{"code":"PF025","label":"Platform Independent"}],"Version":"All Versions","Line of Business":{"code":"LOB02","label":"AI Applications"}},{"Business Unit":{"code":"BU059","label":"IBM Software w\/o TPS"},"Product":{"code":"SS9GLA","label":"IBM Control Center"},"ARM Category":[{"code":"","label":""}],"Platform":[{"code":"PF025","label":"Platform Independent"}],"Version":"All Versions","Line of Business":{"code":"LOB02","label":"AI Applications"}},{"Business Unit":{"code":"BU059","label":"IBM Software w\/o TPS"},"Product":{"code":"SS6PNW","label":"Sterling Secure Proxy"},"ARM Category":[{"code":"","label":""}],"Platform":[{"code":"PF025","label":"Platform Independent"}],"Version":"All Versions","Line of Business":{"code":"LOB02","label":"AI Applications"}},{"Business Unit":{"code":"BU059","label":"IBM Software w\/o TPS"},"Product":{"code":"SS6PEW","label":"Sterling Order Management"},"ARM Category":[{"code":"","label":""}],"Platform":[{"code":"PF025","label":"Platform Independent"}],"Version":"All Version(s)","Line of Business":{"code":"LOB02","label":"AI Applications"}},{"Business Unit":{"code":"BU059","label":"IBM Software w\/o TPS"},"Product":{"code":"SS6PEW","label":"Sterling Order Management"},"ARM Category":[{"code":"","label":""}],"Platform":[{"code":"PF025","label":"Platform Independent"}],"Version":"All Versions","Line of Business":{"code":"LOB02","label":"AI Applications"}},{"Business Unit":{"code":"BU059","label":"IBM Software w\/o TPS"},"Product":{"code":"SSVSD8","label":"IBM Transformation Extender"},"ARM Category":[{"code":"","label":""}],"Platform":[{"code":"PF025","label":"Platform Independent"}],"Version":"All Versions","Line of Business":{"code":"LOB02","label":"AI Applications"}},{"Business Unit":{"code":"BU059","label":"IBM Software w\/o TPS"},"Product":{"code":"SSDF7K","label":"Transformation Extender Advanced"},"ARM Category":[{"code":"","label":""}],"Platform":[{"code":"PF025","label":"Platform Independent"}],"Version":"All Version(s)","Line of Business":{"code":"LOB02","label":"AI Applications"}},{"Business Unit":{"code":"BU055","label":"Cognitive Applications"},"Product":{"code":"SSRJDU","label":"IBM Supply Chain Business Network"},"ARM Category":[{"code":"","label":""}],"Platform":[{"code":"PF025","label":"Platform Independent"}],"Version":"All Version(s)","Line of Business":{"code":"","label":""}},{"Business Unit":{"code":"BU059","label":"IBM Software w\/o TPS"},"Product":{"code":"SSEQTP","label":"WebSphere Application Server"},"ARM Category":[{"code":"","label":""}],"Platform":[{"code":"PF025","label":"Platform Independent"}],"Version":"All Versions","Line of Business":{"code":"LOB45","label":"Automation"}},{"Business Unit":{"code":"BU059","label":"IBM Software w\/o TPS"},"Product":{"code":"SSNQK6","label":"IBM Integration Bus"},"ARM Category":[{"code":"","label":""}],"Platform":[{"code":"PF025","label":"Platform Independent"}],"Version":"All Versions","Line of Business":{"code":"LOB45","label":"Automation"}},{"Business Unit":{"code":"BU059","label":"IBM Software w\/o TPS"},"Product":{"code":"SS3PUM","label":"IBM Business Process Manager"},"ARM Category":[{"code":"","label":""}],"Platform":[{"code":"PF025","label":"Platform Independent"}],"Version":"All Versions","Line of Business":{"code":"LOB45","label":"Automation"}},{"Business Unit":{"code":"BU059","label":"IBM Software w\/o TPS"},"Product":{"code":"SSMNED","label":"IBM API Connect"},"ARM Category":[{"code":"","label":""}],"Platform":[{"code":"PF025","label":"Platform Independent"}],"Version":"All Versions","Line of Business":{"code":"LOB45","label":"Automation"}},{"Business Unit":{"code":"BU059","label":"IBM Software w\/o TPS"},"Product":{"code":"SS9H2Y","label":"IBM DataPower Gateway"},"ARM Category":[{"code":"","label":""}],"Platform":[{"code":"PF025","label":"Platform Independent"}],"Version":"All Versions","Line of Business":{"code":"LOB45","label":"Automation"}},{"Business Unit":{"code":"BU059","label":"IBM Software w\/o TPS"},"Product":{"code":"SS5UL4","label":"Tivoli Network Manager Entry Edition"},"ARM Category":[{"code":"","label":""}],"Platform":[{"code":"PF025","label":"Platform Independent"}],"Version":"All Versions","Line of Business":{"code":"LOB45","label":"Automation"}},{"Business Unit":{"code":"BU059","label":"IBM Software w\/o TPS"},"Product":{"code":"SSSHRK","label":"Tivoli Network Manager IP Edition"},"ARM Category":[{"code":"","label":""}],"Platform":[{"code":"PF025","label":"Platform Independent"}],"Version":"All Versions","Line of Business":{"code":"LOB45","label":"Automation"}},{"Business Unit":{"code":"BU059","label":"IBM Software w\/o TPS"},"Product":{"code":"SSSHR7","label":"Tivoli Network Manager Transmission Edition"},"ARM Category":[{"code":"","label":""}],"Platform":[{"code":"PF025","label":"Platform Independent"}],"Version":"All Versions","Line of Business":{"code":"LOB45","label":"Automation"}},{"Business Unit":{"code":"BU059","label":"IBM Software w\/o TPS"},"Product":{"code":"SSSHYH","label":"Tivoli Netcool\/Impact"},"ARM Category":[{"code":"","label":""}],"Platform":[{"code":"PF025","label":"Platform Independent"}],"Version":"All Versions","Line of Business":{"code":"LOB45","label":"Automation"}},{"Business Unit":{"code":"BU059","label":"IBM Software w\/o TPS"},"Product":{"code":"SSYHRD","label":"IBM MQ"},"ARM Category":[{"code":"","label":""}],"Platform":[{"code":"PF025","label":"Platform Independent"}],"Version":"All Versions","Line of Business":{"code":"LOB45","label":"Automation"}},{"Business Unit":{"code":"BU053","label":"Cloud & Data Platform"},"Product":{"code":"SSFKSJ","label":"WebSphere MQ"},"ARM Category":[{"code":"","label":""}],"Platform":[{"code":"PF025","label":"Platform Independent"}],"Version":"All Versions","Line of Business":{"code":"LOB45","label":"Automation"}},{"Business Unit":{"code":"BU059","label":"IBM Software w\/o TPS"},"Product":{"code":"SSTSF6","label":"IBM Cognos Analytics"},"ARM Category":[{"code":"","label":""}],"Platform":[{"code":"PF025","label":"Platform Independent"}],"Version":"All Versions","Line of Business":{"code":"LOB24","label":"Security Software"}},{"Business Unit":{"code":"BU059","label":"IBM Software w\/o TPS"},"Product":{"code":"SS6G84","label":"IBM Cognos Analytics on Cloud"},"ARM Category":[{"code":"a8m50000000ClQnAAK","label":"FAQ"}],"Platform":[{"code":"PF025","label":"Platform Independent"}],"Version":"All Version(s)","Line of Business":{"code":"LOB10","label":"Data and AI"}},{"Business Unit":{"code":"BU059","label":"IBM Software w\/o TPS"},"Product":{"code":"SSD29G","label":"IBM Planning Analytics"},"ARM Category":[{"code":"","label":""}],"Platform":[{"code":"PF025","label":"Platform Independent"}],"Version":"All Versions","Line of Business":{"code":"LOB10","label":"Data and AI"}},{"Business Unit":{"code":"BU059","label":"IBM Software w\/o TPS"},"Product":{"code":"SSCTEW","label":"IBM Planning Analytics Local"},"ARM Category":[{"code":"","label":""}],"Platform":[{"code":"PF025","label":"Platform Independent"}],"Version":"All Versions","Line of Business":{"code":"LOB10","label":"Data and AI"}},{"Business Unit":{"code":"BU059","label":"IBM Software w\/o TPS"},"Product":{"code":"SS9S6B","label":"IBM Cognos Controller"},"ARM Category":[{"code":"","label":""}],"Platform":[{"code":"PF025","label":"Platform Independent"}],"Version":"All Versions","Line of Business":{"code":"LOB10","label":"Data and AI"}},{"Business Unit":{"code":"BU059","label":"IBM Software w\/o TPS"},"Product":{"code":"SS7MHN","label":"IBM Kenexa Talent Suite"},"ARM Category":[{"code":"","label":""}],"Platform":[{"code":"PF025","label":"Platform Independent"}],"Version":"All Versions","Line of Business":{"code":"LOB27","label":"Talent Management Solutions"}},{"Business Unit":{"code":"BU055","label":"Cognitive Applications"},"Product":{"code":"SSLKAH","label":"BrassRing on Cloud"},"ARM Category":[{"code":"","label":""}],"Platform":[{"code":"PF025","label":"Platform Independent"}],"Version":"All Version(s)","Line of Business":{"code":"","label":""}},{"Business Unit":{"code":"BU059","label":"IBM Software w\/o TPS"},"Product":{"code":"SSEUFV","label":"IBM Kenexa BrassRing on Cloud"},"ARM Category":[{"code":"","label":""}],"Platform":[{"code":"PF025","label":"Platform Independent"}],"Version":"All Versions","Line of Business":{"code":"LOB27","label":"Talent Management Solutions"}},{"Business Unit":{"code":"BU059","label":"IBM Software w\/o TPS"},"Product":{"code":"SSQUQ4","label":"IBM Kenexa Onboard on Cloud"},"ARM Category":[{"code":"","label":""}],"Platform":[{"code":"PF025","label":"Platform Independent"}],"Version":"All Versions","Line of Business":{"code":"LOB27","label":"Talent Management Solutions"}},{"Business Unit":{"code":"BU059","label":"IBM Software w\/o TPS"},"Product":{"code":"SSEM2E","label":"IBM Kenexa Lead Manager"},"ARM Category":[{"code":"","label":""}],"Platform":[{"code":"PF025","label":"Platform Independent"}],"Version":"All Versions","Line of Business":{"code":"LOB27","label":"Talent Management Solutions"}},{"Business Unit":{"code":"BU059","label":"IBM Software w\/o TPS"},"Product":{"code":"SS4T5W","label":"IBM Watson Recruitment"},"ARM Category":[{"code":"","label":""}],"Platform":[{"code":"PF025","label":"Platform Independent"}],"Version":"All Versions","Line of Business":{"code":"LOB27","label":"Talent Management Solutions"}},{"Business Unit":{"code":"BU059","label":"IBM Software w\/o TPS"},"Product":{"code":"SSBR6X","label":"IBM Watson Candidate Assistant"},"ARM Category":[{"code":"","label":""}],"Platform":[{"code":"PF025","label":"Platform Independent"}],"Version":"All Versions","Line of Business":{"code":"LOB27","label":"Talent Management Solutions"}},{"Business Unit":{"code":"BU059","label":"IBM Software w\/o TPS"},"Product":{"code":"SSLLJN","label":"Watson Career Coach"},"ARM Category":[{"code":"a8m50000000CkbfAAC","label":"Preferences"}],"Platform":[{"code":"PF025","label":"Platform Independent"}],"Version":"All Version(s)","Line of Business":{"code":"LOB27","label":"Talent Management Solutions"}},{"Business Unit":{"code":"BU055","label":"Cognitive Applications"},"Product":{"code":"SSDN47","label":"IBM Kenexa LCMS Premier"},"ARM Category":[{"code":"","label":""}],"Platform":[{"code":"PF025","label":"Platform Independent"}],"Version":"All Version(s)","Line of Business":{"code":"","label":""}},{"Business Unit":{"code":"BU059","label":"IBM Software w\/o TPS"},"Product":{"code":"SSDN2J","label":"IBM Kenexa LCMS Premier on Cloud"},"ARM Category":[{"code":"","label":""}],"Platform":[{"code":"PF025","label":"Platform Independent"}],"Version":"All Versions","Line of Business":{"code":"LOB27","label":"Talent Management Solutions"}},{"Business Unit":{"code":"BU059","label":"IBM Software w\/o TPS"},"Product":{"code":"SSBQAC","label":"IBM Security QRadar SIEM"},"ARM Category":[{"code":"","label":""}],"Platform":[{"code":"PF025","label":"Platform Independent"}],"Version":"All Versions","Line of Business":{"code":"LOB24","label":"Security Software"}},{"Business Unit":{"code":"BU059","label":"IBM Software w\/o TPS"},"Product":{"code":"SSMPHH","label":"IBM Security Guardium"},"ARM Category":[{"code":"","label":""}],"Platform":[{"code":"PF025","label":"Platform Independent"}],"Version":"All Versions","Line of Business":{"code":"LOB24","label":"Security Software"}},{"Business Unit":{"code":"BU059","label":"IBM Software w\/o TPS"},"Product":{"code":"SSYSXX","label":"IBM MaaS360"},"ARM Category":[{"code":"","label":""}],"Platform":[{"code":"PF025","label":"Platform Independent"}],"Version":"All Versions","Line of Business":{"code":"LOB24","label":"Security Software"}},{"Business Unit":{"code":"BU059","label":"IBM Software w\/o TPS"},"Product":{"code":"SSZU8Q","label":"IBM Security Access Manager"},"ARM Category":[{"code":"","label":""}],"Platform":[{"code":"PF025","label":"Platform Independent"}],"Version":"All Versions","Line of Business":{"code":"LOB24","label":"Security Software"}},{"Business Unit":{"code":"BU059","label":"IBM Software w\/o TPS"},"Product":{"code":"SSRMWJ","label":"IBM Security Identity Manager"},"ARM Category":[{"code":"","label":""}],"Platform":[{"code":"PF025","label":"Platform Independent"}],"Version":"All Versions","Line of Business":{"code":"LOB24","label":"Security Software"}},{"Business Unit":{"code":"BU059","label":"IBM Software w\/o TPS"},"Product":{"code":"SSGHTN","label":"IBM Security Identity Governance and Administration"},"ARM Category":[{"code":"","label":""}],"Platform":[{"code":"PF025","label":"Platform Independent"}],"Version":"All Versions","Line of Business":{"code":"LOB24","label":"Security Software"}},{"Business Unit":{"code":"BU059","label":"IBM Software w\/o TPS"},"Product":{"code":"SSGHJR","label":"IBM Security Identity Governance and Intelligence"},"ARM Category":[{"code":"","label":""}],"Platform":[{"code":"PF025","label":"Platform Independent"}],"Version":"All Versions","Line of Business":{"code":"LOB24","label":"Security Software"}},{"Business Unit":{"code":"BU008","label":"Security"},"Product":{"code":"SS7PLQ","label":"IBM Security Trusteer Mobile Browser"},"ARM Category":[{"code":"","label":""}],"Platform":[{"code":"PF025","label":"Platform Independent"}],"Version":"All Version(s)","Line of Business":{"code":"","label":""}},{"Business Unit":{"code":"BU008","label":"Security"},"Product":{"code":"SS7PHX","label":"Trusteer Apex Advanced Malware Protection Local Manager"},"ARM Category":[{"code":"","label":""}],"Platform":[{"code":"PF025","label":"Platform Independent"}],"Version":"All Version(s)","Line of Business":{"code":"","label":""}},{"Business Unit":{"code":"BU059","label":"IBM Software w\/o TPS"},"Product":{"code":"SSIP9Q","label":"IBM Security SOAR"},"ARM Category":[{"code":"","label":""}],"Platform":[{"code":"PF025","label":"Platform Independent"}],"Version":"All Versions","Line of Business":{"code":"LOB24","label":"Security Software"}},{"Business Unit":{"code":"BU059","label":"IBM Software w\/o TPS"},"Product":{"code":"SSMRLK","label":"IBM Security Verify"},"ARM Category":[{"code":"","label":""}],"Platform":[{"code":"PF025","label":"Platform Independent"}],"Version":"All Versions","Line of Business":{"code":"LOB24","label":"Security Software"}},{"Business Unit":{"code":"BU059","label":"IBM Software w\/o TPS"},"Product":{"code":"SS3Q78","label":"IBM Security Directory Suite"},"ARM Category":[{"code":"","label":""}],"Platform":[{"code":"PF025","label":"Platform Independent"}],"Version":"All Versions","Line of Business":{"code":"LOB24","label":"Security Software"}},{"Business Unit":{"code":"BU059","label":"IBM Software w\/o TPS"},"Product":{"code":"SSXVXZ","label":"IBM i2 Enterprise Insight Analysis"},"ARM Category":[{"code":"","label":""}],"Platform":[{"code":"PF025","label":"Platform Independent"}],"Version":"All Versions","Line of Business":{"code":"LOB24","label":"Security Software"}},{"Business Unit":{"code":"BU059","label":"IBM Software w\/o TPS"},"Product":{"code":"SSXVMQ","label":"i2 Analyst's Notebook Premium"},"ARM Category":[{"code":"","label":""}],"Platform":[{"code":"PF025","label":"Platform Independent"}],"Version":"All Versions","Line of Business":{"code":"LOB24","label":"Security Software"}},{"Business Unit":{"code":"BU059","label":"IBM Software w\/o TPS"},"Product":{"code":"SSXW43","label":"i2 iBase"},"ARM Category":[{"code":"","label":""}],"Platform":[{"code":"PF025","label":"Platform Independent"}],"Version":"All Versions","Line of Business":{"code":"LOB24","label":"Security Software"}},{"Business Unit":{"code":"BU059","label":"IBM Software w\/o TPS"},"Product":{"code":"SSWHLP","label":"IBM Security Secret Server"},"ARM Category":[{"code":"","label":""}],"Platform":[{"code":"PF025","label":"Platform Independent"}],"Version":"All Versions","Line of Business":{"code":"LOB24","label":"Security Software"}},{"Business Unit":{"code":"BU059","label":"IBM Software w\/o TPS"},"Product":{"code":"SSWPVP","label":"IBM Security Key Lifecycle Manager"},"ARM Category":[{"code":"","label":""}],"Platform":[{"code":"PF025","label":"Platform Independent"}],"Version":"All Versions","Line of Business":{"code":"LOB24","label":"Security Software"}},{"Business Unit":{"code":"BU059","label":"IBM Software w\/o TPS"},"Product":{"code":"SSLKT6","label":"IBM Maximo Asset Management"},"ARM Category":[{"code":"","label":""}],"Platform":[{"code":"PF025","label":"Platform Independent"}],"Version":"All Versions","Line of Business":{"code":"LOB02","label":"AI Applications"}},{"Business Unit":{"code":"BU059","label":"IBM Software w\/o TPS"},"Product":{"code":"SSPJLC","label":"Maximo Anywhere"},"ARM Category":[{"code":"","label":""}],"Platform":[{"code":"PF025","label":"Platform Independent"}],"Version":"All Versions","Line of Business":{"code":"LOB02","label":"AI Applications"}},{"Business Unit":{"code":"BU059","label":"IBM Software w\/o TPS"},"Product":{"code":"SS3KH6","label":"IBM Maximo MRO Inventory Optimization"},"ARM Category":[{"code":"","label":""}],"Platform":[{"code":"PF025","label":"Platform Independent"}],"Version":"All Version(s)","Line of Business":{"code":"LOB02","label":"AI Applications"}},{"Business Unit":{"code":"BU059","label":"IBM Software w\/o TPS"},"Product":{"code":"SSLL9G","label":"Maximo for Oil and Gas"},"ARM Category":[{"code":"","label":""}],"Platform":[{"code":"PF025","label":"Platform Independent"}],"Version":"All Versions","Line of Business":{"code":"LOB02","label":"AI Applications"}},{"Business Unit":{"code":"BU059","label":"IBM Software w\/o TPS"},"Product":{"code":"SSLL8M","label":"Maximo for Nuclear Power"},"ARM Category":[{"code":"","label":""}],"Platform":[{"code":"PF025","label":"Platform Independent"}],"Version":"All Versions","Line of Business":{"code":"LOB02","label":"AI Applications"}},{"Business Unit":{"code":"BU059","label":"IBM Software w\/o TPS"},"Product":{"code":"SSLL9Z","label":"Maximo for Transportation"},"ARM Category":[{"code":"","label":""}],"Platform":[{"code":"PF025","label":"Platform Independent"}],"Version":"All Versions","Line of Business":{"code":"LOB02","label":"AI Applications"}},{"Business Unit":{"code":"BU059","label":"IBM Software w\/o TPS"},"Product":{"code":"SSKR2T","label":"IBM Engineering Requirements Management DOORS"},"ARM Category":[{"code":"","label":""}],"Platform":[{"code":"PF025","label":"Platform Independent"}],"Version":"All Versions","Line of Business":{"code":"LOB02","label":"AI Applications"}},{"Business Unit":{"code":"BU059","label":"IBM Software w\/o TPS"},"Product":{"code":"SSQNGE","label":"IBM TRIRIGA"},"ARM Category":[{"code":"a8m0z000000bquZAAQ","label":"Platform"}],"Platform":[{"code":"PF025","label":"Platform Independent"}],"Version":"All Version(s)","Line of Business":{"code":"LOB02","label":"AI Applications"}},{"Business Unit":{"code":"BU059","label":"IBM Software w\/o TPS"},"Product":{"code":"SSHEB3","label":"IBM TRIRIGA Application Platform"},"ARM Category":[{"code":"","label":""}],"Platform":[{"code":"PF025","label":"Platform Independent"}],"Version":"All Versions","Line of Business":{"code":"LOB02","label":"AI Applications"}},{"Business Unit":{"code":"BU055","label":"Cognitive Applications"},"Product":{"code":"SSPN97","label":"IBM TRIRIGA Application Builder"},"ARM Category":[{"code":"","label":""}],"Platform":[{"code":"PF025","label":"Platform Independent"}],"Version":"All Version(s)","Line of Business":{"code":"","label":""}},{"Business Unit":{"code":"BU055","label":"Cognitive Applications"},"Product":{"code":"SSQTQM","label":"IBM Watson IoT Platform"},"ARM Category":[{"code":"","label":""}],"Platform":[{"code":"PF025","label":"Platform Independent"}],"Version":"All Version(s)","Line of Business":{"code":"","label":""}},{"Business Unit":{"code":"BU059","label":"IBM Software w\/o TPS"},"Product":{"code":"SS4PJT","label":"IBM Sterling Connect:Direct"},"ARM Category":[{"code":"","label":""}],"Platform":[{"code":"PF025","label":"Platform Independent"}],"Version":"All Versions","Line of Business":{"code":"LOB02","label":"AI Applications"}},{"Business Unit":{"code":"BU058","label":"IBM Infrastructure w\/TPS"},"Product":{"code":"SSKT3Y","label":"IBM Spectrum Accelerate"},"ARM Category":[{"code":"","label":""}],"Platform":[{"code":"PF025","label":"Platform Independent"}],"Version":"All Versions","Line of Business":{"code":"LOB26","label":"Storage"}},{"Business Unit":{"code":"BU058","label":"IBM Infrastructure w\/TPS"},"Product":{"code":"ST9MBR","label":"IBM Spectrum Archive Enterprise Edition"},"ARM Category":[{"code":"","label":""}],"Platform":[{"code":"PF025","label":"Platform Independent"}],"Version":"All Versions","Line of Business":{"code":"LOB26","label":"Storage"}},{"Business Unit":{"code":"BU058","label":"IBM Infrastructure w\/TPS"},"Product":{"code":"STZMZN","label":"IBM Spectrum Archive Library Edition"},"ARM Category":[{"code":"","label":""}],"Platform":[{"code":"PF025","label":"Platform Independent"}],"Version":"All Versions","Line of Business":{"code":"LOB26","label":"Storage"}},{"Business Unit":{"code":"BU059","label":"IBM Software w\/o TPS"},"Product":{"code":"SSZUCA","label":"IBM Spectrum Cluster Foundation"},"ARM Category":[{"code":"","label":""}],"Platform":[{"code":"PF025","label":"Platform Independent"}],"Version":"All Versions","Line of Business":{"code":"LOB10","label":"Data and AI"}},{"Business Unit":{"code":"BU059","label":"IBM Software w\/o TPS"},"Product":{"code":"SS4H63","label":"IBM Spectrum Conductor"},"ARM Category":[{"code":"","label":""}],"Platform":[{"code":"PF025","label":"Platform Independent"}],"Version":"All Versions","Line of Business":{"code":"LOB10","label":"Data and AI"}},{"Business Unit":{"code":"BU058","label":"IBM Infrastructure w\/TPS"},"Product":{"code":"SSNE44","label":"IBM Spectrum Control"},"ARM Category":[{"code":"","label":""}],"Platform":[{"code":"PF025","label":"Platform Independent"}],"Version":"All Versions","Line of Business":{"code":"LOB26","label":"Storage"}},{"Business Unit":{"code":"BU058","label":"IBM Infrastructure w\/TPS"},"Product":{"code":"SSNE44","label":"IBM Spectrum Control"},"ARM Category":[{"code":"","label":""}],"Platform":[{"code":"PF025","label":"Platform Independent"}],"Version":"All Versions","Line of Business":{"code":"LOB26","label":"Storage"}},{"Business Unit":{"code":"BU058","label":"IBM Infrastructure w\/TPS"},"Product":{"code":"SSNE44","label":"IBM Spectrum Control"},"ARM Category":[{"code":"","label":""}],"Platform":[{"code":"PF025","label":"Platform Independent"}],"Version":"All Versions","Line of Business":{"code":"LOB26","label":"Storage"}},{"Business Unit":{"code":"BU058","label":"IBM Infrastructure w\/TPS"},"Product":{"code":"SSNE44","label":"IBM Spectrum Control"},"ARM Category":[{"code":"","label":""}],"Platform":[{"code":"PF025","label":"Platform Independent"}],"Version":"All Versions","Line of Business":{"code":"LOB26","label":"Storage"}},{"Business Unit":{"code":"BU058","label":"IBM Infrastructure w\/TPS"},"Product":{"code":"SSWFCQ","label":"IBM Spectrum Control Standard Select Edition"},"ARM Category":[{"code":"","label":""}],"Platform":[{"code":"PF025","label":"Platform Independent"}],"Version":"All Versions","Line of Business":{"code":"LOB26","label":"Storage"}},{"Business Unit":{"code":"BU059","label":"IBM Software w\/o TPS"},"Product":{"code":"SSWRJV","label":"IBM Spectrum LSF"},"ARM Category":[{"code":"","label":""}],"Platform":[{"code":"PF025","label":"Platform Independent"}],"Version":"All Versions","Line of Business":{"code":"LOB10","label":"Data and AI"}},{"Business Unit":{"code":"BU058","label":"IBM Infrastructure w\/TPS"},"Product":{"code":"SSEQVQ","label":"IBM Spectrum Protect"},"ARM Category":[{"code":"","label":""}],"Platform":[{"code":"PF025","label":"Platform Independent"}],"Version":"All Versions","Line of Business":{"code":"LOB26","label":"Storage"}},{"Business Unit":{"code":"BU058","label":"IBM Infrastructure w\/TPS"},"Product":{"code":"SSER5J","label":"IBM Spectrum Protect Extended Edition"},"ARM Category":[{"code":"","label":""}],"Platform":[{"code":"PF025","label":"Platform Independent"}],"Version":"All Versions","Line of Business":{"code":"LOB26","label":"Storage"}},{"Business Unit":{"code":"BU058","label":"IBM Infrastructure w\/TPS"},"Product":{"code":"SSERFH","label":"IBM Spectrum Protect HSM for Windows"},"ARM Category":[{"code":"","label":""}],"Platform":[{"code":"PF025","label":"Platform Independent"}],"Version":"All Versions","Line of Business":{"code":"LOB26","label":"Storage"}},{"Business Unit":{"code":"BU058","label":"IBM Infrastructure w\/TPS"},"Product":{"code":"SSVCHN","label":"IBM Spectrum Protect High Speed Data Transfer"},"ARM Category":[{"code":"","label":""}],"Platform":[{"code":"PF025","label":"Platform Independent"}],"Version":"All Versions","Line of Business":{"code":"LOB26","label":"Storage"}},{"Business Unit":{"code":"BU058","label":"IBM Infrastructure w\/TPS"},"Product":{"code":"SSNQFQ","label":"IBM Spectrum Protect Plus"},"ARM Category":[{"code":"a8m50000000L3D0AAK","label":"Planning"}],"Platform":[{"code":"PF025","label":"Platform Independent"}],"Version":"All Version(s)","Line of Business":{"code":"LOB26","label":"Storage"}},{"Business Unit":{"code":"BU054","label":"Systems w\/TPS"},"Product":{"code":"SSERFV","label":"IBM Spectrum Protect Snapshot"},"ARM Category":[{"code":"","label":""}],"Platform":[{"code":"PF025","label":"Platform Independent"}],"Version":"All Versions","Line of Business":{"code":"LOB26","label":"Storage"}},{"Business Unit":{"code":"BU058","label":"IBM Infrastructure w\/TPS"},"Product":{"code":"SSERF2","label":"IBM Spectrum Protect Suite"},"ARM Category":[{"code":"","label":""}],"Platform":[{"code":"PF025","label":"Platform Independent"}],"Version":"All Versions","Line of Business":{"code":"LOB26","label":"Storage"}},{"Business Unit":{"code":"BU058","label":"IBM Infrastructure w\/TPS"},"Product":{"code":"SSER6B","label":"IBM Spectrum Protect for Data Retention"},"ARM Category":[{"code":"","label":""}],"Platform":[{"code":"PF025","label":"Platform Independent"}],"Version":"All Versions","Line of Business":{"code":"LOB26","label":"Storage"}},{"Business Unit":{"code":"BU058","label":"IBM Infrastructure w\/TPS"},"Product":{"code":"SSER7G","label":"IBM Spectrum Protect for Databases"},"ARM Category":[{"code":"","label":""}],"Platform":[{"code":"PF025","label":"Platform Independent"}],"Version":"All Versions","Line of Business":{"code":"LOB26","label":"Storage"}},{"Business Unit":{"code":"BU058","label":"IBM Infrastructure w\/TPS"},"Product":{"code":"SSER83","label":"IBM Spectrum Protect for Enterprise Resource Planning"},"ARM Category":[{"code":"","label":""}],"Platform":[{"code":"PF025","label":"Platform Independent"}],"Version":"All Versions","Line of Business":{"code":"LOB26","label":"Storage"}},{"Business Unit":{"code":"BU058","label":"IBM Infrastructure w\/TPS"},"Product":{"code":"SSERBW","label":"IBM Spectrum Protect for Mail"},"ARM Category":[{"code":"","label":""}],"Platform":[{"code":"PF025","label":"Platform Independent"}],"Version":"All Versions","Line of Business":{"code":"LOB26","label":"Storage"}},{"Business Unit":{"code":"BU058","label":"IBM Infrastructure w\/TPS"},"Product":{"code":"SSERCH","label":"IBM Spectrum Protect for SAN"},"ARM Category":[{"code":"","label":""}],"Platform":[{"code":"PF025","label":"Platform Independent"}],"Version":"All Versions","Line of Business":{"code":"LOB26","label":"Storage"}},{"Business Unit":{"code":"BU058","label":"IBM Infrastructure w\/TPS"},"Product":{"code":"SSERBH","label":"IBM Spectrum Protect for Space Management"},"ARM Category":[{"code":"","label":""}],"Platform":[{"code":"PF025","label":"Platform Independent"}],"Version":"All Versions","Line of Business":{"code":"LOB26","label":"Storage"}},{"Business Unit":{"code":"BU058","label":"IBM Infrastructure w\/TPS"},"Product":{"code":"SSERB6","label":"IBM Spectrum Protect for Virtual Environments"},"ARM Category":[{"code":"","label":""}],"Platform":[{"code":"PF025","label":"Platform Independent"}],"Version":"All Versions","Line of Business":{"code":"LOB26","label":"Storage"}},{"Business Unit":{"code":"BU058","label":"IBM Infrastructure w\/TPS"},"Product":{"code":"SSER9E","label":"IBM Spectrum Protect for Workstations"},"ARM Category":[{"code":"","label":""}],"Platform":[{"code":"PF025","label":"Platform Independent"}],"Version":"All Versions","Line of Business":{"code":"LOB26","label":"Storage"}},{"Business Unit":{"code":"BU058","label":"IBM Infrastructure w\/TPS"},"Product":{"code":"STXKQY","label":"IBM Spectrum Scale"},"ARM Category":[{"code":"","label":""}],"Platform":[{"code":"PF025","label":"Platform Independent"}],"Version":"All Versions","Line of Business":{"code":"LOB26","label":"Storage"}},{"Business Unit":{"code":"BU059","label":"IBM Software w\/o TPS"},"Product":{"code":"SSZUMP","label":"IBM Spectrum Symphony"},"ARM Category":[{"code":"","label":""}],"Platform":[{"code":"PF025","label":"Platform Independent"}],"Version":"All Versions","Line of Business":{"code":"LOB10","label":"Data and AI"}},{"Business Unit":{"code":"BU054","label":"Systems w\/TPS"},"Product":{"code":"SSQRB8","label":"IBM Storage Insights"},"ARM Category":[{"code":"","label":""}],"Platform":[{"code":"PF025","label":"Platform Independent"}],"Version":"All Versions","Line of Business":{"code":"","label":""}},{"Business Unit":{"code":"BU054","label":"Systems w\/TPS"},"Product":{"code":"STJTAG","label":"Disk systems->XIV Storage System (2810, 2812)"},"ARM Category":[{"code":"","label":""}],"Platform":[{"code":"PF025","label":"Platform Independent"}],"Version":"All Versions","Line of Business":{"code":"","label":""}},{"Business Unit":{"code":"BU058","label":"IBM Infrastructure w\/TPS"},"Product":{"code":"SSHL5A","label":"XIV Storage System Software"},"ARM Category":[{"code":"","label":""}],"Platform":[{"code":"PF025","label":"Platform Independent"}],"Version":"All Versions","Line of Business":{"code":"LOB26","label":"Storage"}},{"Business Unit":{"code":"BU054","label":"Systems w\/TPS"},"Product":{"code":"STUVMB","label":"Disk systems->DS8700"},"ARM Category":[{"code":"","label":""}],"Platform":[{"code":"PF025","label":"Platform Independent"}],"Version":"All Versions","Line of Business":{"code":"","label":""}},{"Business Unit":{"code":"BU054","label":"Systems w\/TPS"},"Product":{"code":"STXN8P","label":"Disk systems->DS8800"},"ARM Category":[{"code":"","label":""}],"Platform":[{"code":"PF025","label":"Platform Independent"}],"Version":"All Versions","Line of Business":{"code":"","label":""}},{"Business Unit":{"code":"BU054","label":"Systems w\/TPS"},"Product":{"code":"ST8GLJ","label":"DS8900F"},"ARM Category":[{"code":"","label":""}],"Platform":[{"code":"PF025","label":"Platform Independent"}],"Version":"All Versions","Line of Business":{"code":"LOB26","label":"Storage"}},{"Business Unit":{"code":"BU058","label":"IBM Infrastructure w\/TPS"},"Product":{"code":"HW1A1","label":"IBM Power Systems"},"ARM Category":[{"code":"","label":""}],"Platform":[{"code":"PF025","label":"Platform Independent"}],"Version":"All Versions","Line of Business":{"code":"LOB08","label":"Cognitive Systems"}},{"Business Unit":{"code":"BU054","label":"Systems w\/TPS"},"Product":{"code":"STLM6B","label":"IBM Storwize V3500 (2071)"},"ARM Category":[{"code":"","label":""}],"Platform":[{"code":"PF025","label":"Platform Independent"}],"Version":"All Versions","Line of Business":{"code":"","label":""}},{"Business Unit":{"code":"BU054","label":"Systems w\/TPS"},"Product":{"code":"STLM5A","label":"IBM Storwize V3700 (2072)"},"ARM Category":[{"code":"","label":""}],"Platform":[{"code":"PF025","label":"Platform Independent"}],"Version":"All Versions","Line of Business":{"code":"","label":""}},{"Business Unit":{"code":"BU054","label":"Systems w\/TPS"},"Product":{"code":"STHGUJ","label":"IBM Storwize V5000 and V5100"},"ARM Category":[{"code":"","label":""}],"Platform":[{"code":"PF025","label":"Platform Independent"}],"Version":"All Versions","Line of Business":{"code":"","label":""}},{"Business Unit":{"code":"BU054","label":"Systems w\/TPS"},"Product":{"code":"ST3FR7","label":"IBM Storwize V7000 (2076)"},"ARM Category":[{"code":"","label":""}],"Platform":[{"code":"PF025","label":"Platform Independent"}],"Version":"All Versions","Line of Business":{"code":"","label":""}},{"Business Unit":{"code":"BU058","label":"IBM Infrastructure w\/TPS"},"Product":{"code":"ST5Q4U","label":"IBM Storwize V7000 Unified (2073)"},"ARM Category":[{"code":"","label":""}],"Platform":[{"code":"PF025","label":"Platform Independent"}],"Version":"All Versions","Line of Business":{"code":"LOB26","label":"Storage"}},{"Business Unit":{"code":"BU054","label":"Systems w\/TPS"},"Product":{"code":"STPVGU","label":"SAN Volume Controller"},"ARM Category":[{"code":"","label":""}],"Platform":[{"code":"PF025","label":"Platform Independent"}],"Version":"All Versions","Line of Business":{"code":"LOB26","label":"Storage"}},{"Business Unit":{"code":"BU058","label":"IBM Infrastructure w\/TPS"},"Product":{"code":"STRK68","label":"IBM Spectrum NAS"},"ARM Category":[{"code":"","label":""}],"Platform":[{"code":"PF025","label":"Platform Independent"}],"Version":"All Versions","Line of Business":{"code":"LOB26","label":"Storage"}},{"Business Unit":{"code":"BU058","label":"IBM Infrastructure w\/TPS"},"Product":{"code":"STHMCM","label":"IBM Elastic Storage Server"},"ARM Category":[{"code":"","label":""}],"Platform":[{"code":"PF025","label":"Platform Independent"}],"Version":"All Versions","Line of Business":{"code":"LOB26","label":"Storage"}},{"Business Unit":{"code":"BU058","label":"IBM Infrastructure w\/TPS"},"Product":{"code":"SWG60","label":"IBM i"},"ARM Category":[{"code":"","label":""}],"Platform":[{"code":"PF025","label":"Platform Independent"}],"Version":"All Versions","Line of Business":{"code":"LOB08","label":"Cognitive Systems"}},{"Business Unit":{"code":"BU054","label":"Systems w\/TPS"},"Product":{"code":"STWRQ8","label":"Flash Storage->IBM FlashSystem 710"},"ARM Category":[{"code":"","label":""}],"Platform":[{"code":"PF025","label":"Platform Independent"}],"Version":"All Versions","Line of Business":{"code":"","label":""}},{"Business Unit":{"code":"BU054","label":"Systems w\/TPS"},"Product":{"code":"STWRRU","label":"Flash Storage->IBM FlashSystem 720"},"ARM Category":[{"code":"","label":""}],"Platform":[{"code":"PF025","label":"Platform Independent"}],"Version":"All Versions","Line of Business":{"code":"","label":""}},{"Business Unit":{"code":"BU054","label":"Systems w\/TPS"},"Product":{"code":"STWRSP","label":"Flash Storage->IBM FlashSystem 810"},"ARM Category":[{"code":"","label":""}],"Platform":[{"code":"PF025","label":"Platform Independent"}],"Version":"All Versions","Line of Business":{"code":"","label":""}},{"Business Unit":{"code":"BU054","label":"Systems w\/TPS"},"Product":{"code":"STWRTA","label":"Flash Storage->IBM FlashSystem 820"},"ARM Category":[{"code":"","label":""}],"Platform":[{"code":"PF025","label":"Platform Independent"}],"Version":"All Versions","Line of Business":{"code":"","label":""}},{"Business Unit":{"code":"BU054","label":"Systems w\/TPS"},"Product":{"code":"ST2NVR","label":"IBM FlashSystem 840"},"ARM Category":[{"code":"","label":""}],"Platform":[{"code":"PF025","label":"Platform Independent"}],"Version":"All Versions","Line of Business":{"code":"","label":""}},{"Business Unit":{"code":"BU054","label":"Systems w\/TPS"},"Product":{"code":"STKMQB","label":"IBM FlashSystem 900"},"ARM Category":[{"code":"","label":""}],"Platform":[{"code":"PF025","label":"Platform Independent"}],"Version":"All Versions","Line of Business":{"code":"LOB26","label":"Storage"}},{"Business Unit":{"code":"BU054","label":"Systems w\/TPS"},"Product":{"code":"STJKMM","label":"IBM FlashSystem A9000"},"ARM Category":[{"code":"","label":""}],"Platform":[{"code":"PF025","label":"Platform Independent"}],"Version":"All Versions","Line of Business":{"code":"LOB26","label":"Storage"}},{"Business Unit":{"code":"BU054","label":"Systems w\/TPS"},"Product":{"code":"STJKN5","label":"IBM FlashSystem A9000R"},"ARM Category":[{"code":"","label":""}],"Platform":[{"code":"PF025","label":"Platform Independent"}],"Version":"All Versions","Line of Business":{"code":"LOB26","label":"Storage"}},{"Business Unit":{"code":"BU058","label":"IBM Infrastructure w\/TPS"},"Product":{"code":"ST2HTZ","label":"IBM FlashSystem Software"},"ARM Category":[{"code":"","label":""}],"Platform":[{"code":"PF025","label":"Platform Independent"}],"Version":"All Versions","Line of Business":{"code":"LOB26","label":"Storage"}},{"Business Unit":{"code":"BU054","label":"Systems w\/TPS"},"Product":{"code":"STKMQV","label":"IBM FlashSystem V9000"},"ARM Category":[{"code":"","label":""}],"Platform":[{"code":"PF025","label":"Platform Independent"}],"Version":"All Versions","Line of Business":{"code":"LOB26","label":"Storage"}},{"Business Unit":{"code":"BU054","label":"Systems w\/TPS"},"Product":{"code":"STUVMB","label":"Disk systems->DS8700"},"ARM Category":[{"code":"","label":""}],"Platform":[{"code":"PF025","label":"Platform Independent"}],"Version":"All Versions","Line of Business":{"code":"","label":""}},{"Business Unit":{"code":"BU054","label":"Systems w\/TPS"},"Product":{"code":"STXN8P","label":"Disk systems->DS8800"},"ARM Category":[{"code":"","label":""}],"Platform":[{"code":"PF025","label":"Platform Independent"}],"Version":"All Versions","Line of Business":{"code":"","label":""}},{"Business Unit":{"code":"BU054","label":"Systems w\/TPS"},"Product":{"code":"ST8GLJ","label":"DS8900F"},"ARM Category":[{"code":"","label":""}],"Platform":[{"code":"PF025","label":"Platform Independent"}],"Version":"All Versions","Line of Business":{"code":"LOB26","label":"Storage"}},{"Business Unit":{"code":"BU054","label":"Systems w\/TPS"},"Product":{"code":"STCVQ6W","label":"3590 Enterprise Tape Drive"},"ARM Category":[{"code":"","label":""}],"Platform":[{"code":"PF025","label":"Platform Independent"}],"Version":"All Versions","Line of Business":{"code":"LOB26","label":"Storage"}},{"Business Unit":{"code":"BU054","label":"Systems w\/TPS"},"Product":{"code":"STCTNLZ","label":"Tape systems->3592 Enterprise Tape System"},"ARM Category":[{"code":"","label":""}],"Platform":[{"code":"PF025","label":"Platform Independent"}],"Version":"All Versions","Line of Business":{"code":"","label":""}},{"Business Unit":{"code":"BU054","label":"Systems w\/TPS"},"Product":{"code":"STC8TCR","label":"Tape systems->3953 Enterprise Tape System"},"ARM Category":[{"code":"","label":""}],"Platform":[{"code":"PF025","label":"Platform Independent"}],"Version":"All Versions","Line of Business":{"code":"","label":""}},{"Business Unit":{"code":"BU058","label":"IBM Infrastructure w\/TPS"},"Product":{"code":"SSXMZC","label":"IBM Tape System Library Manager"},"ARM Category":[{"code":"","label":""}],"Platform":[{"code":"PF025","label":"Platform Independent"}],"Version":"All Versions","Line of Business":{"code":"LOB26","label":"Storage"}},{"Business Unit":{"code":"BU058","label":"IBM Infrastructure w\/TPS"},"Product":{"code":"SSXMZC","label":"IBM Tape System Library Manager"},"ARM Category":[{"code":"","label":""}],"Platform":[{"code":"PF025","label":"Platform Independent"}],"Version":"All Versions","Line of Business":{"code":"LOB26","label":"Storage"}},{"Business Unit":{"code":"BU054","label":"Systems w\/TPS"},"Product":{"code":"STFS69","label":"TS7700"},"ARM Category":[{"code":"","label":""}],"Platform":[{"code":"PF025","label":"Platform Independent"}],"Version":"All Versions","Line of Business":{"code":"","label":""}},{"Business Unit":{"code":"BU054","label":"Systems w\/TPS"},"Product":{"code":"STQQ5B","label":"TS7610 Deduplication Appliance Express (3959-SM1) ProtecTIER Entry Edition"},"ARM Category":[{"code":"","label":""}],"Platform":[{"code":"PF025","label":"Platform Independent"}],"Version":"All Versions","Line of Business":{"code":"","label":""}},{"Business Unit":{"code":"BU054","label":"Systems w\/TPS"},"Product":{"code":"STHNX8","label":"TS7620 ProtecTIER Deduplication Appliance Express"},"ARM Category":[{"code":"","label":""}],"Platform":[{"code":"PF025","label":"Platform Independent"}],"Version":"All Versions","Line of Business":{"code":"","label":""}},{"Business Unit":{"code":"BU054","label":"Systems w\/TPS"},"Product":{"code":"STLPPL","label":"TS7650 Deduplication Appliance (3958-AP1) ProtecTIER Appliance Edition"},"ARM Category":[{"code":"","label":""}],"Platform":[{"code":"PF025","label":"Platform Independent"}],"Version":"All Versions","Line of Business":{"code":"","label":""}},{"Business Unit":{"code":"BU054","label":"Systems w\/TPS"},"Product":{"code":"STVRB7","label":"TS7650G Deduplication Gateway (3958-DD1-6) ProtecTIER Enterprise Edition"},"ARM Category":[{"code":"","label":""}],"Platform":[{"code":"PF025","label":"Platform Independent"}],"Version":"All Versions","Line of Business":{"code":"","label":""}},{"Business Unit":{"code":"BU054","label":"Systems w\/TPS"},"Product":{"code":"STEL9Z","label":"TS7680 ProtecTIER Deduplication Gateway for System z (3958-DE2)"},"ARM Category":[{"code":"","label":""}],"Platform":[{"code":"PF025","label":"Platform Independent"}],"Version":"All Versions","Line of Business":{"code":"","label":""}},{"Business Unit":{"code":"BU054","label":"Systems w\/TPS"},"Product":{"code":"SSB6AA","label":"Power System Hardware Management Console Physical Appliance"},"ARM Category":[{"code":"","label":""}],"Platform":[{"code":"PF025","label":"Platform Independent"}],"Version":"All Versions","Line of Business":{"code":"LOB08","label":"Cognitive Systems"}},{"Business Unit":{"code":"BU054","label":"Systems w\/TPS"},"Product":{"code":"SGGSNP","label":"Hardware Management Console V9"},"ARM Category":[{"code":"","label":""}],"Platform":[{"code":"PF025","label":"Platform Independent"}],"Version":"All Versions","Line of Business":{"code":"LOB08","label":"Cognitive Systems"}},{"Business Unit":{"code":"BU054","label":"Systems w\/TPS"},"Product":{"code":"SGGSNP","label":"Hardware Management Console V9"},"ARM Category":[{"code":"","label":""}],"Platform":[{"code":"PF025","label":"Platform Independent"}],"Version":"All Versions","Line of Business":{"code":"LOB08","label":"Cognitive Systems"}},{"Business Unit":{"code":"BU054","label":"Systems w\/TPS"},"Product":{"code":"SGGSNP","label":"Hardware Management Console V9"},"ARM Category":[{"code":"","label":""}],"Platform":[{"code":"PF025","label":"Platform Independent"}],"Version":"All Versions","Line of Business":{"code":"LOB08","label":"Cognitive Systems"}},{"Business Unit":{"code":"BU054","label":"Systems w\/TPS"},"Product":{"code":"SGGSNP","label":"Hardware Management Console V9"},"ARM Category":[{"code":"","label":""}],"Platform":[{"code":"PF025","label":"Platform Independent"}],"Version":"All Versions","Line of Business":{"code":"LOB08","label":"Cognitive Systems"}},{"Business Unit":{"code":"BU054","label":"Systems w\/TPS"},"Product":{"code":"SGGSNP","label":"Hardware Management Console V9"},"ARM Category":[{"code":"","label":""}],"Platform":[{"code":"PF025","label":"Platform Independent"}],"Version":"All Versions","Line of Business":{"code":"LOB08","label":"Cognitive Systems"}},{"Business Unit":{"code":"BU054","label":"Systems w\/TPS"},"Product":{"code":"SGGSNP","label":"Hardware Management Console V9"},"ARM Category":[{"code":"","label":""}],"Platform":[{"code":"PF025","label":"Platform Independent"}],"Version":"All Versions","Line of Business":{"code":"LOB08","label":"Cognitive Systems"}},{"Business Unit":{"code":"BU054","label":"Systems w\/TPS"},"Product":{"code":"SGGSNP","label":"Hardware Management Console V9"},"ARM Category":[{"code":"","label":""}],"Platform":[{"code":"PF025","label":"Platform Independent"}],"Version":"All Versions","Line of Business":{"code":"LOB08","label":"Cognitive Systems"}}]
Document Information
Modified date:
01 November 2021