Product Documentation
Abstract
IBM Support Assistant Data Collector (ISADC) 2.0.1, with web browser enabled GUI.
Content
The IBM Support Assistant Data Collector 2.0.1 is a new addition to the IBM Support Assistant family of offerings previously known as IBM Support Assistant Lite. This new data collector still gives you the full benefits of the IBM Support Assistant Lite with additional features and functions.


The IBM Support Assistant Data Collector tool is provided as an aid for troubleshooting problems with IBM software products. The tool focuses on automatic collection of problem data. It also provides symptom analysis support for the various categories of problems encountered by IBM software products. Information pertinent to a type of problem is collected and analyzed to help identify the origin of the problem under investigation. The tool assists customers by reducing the amount of time it takes to reproduce a problem with the proper tracing levels set, as well as by reducing the effort required to send the appropriate log information into IBM Support.


Benefits:
Collect data using a browser or choose to download the collector for use on another system.
Easy to use and intuitive web interface.
Simplified data collection and transfer method for exchanging data with IBM support
Improved interface for console collections. (This is ideal when a browser may not be available on the target system)
Improved upload interface to IBM Support for data collection files. (Easily send via HTTPS or FTP to IBM, or choose to send to another FTP server of your choice)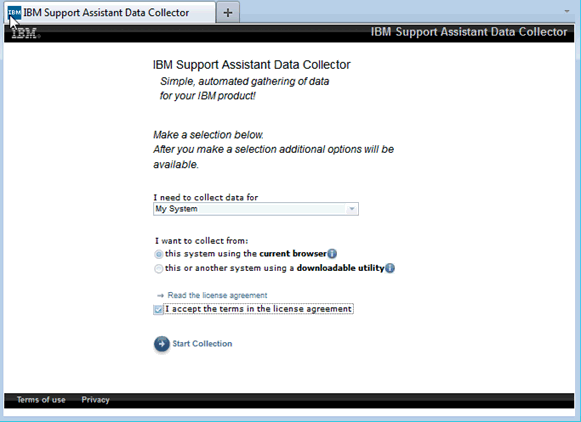 Getting Started:
Point your browser to IBM Support Assistant Data Collector
If you need to collect data from the system where the browser is running, choose the option to start the collection
If you need to collect data from another system, choose the option to download the collector utility. This is ideal when a system may not have direct access to the internet. Transfer the zip file to another system, extract it and run it with one of the two following options:
Browser mode: open the index.html file at the root of the extracted 'isadc' directory
Console mode: execute the 'isadc.sh' (Linux/Unix) or 'isadc.bat' (Windows) script to start the collection process. For usage assistance, pass the "-help" command line option to the script.
System Requirements:
Java 1.6 plugin (Browser mode execution requires that the Java plugin is enabled in the browser)
Supported browsers:
Internet Explorer 8 & higher
FireFox 3.6 & higher
Google Chrome 13.x & higher
Safari 5.1 & higher
Please visit our home page for the full complement of IBM Support Assistant offerings!
Got a suggestion or question? Log into our
developerWorks forum
and let us know!
[{"Product":{"code":"SUNSET","label":"PRODUCT REMOVED"},"Business Unit":{"code":null,"label":null},"Component":"Not Applicable","Platform":[{"code":"PF002","label":"AIX"},{"code":"PF010","label":"HP-UX"},{"code":"PF016","label":"Linux"},{"code":"PF027","label":"Solaris"},{"code":"PF033","label":"Windows"}],"Version":"2.0.1","Edition":"","Line of Business":{"code":"","label":""}},{"Product":{"code":"SSLLVC","label":"IBM Support Assistant"},"Business Unit":{"code":"BU053","label":"Cloud & Data Platform"},"Component":"Data Collector","Platform":[{"code":"","label":""}],"Version":"","Edition":"","Line of Business":{"code":"","label":""}}]
Document Information
Modified date:
17 June 2018