How To
Summary
This document summarizes the basic steps used to configure call home for IBM SAN b-type devices using the Network Advisor management application to create cases automatically with IBM Support if a significant problem occurs on a device.

Note: Configuration is handled differently in SANnav. Follow the guidance in the SANnav user guide for setting up the IBM email call home center, specifying the target IBM email addresses documented below.
Steps
The complete detailed instructions for configuring call home are documented in the IBM Network Advisor Remote Support
document
.
When a significant problem occurs, Network Advisor sends an email transaction to IBM to generate a support case. Here are the basic configuration steps:
Select Monitor\Event Notification\Call Home.
Select IBM E-mail in the Call Home Centers list.
Click Edit Centers found beneath the Call Home Centers list: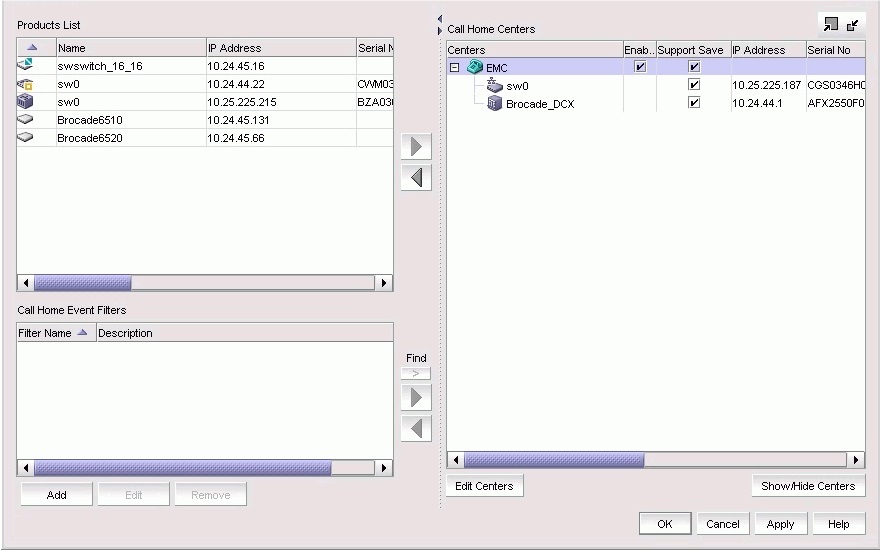 Enable the IBM E-mail Call Home center.
Provide contact information. This is critical to make sure IBM Support can reach you if a problem occurs. This should be the person IBM will contact for a call home case, along with SMTP information required for sending email from your location to IBM: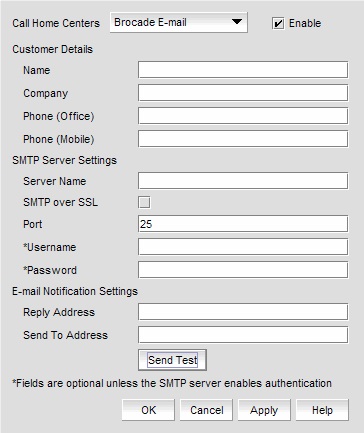 Enter the destination IBM email address in the Send To Address field. The address you use depends on your location:

callhome1@de.ibm.com : USA, Canada, Latin & South America, and Caribbean Islands

callhome0@de.ibm.com : all other countries
Once you have configured the call home center, associate your SAN switch devices with it to enable them for call home. Follow the detailed instructions
here
to do this.
[{"Line of Business":{"code":"","label":""},"Business Unit":{"code":"BU054","label":"Systems w\/TPS"},"Product":{"code":"STQPPK","label":"SAN512B-6 Director (8961-F08)"},"ARM Category":[{"code":"","label":""}],"Platform":[{"code":"PF025","label":"Platform Independent"}],"Version":"All Versions","Type":"MASTER"},{"Line of Business":{"code":"LOB26","label":"Storage"},"Business Unit":{"code":"BU058","label":"IBM Infrastructure w\/TPS"},"Product":{"code":"SSJEYP","label":"IBM Storage Networking SAN256B-7"},"ARM Category":[{"code":"a8m0z000000bqLAAAY","label":"Brocade IBM B-Type-\u003EReference"}],"Platform":[{"code":"PF025","label":"Platform Independent"}],"Version":"All Versions","Type":"MASTER"},{"Line of Business":{"code":"LOB26","label":"Storage"},"Business Unit":{"code":"BU058","label":"IBM Infrastructure w\/TPS"},"Product":{"code":"STQPLH","label":"IBM Storage Networking SAN256B-6 (8961-F04)"},"ARM Category":[{"code":"a8m0z000000bqLAAAY","label":"Brocade IBM B-Type-\u003EReference"}],"Platform":[{"code":"PF025","label":"Platform Independent"}],"Version":"All Versions","Type":"MASTER"},{"Line of Business":{"code":"LOB26","label":"Storage"},"Business Unit":{"code":"BU058","label":"IBM Infrastructure w\/TPS"},"Product":{"code":"SSS5S3R","label":"IBM Storage Networking SAN64B-7"},"ARM Category":[{"code":"","label":""}],"Platform":[{"code":"PF025","label":"Platform Independent"}],"Version":"All Versions","Type":"MASTER"},{"Line of Business":{"code":"","label":""},"Business Unit":{"code":"BU054","label":"Systems w\/TPS"},"Product":{"code":"STQPQQ","label":"SAN128B-6 Switch (8960-F96-N96)"},"ARM Category":[{"code":"","label":""}],"Platform":[{"code":"PF025","label":"Platform Independent"}],"Version":"All Versions","Type":"MASTER"},{"Line of Business":{"code":"","label":""},"Business Unit":{"code":"BU054","label":"Systems w\/TPS"},"Product":{"code":"STQPJB","label":"SAN64B-6 Switch (8960-F64-N64)"},"ARM Category":[{"code":"","label":""}],"Platform":[{"code":"PF025","label":"Platform Independent"}],"Version":"All Versions","Type":"MASTER"},{"Line of Business":{"code":"","label":""},"Business Unit":{"code":"BU054","label":"Systems w\/TPS"},"Product":{"code":"ST8M4B","label":"SAN24B-6 (8960-F24)"},"ARM Category":[{"code":"","label":""}],"Platform":[{"code":"PF025","label":"Platform Independent"}],"Version":"All Versions","Type":"MASTER"},{"Line of Business":{"code":"","label":""},"Business Unit":{"code":"BU054","label":"Systems w\/TPS"},"Product":{"code":"STNNAB","label":"Storage area network (SAN)-\u003ESAN96B-5 Switch (2498-F96, N96)"},"ARM Category":[{"code":"","label":""}],"Platform":[{"code":"PF025","label":"Platform Independent"}],"Version":"All Versions","Type":"MASTER"},{"Line of Business":{"code":"","label":""},"Business Unit":{"code":"BU054","label":"Systems w\/TPS"},"Product":{"code":"STMN38","label":"Storage area network (SAN)-\u003ESAN42B-R (2498-R42)"},"ARM Category":[{"code":"","label":""}],"Platform":[{"code":"PF025","label":"Platform Independent"}],"Version":"All Versions","Type":"MASTER"},{"Line of Business":{"code":"","label":""},"Business Unit":{"code":"BU054","label":"Systems w\/TPS"},"Product":{"code":"STQPPB","label":"SAN18B-6 Switch (8960-R18)"},"ARM Category":[{"code":"","label":""}],"Platform":[{"code":"PF025","label":"Platform Independent"}],"Version":"All Versions","Type":"MASTER"},{"Line of Business":{"code":"LOB26","label":"Storage"},"Business Unit":{"code":"BU058","label":"IBM Infrastructure w\/TPS"},"Product":{"code":"SSS3QX","label":"IBM System Networking SAN24B-5"},"ARM Category":[{"code":"","label":""}],"Platform":[{"code":"PF025","label":"Platform Independent"}],"Version":"All Versions","Type":"MASTER"},{"Line of Business":{"code":"LOB26","label":"Storage"},"Business Unit":{"code":"BU058","label":"IBM Infrastructure w\/TPS"},"Product":{"code":"SSDGNE0","label":"IBM System Storage SAN48B-5"},"ARM Category":[{"code":"","label":""}],"Platform":[{"code":"PF025","label":"Platform Independent"}],"Version":"All Versions","Type":"MASTER"},{"Line of Business":{"code":"LOB26","label":"Storage"},"Business Unit":{"code":"BU058","label":"IBM Infrastructure w\/TPS"},"Product":{"code":"SSYJ1X","label":"IBM System Storage SAN384B-2"},"ARM Category":[{"code":"","label":""}],"Platform":[{"code":"PF025","label":"Platform Independent"}],"Version":"All Versions","Type":"MASTER"},{"Line of Business":{"code":"LOB26","label":"Storage"},"Business Unit":{"code":"BU058","label":"IBM Infrastructure w\/TPS"},"Product":{"code":"SSBLI9","label":"IBM System Storage SAN768B-2"},"ARM Category":[{"code":"","label":""}],"Platform":[{"code":"PF025","label":"Platform Independent"}],"Version":"All Versions","Type":"MASTER"},{"Line of Business":{"code":"","label":""},"Business Unit":{"code":"BU054","label":"Systems w\/TPS"},"Product":{"code":"STMKTF","label":"SAN06B-R (2498-R06)"},"ARM Category":[{"code":"","label":""}],"Platform":[{"code":"PF025","label":"Platform Independent"}],"Version":"All Versions","Type":"MASTER"},{"Line of Business":{"code":"LOB26","label":"Storage"},"Business Unit":{"code":"BU058","label":"IBM Infrastructure w\/TPS"},"Product":{"code":"SSV1RF","label":"IBM System Storage SAN24B-4"},"ARM Category":[{"code":"","label":""}],"Platform":[{"code":"PF025","label":"Platform Independent"}],"Version":"All Versions","Type":"MASTER"},{"Type":"MASTER","Line of Business":{"code":"","label":""},"Business Unit":{"code":"BU054","label":"Systems w\/TPS"},"Product":{"code":"STQPQQ","label":"SAN128B-6 Switch (8960-F96-N96)"},"ARM Category":[],"Platform":[{"code":"PF025","label":"Platform Independent"}],"Version":"All Versions"},{"Type":"MASTER","Line of Business":{"code":"","label":""},"Business Unit":{"code":"BU054","label":"Systems w\/TPS"},"Product":{"code":"STQPJB","label":"SAN64B-6 Switch (8960-F64-N64)"},"ARM Category":[],"Platform":[{"code":"PF025","label":"Platform Independent"}],"Version":"All Versions"},{"Type":"MASTER","Line of Business":{"code":"LOB26","label":"Storage"},"Business Unit":{"code":"BU058","label":"IBM Infrastructure w\/TPS"},"Product":{"code":"SSG1XN9","label":"IBM Storage Networking SAN512B-7"},"ARM Category":[],"ARM Case Number":[],"Platform":[{"code":"PF025","label":"Platform Independent"}]},{"Type":"MASTER","Line of Business":{"code":"LOB26","label":"Storage"},"Business Unit":{"code":"BU058","label":"IBM Infrastructure w\/TPS"},"Product":{"code":"SSQ2GCN","label":"IBM Storage Networking SAN128B-6"},"ARM Category":[],"ARM Case Number":[],"Platform":[{"code":"PF025","label":"Platform Independent"}]},{"Type":"MASTER","Line of Business":{"code":"LOB26","label":"Storage"},"Business Unit":{"code":"BU058","label":"IBM Infrastructure w\/TPS"},"Product":{"code":"SSRN1L3","label":"IBM Storage Networking SAN64B-6"},"ARM Category":[],"ARM Case Number":[],"Platform":[{"code":"PF025","label":"Platform Independent"}]},{"Type":"MASTER","Line of Business":{"code":"LOB26","label":"Storage"},"Business Unit":{"code":"BU058","label":"IBM Infrastructure w\/TPS"},"Product":{"code":"STSGV1","label":"IBM SANnav Global View"},"ARM Category":[{"code":"a8m0z000000bqLAAAY","label":"Brocade IBM B-Type-\u003EReference"}],"Platform":[{"code":"PF025","label":"Platform Independent"}],"Version":"All Versions"},{"Type":"MASTER","Line of Business":{"code":"LOB26","label":"Storage"},"Business Unit":{"code":"BU058","label":"IBM Infrastructure w\/TPS"},"Product":{"code":"STSMB1","label":"IBM SANnav Management Portal Base Edition"},"ARM Category":[{"code":"a8m0z000000bqLAAAY","label":"Brocade IBM B-Type-\u003EReference"}],"Platform":[{"code":"PF025","label":"Platform Independent"}],"Version":"All Versions"},{"Type":"MASTER","Line of Business":{"code":"LOB26","label":"Storage"},"Business Unit":{"code":"BU058","label":"IBM Infrastructure w\/TPS"},"Product":{"code":"STSME1","label":"IBM SANnav Management Portal Enterprise Edition"},"ARM Category":[{"code":"a8m0z000000bqLAAAY","label":"Brocade IBM B-Type-\u003EReference"}],"Platform":[{"code":"PF025","label":"Platform Independent"}],"Version":"All Versions"},{"Type":"MASTER","Line of Business":{"code":"LOB26","label":"Storage"},"Business Unit":{"code":"BU058","label":"IBM Infrastructure w\/TPS"},"Product":{"code":"SSFQ7J","label":"Network Advisor Software"},"ARM Category":[{"code":"a8m0z000000bqLAAAY","label":"Brocade IBM B-Type-\u003EReference"}],"Platform":[{"code":"PF025","label":"Platform Independent"}],"Version":"All Versions"},{"Type":"MASTER","Line of Business":{"code":"","label":""},"Business Unit":{"code":"BU054","label":"Systems w\/TPS"},"Product":{"code":"STMSDB","label":"Storage area network (SAN)-\u003EIBM Network Advisor"},"ARM Category":[],"Platform":[{"code":"PF025","label":"Platform Independent"}],"Version":"All Versions"}]
Product Synonym
b-type 8960 8961network advisor sannav
Document Information
Modified date:
09 March 2022