How To
Summary
How to configure SnowFlake data source connection in Cognos Analtyics.
Objective
If you are setting up Snowflake data source connection with Cognos Analytics, this document will be your step-by step guide for you.

Steps
A. Pre-requirement for Snowflake
1. Logon Snowflake with user name and password
2. Create Warehouses and DB
B. Snowflake JDBC connection with Cognos Analytics
2. Place snowflake jdbc (snowflake-jdbc-3.9.2.jar) file into CA_installation/drivers folder.
3. Restart Cognos Analytics 
4. Edit Snowflake connection
JDBC URL:
"jdbc:snowflake://<your_account_name>.snowflakecomputing.com/?warehouse=<your_warehouse>"
Select Use the following signon:
ID and Password from snowflake User name and Password
5. Test the connection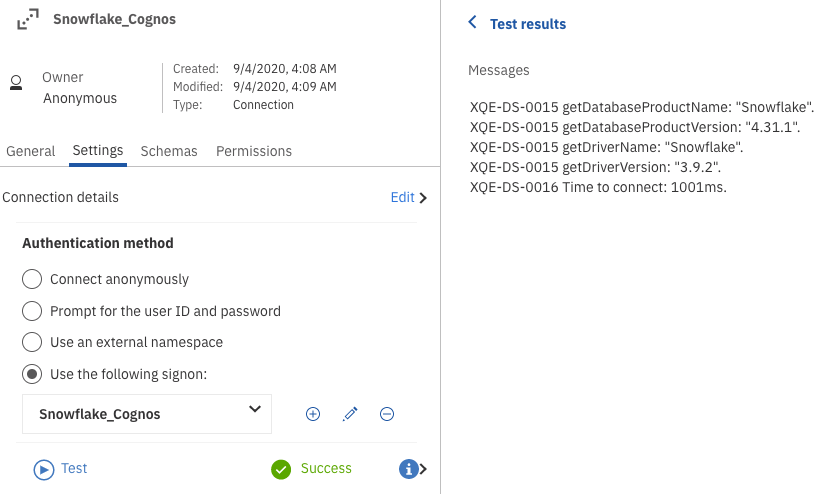 C. JDBC URL with Proxy Server
 "XQE-DS-0006" Unable to logon to the data source, JDBC driver encountered communication Error"
Telnet <your_account_name>.snowflakecomputing.com 443
Please use "Proxy Server" if Cognos installation server cannot communicate with Snowflake Server
Related Information
[{"Line of Business":{"code":"LOB10","label":"Data and AI"},"Business Unit":{"code":"BU059","label":"IBM Software w\/o TPS"},"Product":{"code":"SSTSF6","label":"IBM Cognos Analytics"},"ARM Category":[{"code":"a8m0z000000TN4sAAG","label":"Installation and Configuration->Database"}],"ARM Case Number":"TS004139799","Platform":[{"code":"PF025","label":"Platform Independent"}],"Version":"All Version(s)"}]
Document Information
Modified date:
04 September 2020