Question & Answer
Question
How do you retrieve the Extensible Markup Language (XML) representation of a test artifact in IBM Rational Quality Manager (RQM) project area?
Cause
You would like to perform CRUD (create, read, update and delete) operations [GET | PUT] on RQM artifacts using the RQMUrlUtility
Answer
1. Get the version of RQM in use from the web UI at Help > About this application.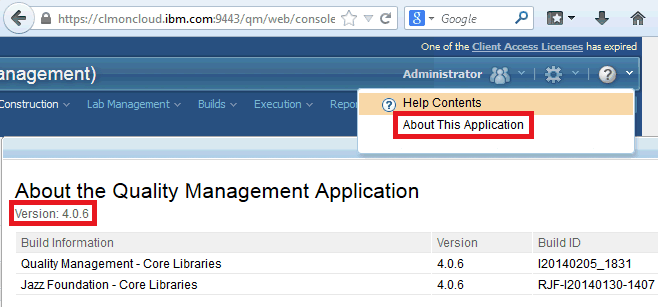 2. Download the RQMURLUtility zip file (for RQM version in use) from RQM downloads page as shown below for RQM v5.0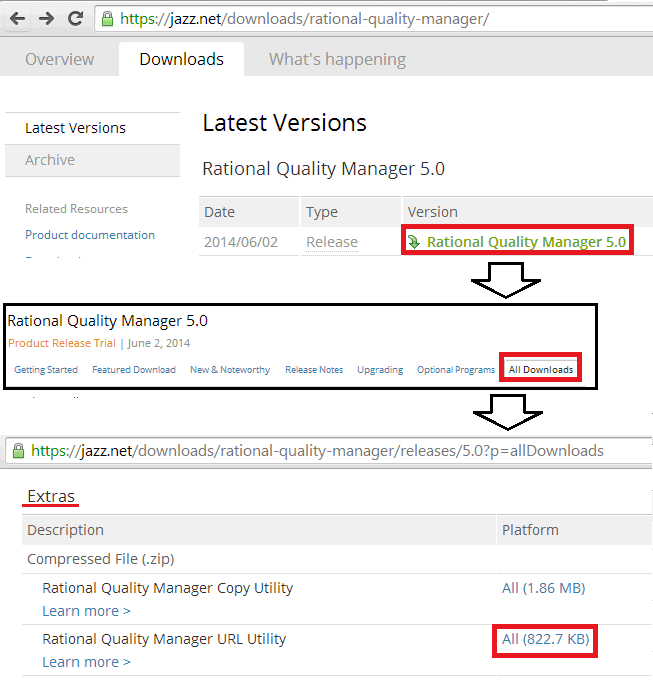 3. Unzip the downloaded RQMURLUtility zip file on a machine with access to the RQM project areas through Web UI.

4. Get the Web ID of the Test Script (in general Test Artifact) of which the XML is to be retrieved.
5. Run the command (from the directory containing the RQMUrlUtility.jar file) as shown below to GET (retrieve XML representation) of the test artifact.
java -jar RQMUrlUtility.jar -command GET -user JazzAdminsUserUserID -password JazzAdminsUserPassword -filepath pathtoFile -url URL
where :
-command : HTTP CRUD method (GET/POST/PUT/DELETE)
-user : Login User ID for a user with JazzAdmins role
-password : Password for User ID
-filepath : Complete path of file to which data will be written after GET operation
-url : Https/Http Url reference to the RQM test artifact.
The URL supplied is of the form,
integrationUrl/resources/projectAlias/resourceType/resourceURN
The IntegrationUrl is as shown below...


contextRoot of the Rational Quality Manager application is:
/jazz : For RQM v1.x and 2.x
/jazz -or- /qm -or- /<custom application root selected during CLM install> : For RQM v3.0.1 and higher

The projectAlias is the name used in REST API URL's and can be obtained using the URL as shown below:




The resourceType is as listed in the Resources and their Supported Operations table. In this example, the resourceType to be used is 'testscript'
The resourceURN is required for GET -or- PUT operations on specific Test Artifacts. Eg: urn:com.ibm.rqm:testscript:2
An example command used to retrieve the XML of Test Script #2 from project area "JKE Banking (Quality Management)" is as shown below.
Note : Ensure 'java.exe' location "..jre/bin" is added to System 'Path' before executing the command.
Similarly, the GET operation (retrieve XML) of other RQM Test Artifacts can be performed by replacing the URL and other relevant details in the command shown in Step 5 above.
For more example REST API URL's refer
OSLC and REST APIs: "Cheat sheets" / "How To" for querying RQM 4.0 resources
> table "
3. "Cheat sheet" for accessing test resources through REST APIs.
"
Related Information
[{"Product":{"code":"SSUVV6","label":"IBM Engineering Test Management"},"Business Unit":{"code":"BU059","label":"IBM Software w\/o TPS"},"Component":"Adapters","Platform":[{"code":"PF002","label":"AIX"},{"code":"PF016","label":"Linux"},{"code":"PF033","label":"Windows"},{"code":"PF035","label":"z\/OS"}],"Version":"2.0.1.1;3.0.1;3.0.1.1;3.0.1.2;3.0.1.3;3.0.1.4;3.0.1.5;3.0.1.6;4.0;4.0.0.1;4.0.0.2;4.0.1;4.0.2;4.0.3;4.0.4;4.0.5;4.0.6;4.0.7;5.0","Edition":"","Line of Business":{"code":"LOB59","label":"Sustainability Software"}}]
Product Synonym
Rational Quality Manager
Document Information
Modified date:
16 June 2018