Question & Answer
Question
Is it possible to hide data using Attribute Restrictions in the Security Groups application?
Answer
Steps:

1. Go to the Security Groups application, "Select Action" menu, and select "Global Data Restrictions":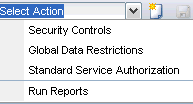 2. Enter a new line:
Object = LABTRANS
Attribute = PAYRATE

Note: To set up a restriction conditionally you can add a pre-existing condition from the Conditional Expression Manager application.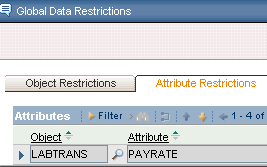 Application = WOTRACK
Type = HIDDEN




3. Go to Work Order Tracking application, bring up an approved work order, click the Actuals tab, and enter a labor line:




Note that the Rate field has been crossed out with hashes to hide the financial / sensitive data.


[{"Product":{"code":"SSLKT6","label":"IBM Maximo Asset Management"},"Business Unit":{"code":"BU055","label":"Cognitive Applications"},"Component":"Security Groups","Platform":[{"code":"PF002","label":"AIX"},{"code":"PF010","label":"HP-UX"},{"code":"PF016","label":"Linux"},{"code":"PF027","label":"Solaris"},{"code":"PF033","label":"Windows"}],"Version":"7.1;7.1.1;7.5","Edition":"Edition Independent","Line of Business":{"code":"LOB59","label":"Sustainability Software"}},{"Product":{"code":"SSLKTY","label":"Maximo Asset Management for IT"},"Business Unit":{"code":"BU053","label":"Cloud & Data Platform"},"Component":"Not Applicable","Platform":[{"code":"","label":""}],"Version":"7.1;7.1.1","Edition":"Edition Independent","Line of Business":{"code":"LOB59","label":"Sustainability Software"}}]
Document Information
Modified date:
17 June 2018