Product Documentation
Abstract
You can refer information in this document to set up a basic High Availability (HA) configuration with Datacap.
Content
Datacap High Availability (HA) Reference Architecture
This is HA reference architecture for Datacap using HAProxy.
HAProxy (High Availability Proxy) is an open source software.
Provides HA LB capabilities for TCP/HTTP based applications.
Popular for load balancing high traffic websites and applications.
HAProxy's default load balancing algorithms is Round Robin.
It also supports algorithms, such as Sticky Sessions, leastconn, healthcheck, and so on.
Also added IHS load balancer for load balancing IBM Content Navigator.
IHS (IBM HTTP Server) comes bundled with IBM WAS.
Datacap HA-LB Logical Architecture with HAProxy load balancers
LB1, LB2, LB3, and LB4 are HAProxy load balancers
Datacap HA-LB Physical Architecture with IHS and HAProxy load balancers
dc.com domain
Datacap HA-LB Logical Architecture with HAProxy load balancers
LB1, LB2, LB3, and LB4 are HAProxy load balancers
Datacap HA-LB Physical Architecture with HAProxy load balancers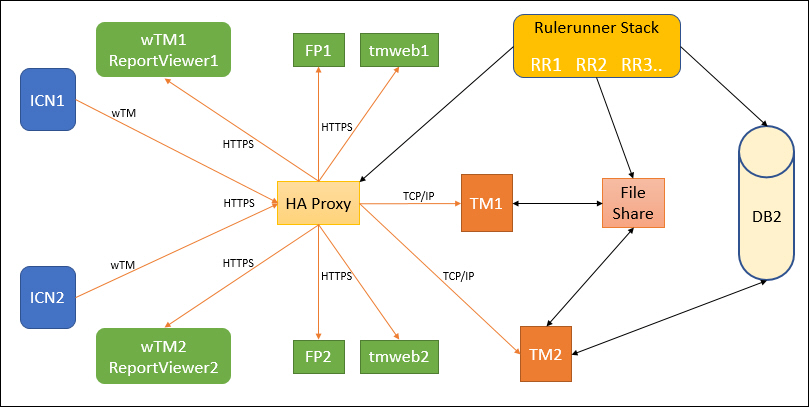 dc.com domain
DATACAP HA-LB Logical Architecture with IHS and HAProxy load balancers
LB1 is a IHS load balancer
LB2, LB3, and LB4 are HAProxy load balancers
[{"Business Unit":{"code":"BU053","label":"Cloud & Data Platform"},"Product":{"code":"SSZRWV","label":"IBM Datacap"},"Component":"","Platform":[{"code":"PF033","label":"Windows"}],"Version":"9.1.1, 9.1.3, 9.1.4","Edition":"9.1.3 Interim Fix 007","Line of Business":{"code":"LOB45","label":"Automation"}}]
Document Information
Modified date:
08 September 2020