Troubleshooting
Problem
Attempting to login to the TKLM GUI results in the error: CTGKM0900E Database connection failed on datasource java:comp/env/jdbc/tklmDS
Symptom
Unable to login to the TKLM GUI
Resolving The Problem
This error indicates a mismatch between the DB2 instance owner's password(typically the tklmdb2 user) and the datasource password. If you change the instance owner's password, you must also change the datasource password to the same value to avoid this problem. Please refer to the "Installation and Configuration Guide", which you can find here:
http://www.ibm.com/support/knowledgecenter/SSWPVP_1.0.0.3/com.ibm.tklm.doc/welcome.htm
and then find the section titled 'DB2 password security issues on systems such as AIX or Linux' for UNIX systems or 'DB2 password security issues on Windows systems' for Windows platforms. This will take you step by step through changing the password for the datasource and resolving the error.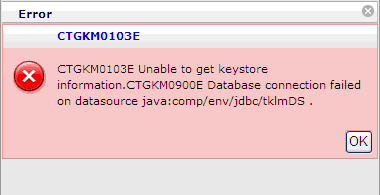 [{"Product":{"code":"SSWPVP","label":"IBM Security Key Lifecycle Manager"},"Business Unit":{"code":"BU059","label":"IBM Software w\/o TPS"},"Component":"Distributed","Platform":[{"code":"PF002","label":"AIX"},{"code":"PF016","label":"Linux"},{"code":"PF033","label":"Windows"}],"Version":"1.0","Edition":"","Line of Business":{"code":"LOB24","label":"Security Software"}}]
Document Information
Modified date:
16 June 2018