How To
Summary
This document explains how to integrate Maximo Spatial with ArcGIS Portal.
Environment
Spatial 7.6.0.4 + TPAE 7.6.1.0 or Spatial 7.6.0.5 + TPAE 7.6.1.1
Steps
1. Create a Map Manager record.
2. Change the provider to Spatial, add a site, and enable it.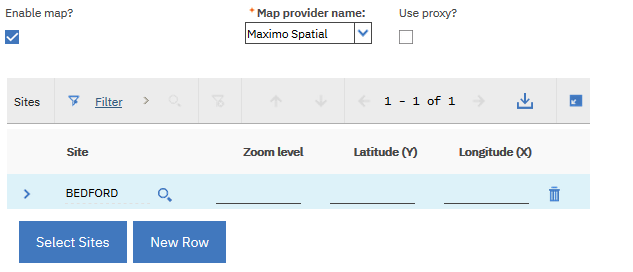 3. In the Web Map Configuration section:
     a. Add your web map. (It needs to be pointing to your Map Server, not you Feature Server.)
     b. Add your ArcGIS Portal URL. (Usually it follows the format "https://<arcgisportal_host>/portal/sharing/rest/content/items".)
     c. Add your Client ID and Client Secret. (The values can be found inside the application in your ArcGIS Portal.)

4. In the Map Security section, add your Default Token User Name and Default Token User Password. (These values are needed if your web map is not public.)
5. Save your Map Manager record.
6. Click Select Map Services and check whether your MapServer that is listed and select it. (In case it's your FeatureServer, this value needs to be corrected in ArcGIS Portal.)
*Note: If you receive a handshake exception or network error when you click Select Map Services, you can add your map certificate to your application server:
https://www.ibm.com/support/pages/node/1111539?lang=en
[{"Business Unit":{"code":"BU059","label":"IBM Software w\/o TPS"},"Product":{"code":"SSG2D3","label":"Maximo Spatial Asset Management"},"ARM Category":[{"code":"a8m50000000CbPaAAK","label":"Industry Solutions->Maximo for Spatial Asset Management"}],"ARM Case Number":"","Platform":[{"code":"PF025","label":"Platform Independent"}],"Version":"All Version(s)","Line of Business":{"code":"LOB59","label":"Sustainability Software"}}]
Document Information
Modified date:
26 June 2020