Troubleshooting
Problem
This document provides information about removing ARP Cache entries from the ARP Table.
Resolving The Problem
At times, network devices can be replaced with new hardware or a new Network Interface Card (NIC) and retain the original TCP/IP address. When the new hardware device or NIC is powered on, connectivity might not occur because of an old ARP cache entry in the IBM® iSeries™ family of servers ARP table. Until the ARP cache entry with the old MAC address and TCP/IP address is removed, communications over TCP/IP will fail.

The easiest way to clear this entry is to use iSeries Navigator. The following steps outline the procedure for clearing an ARP Cache Entry:
1
Open iSeries Navigator.
2
Expand Network.
3
Expand TCP/IP Configuration.
4
Expand IPv4.
5
Click on Interfaces.
6
Right-click on the iSeries family's TCP/IP Interface and select ARP.

Note: The ARP option will work only for an ACTIVE interface.

A new window, similar to the one below, will appear: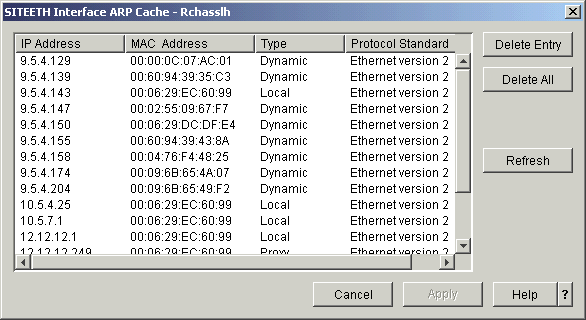 | | |
| --- | --- |
| 7 | Left-click on the TCP/IP address in question to highlight it, and click on Delete Entry: |
After the ARP Cache Entry is removed, try the connection again. If the connection continues to fail, a communications trace is recommended for troubleshooting.
Note:
The duration that an entry resides in the ARP cache is defined by the
ARP Cache Timeout
(ARPTIMO) value in the
CHGTCPA
command.
[{"Product":{"code":"SWG60","label":"IBM i"},"Business Unit":{"code":"BU058","label":"IBM Infrastructure w\/TPS"},"Component":"Communications-TCP","Platform":[{"code":"PF012","label":"IBM i"}],"Version":"Version Independent","Edition":"","Line of Business":{"code":"LOB57","label":"Power"}}]
Historical Number
367734615
Document Information
Modified date:
18 December 2019