Troubleshooting
Problem
Document with info about logo change in Maximo
Resolving The Problem
Have you asked yourself about this ?

How can I change the logo in my Maximo Login Page to my company logo?

Before you connect to Maximo system, you are often taken to a Login Page, with the "Welcome to Maximo" message on it and some logos that can be changed.

Maximo offers the possibility to change the logo to be displayed on the Login Page, so that it can suit your business needs.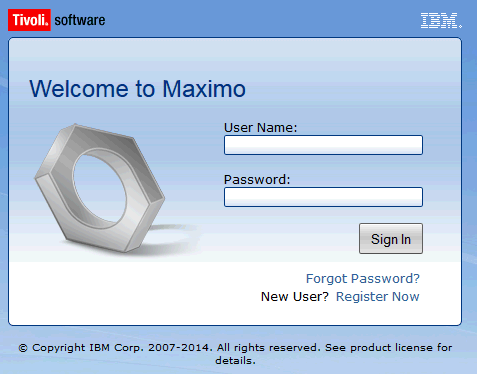 To change those images in a Maximo 7.5 Login page for example, you will have to navigate to the following directory in your Maximo Application server:

<MAXIMO_ROOT>\applications\maximo\maximouiweb\webmodule\webclient\login\images

In the above directory is all the images that appear on the login screen. Here you are the files description :

tivoli_brandmark.png (this is the Tivoli logo)
mx_icon.png (this is the Gear logo)
ibm-logo-white.gif (this is the IBM logo)

You should create a backup of all the 'tivoli_brandmark.png' , 'mx_icon.png' and 'ibm-logo-white.gif' original files.

Then rename the modified images to the same name of the files above and then overwrite/replace the 3 original files within the above directory.
(after you have a backup of them)

Rebuild, Redeploy the MAXIMO.EAR, ensuring that the application cache is deleted.

Also, ensure that the Browser cache is also deleted.

Then, access the Maximo Login screen and the modified image will appear.


Should you need any assistance on this, please contact IBM Maximo Support
[{"Product":{"code":"SSLKT6","label":"IBM Maximo Asset Management"},"Business Unit":{"code":"BU059","label":"IBM Software w\/o TPS"},"Component":"--","Platform":[{"code":"PF025","label":"Platform Independent"}],"Version":"7.5","Edition":"","Line of Business":{"code":"LOB59","label":"Sustainability Software"}}]
Document Information
Modified date:
17 June 2018