Question & Answer
Question
How can you add/delete attributes in the Hover Dialog in Maximo 7.6?
Answer
In order to add/delete attributes in the Hover Dialog, please refer to the example below that applies to the "Person Details" Hover Dialog.
Go to the Work Order Tracking application.
Open a Work Order record that has a Supervisor value.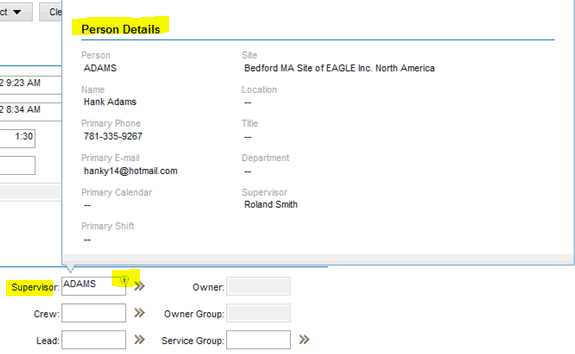 As you can see, the Supervisor field has a Hover Dialog relating to the Person object.
If you want to add a TimeZone attribute and delete a Department attribute on that Hover Dialog, please follow these steps:
1. Go to the Application Designer application.
2. Select Action/Export System XML - Export RECHOVERS.XML
3. In that file, find 'person_recordhover' like below.
4. Delete the Department attribute line and add the TimeZone attribute line, like in the screenshot below. Then save the XML file.
5. Import the saved XML in Application Designer.
6. You can see that the Department attribute has now been removed and the TimeZone attribute has been added in the Person object's Hover Dialog.
[{"Product":{"code":"SSLKT6","label":"IBM Maximo Asset Management"},"Business Unit":{"code":"BU059","label":"IBM Software w\/o TPS"},"Component":"Appl Designer","Platform":[{"code":"PF025","label":"Platform Independent"}],"Version":"7.6","Edition":"","Line of Business":{"code":"LOB59","label":"Sustainability Software"}}]
Document Information
Modified date:
17 June 2018