Troubleshooting
Problem
On Windows 10 machines, IBM SPSS Statistics versions 25, 26, and Subscription are slow to startup.
Cause
Windows Defender scans Statistics files when the application is first launched. The scanning process results in the application taking a long time to start.
Resolving The Problem
Warning: The following steps effectively disable Microsoft Windows Defender from scanning specific application directories. As a result, Windows Defender will be unable to protect/warn against using any harmful files located within the specified directories. Proceed only if you trust that the files and file types located within the specified directories have not been modified or otherwise compromised.
Add the Statistics version folders to the Windows Defender virus & threat protection exclusion list:
On the Windows 10 machines where IBM SPSS Statistics in installed, go to Start > Settings > Update & Security > Windows Security > Virus & threat protection.
Under the Virus & threat protection section, select Manage settings > Exclusions > Add or remove exclusions.
Select Add an exclusion, select Files and Folders as the exclusion type, and then add the following folders as excluded. By default, the folders are installed at: \Program Files\IBM\SPSS\Statistics\<version>
C:\Program Files\IBM\SPSS\Statistics\26
C:\Program Files\IBM\SPSS\Statistics\Subscription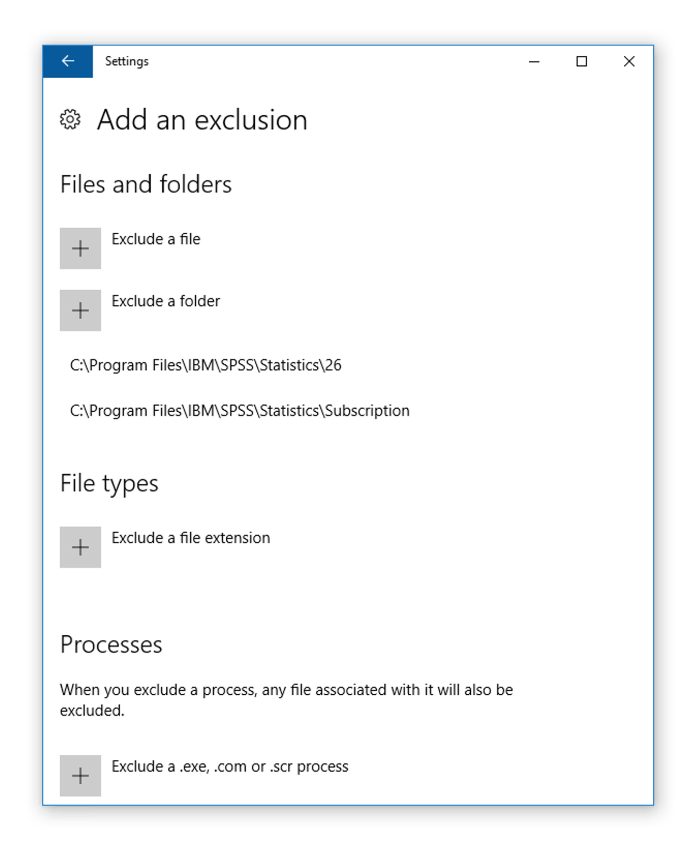 [{"Business Unit":{"code":"BU053","label":"Cloud & Data Platform"},"Product":{"code":"SSLVMB","label":"IBM SPSS Statistics"},"Component":"","Platform":[{"code":"PF033","label":"Windows"}],"Version":"25.0;26.0;Subscription","Edition":"","Line of Business":{"code":"LOB10","label":"Data and AI"}}]
Document Information
Modified date:
08 July 2020