Question & Answer
Question
What are the steps to add another language to Maximo 7.6?
Answer
There are two methods to add an additional language: via the new GUI option and then via the non-GUI method

Option #1:

Additional languages can be enabled via the Maximo 7.6 Installer.

Steps for Windows environment:
From Start > All Programs > Tivoli's process automation suite > Configuration Program

Click "Configure a New Deployment".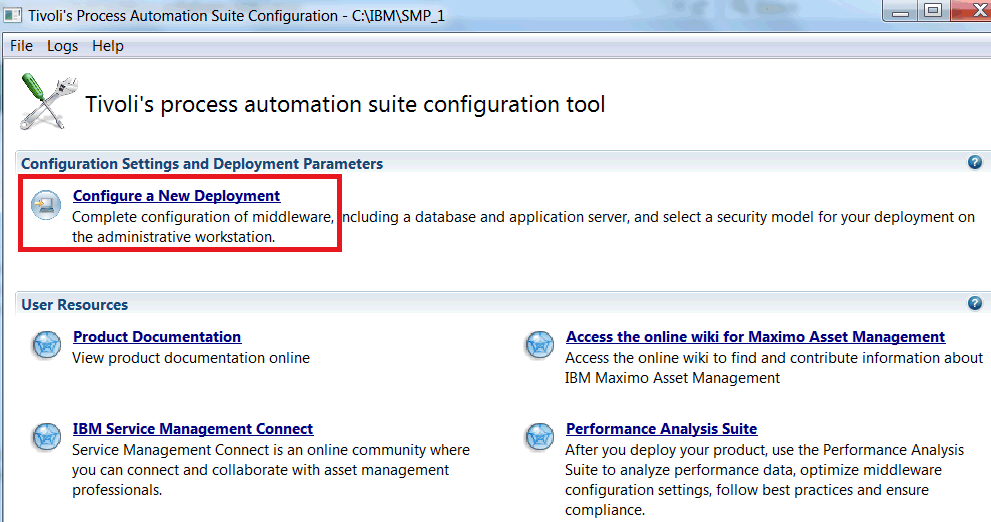 Click the Finish button.

Select "Additional Languages" from the left pane.

Select additional languages and go through the instructions in the wizard.





Option #2:

Manual installation steps:

1. There are archived files that come with the Maximo installation which contain all the necessary XML Localization Interchange File Format (XLIFF) files to deploy for adding different languages to Maximo. Each language has a two-character representation that allows the archive folders to be identified by language.
For example, Simplified Chinese is identified by "zh".

Download the Maximo 7.6 installation files. Navigate to the \\Install\TPAEInstallerRepository\files folder.
Open the xliffs_7.60.20141126-0950.zipp with winzip or 7zip.
Look for the MaximoLangPkgXliff_Zh_CN.zip file.
The XLIFF files from the MaximoLangPkgXliff_Zh_CN.zip file need to be extracted to the \\ibm\smp\maximo\tools\maximo\zh\xliff folder (where Maximo is installed).
Below is a screenshot before extracting the content of the MaximoLangPkgXliff_Zh_CN.zip file to the \\ibm\smp\maximo\tools\maximo\zh\xliff folder:
Below is a screen shot after the content from MaximoLangPkgXliff_Zh_CN.zip has been extracted to the \\ibm\smp\maximo\tools\maximo\zh\xliff folder:
2. Use the Translation Data toolkit (TD toolkit) to
add
a second
language
to the database. The base
language
remains the same, and the other
language
is added as a
second
language
.
Stop the Maximo application server from the Websphere console
Open a command prompt on the application server
Navigate to the \\ibm\smp\maximo\tools\maximo directory
Run the command: TDToolkit -addlangZH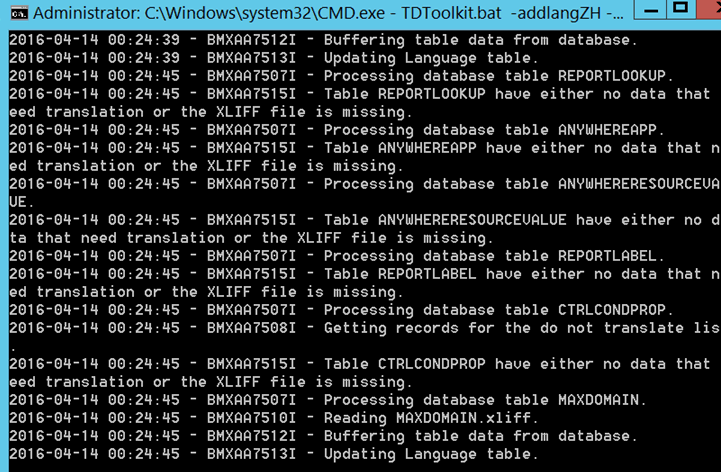 When the task completes, restart the application server.
Go to the Maximo login page. A second language can now be selected from the "Select Language" drop-down selection.
The login user will be presented with a Chinese Start Center after logging in to Maximo.
Related Information
[{"Product":{"code":"SSLKT6","label":"IBM Maximo Asset Management"},"Business Unit":{"code":"BU055","label":"Cognitive Applications"},"Component":"System: User Interface","Platform":[{"code":"PF025","label":"Platform Independent"}],"Version":"7.6","Edition":"","Line of Business":{"code":"LOB02","label":"AI Applications"}}]
Document Information
Modified date:
17 June 2018