For decades, power was something the average person did not think much about.
Until it went out. And then it was all you thought about...until it came back. Not any more.
Climate change, rising energy prices and technology advances are all forces that have been reshaping the collective mindset of consumers, turning many from "passive ratepayers" to highly informed, environmentally conscious customers who want a role in using power. And now, with the emergence of the technologies that make smart grids possible, companies can provide their customers with the information and control they need to actually change their behavior patterns and reduce usage and costs that show up on the utility bill.
Entering the digital age
IBM is helping utilities add a layer of digital intelligence to their grids. These smart grids use sensors, meters, digital controls and analytic tools to automate, monitor and control the two-way flow of energy across operations—from power plant to plug. A power company can optimize grid performance, prevent outages, restore outages faster and allow consumers to manage energy usage right down to the individual networked appliance.
Smart grids can also incorporate new renewable energies such as solar and wind power, and interact locally with distributed power sources, or plug-in electric vehicles.
2011 IBM Global Utility Consumer Survey: What do consumers really think about energy?
More than 10,000 responses from 15 countries worldwide produced the results of the third Global Utility Consumer Survey. Between September 2010 and February 2011, survey participants answered up to 35 questions each, revealing their understanding of and expectations about the smart grid, smart meters, energy costs and ways to save energy.
Events and Webcasts
Join IBM at CEPSI 2014, Oct 26 - 30, Jeju, Korea
---
A series of conversations for a smarter planet
Smarter power for a smarter planet (227KB)
---
Smarter Energy POV
Transforming the energy value chain
---
Smarter Energy Virtual Briefing Center
Energy companies around the world are implementing more efficient grids and finding creative approaches to saving energy. Register at the Smarter Energy Virtual Briefing Center to watch presentations that feature industry experts and executives from innovative companies.
People for Smarter Cities
---
Smart Grid
Power in numbers: The fourteen-member Global Intelligent Utility Network Coalition advances
the smart grid worldwide
In 2007, IBM formed a coalition of innovative utility companies to accelerate the use of smart grid technologies and move the industry through its most challenging transformation. The Global Intelligent Utility Network Coalition wants to change the way power is generated, distributed and used by adding digital intelligence to current systems to reduce outages and faults, manage demand, and integrate renewable energy sources such as wind and solar power. Today coalition members serve nearly 190 million energy customers worldwide, with each utility company bringing unique expertise to the table.
The coalition's first collaborative effort was the creation of a Smart Grid Maturity model, which has been used by utilities around the world to assess current status and plan their own smart grid program. It was donated to Carnegie Mellon's Software Engineering Institute for use by the industry. Other collaborations are focused on the impact of the smart grid on climate change, consumer perspectives, standards and interoperability, and possible future regulatory models.
Read more about Coalition members
---
Smart Grid feature stories
The Battery 500 project seeks a new, "breathing" battery that dramatically increases the range an electric car can travel on a single charge—to at least 500 miles. Read the story.
Analytics-driven smarter wind farms are gaining in efficiency and reliability for powering the grid and fueling electric vehicles. Read the story.
Get the latest thinking on strategies and solutions for securing the smart grid. Read the story.
---
How much electricity do your appliances use?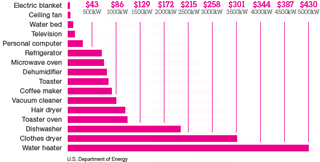 Global Intelligent Utility Network Coalition members
Alliander (Arnhem, Netherlands)
Alliander, the largest network company in the Netherlands, is paving the way for increased adoption and usage of electric vehicles by working with other companies in their ecosystem to provide 10,000 charging points throughout the country by 2012.
CenterPoint Energy (Houston, TX)
CenterPoint Energy Houston Electric is a transmission and distribution company serving approximately 2.2 million consumers in the Houston area, the fourth largest city in the U.S, and operates in an electric deregulated market. The company's Energy InSight Center was one of the first demonstration centers in the world to show the smart meter and outage restoration benefits that can be realized through smart grid technologies.
CPFL (Sao Paulo, Brazil)
CPFL is the largest private company in the Brazilian electric sector and the first company to negotiate carbon credits. CPFL has 7.2 million customers distributed among its 8 distribution utilities. CPFL's generation capacity is 2,961 MW in hydro and 1,153 MW in renewables (wind, sugarcane byproduct, solar). CPFL is the first distribution utility in Brazil to implement a Meter Data Management system and will start operations by remotely collecting data from its Commercial and Industrial clients and then roll it out to the residential clients.
DONG Energy (Copenhagen, Denmark)
DONG Energy is one of the leading energy companies in the Nordics, with activities in the whole energy value chain. They are breaking ground with work on projects to time vehicle charging with the intermittent wind.
Duke Energy - U.S. (Raleigh, NC)
Duke Energy is a fully integrated utility serving Florida and the Carolinas from generation to the consumer. Recently celebrating a century of service in 2008, they are working to improve the efficiency of power flow throughout their system through their work in voltage control and fault location.
E.ON AG (Dusseldorf, Germany)
E.ON is one of the world´s largest investor-owned power and gas companies with facilities across Europe, Russia and North America. E.ON has an ambitious objective: to make energy cleaner and better wherever we operate. E.ON's smart grid pilots are focused on Intelligent Grid Control, and include aspects of customer behavior and participation, wind and PV integration, and intelligent solutions establishing efficient, flexible and active energy networks.
ERDF (Paris, France)
ERDF, the distribution arm of EDF and the largest electricity distribution network in the European Union, is working to capitalize on advanced meter management capabilities to improve network operations, control, maintenance and development.
IBM (New York, NY)
IBM is helping clients around the world to deliver on the vision of a smart grid through its comprehensive approach of end-to-end solutions, informed policy and regulatory initiatives, and broadening awareness of critical areas such as standards. IBM's solutions address the entire energy value chain, water, and gas, and are an important part of the smarter planet initiative.
KEPCO (Seoul, South Korea)
As the sole electric power company in Korea, KEPCO serves 18 million customers. The company has a range of businesses, including an expanding nuclear-generation business, and advanced capabilities in distribution automation. On Jeju Island in Korea, KEPCO is leading the world's largest comprehensive smart grid test bed, which brings together smart technologies in the areas of generation, power grids, electrical service, buildings, and transportation.
Oncor Electric Delivery (Dallas, Texas)
Oncor is a regulated electric transmission and distribution service provider that serves 10 million customers across Texas. Using cutting edge technology, more than 3,000 employees work to safely maintain reliable electric delivery service with the largest distribution and transmission system in Texas; made up of approximately 118,000 miles of lines and more than 3.2 million meters across the state.
PHI (Washington, D.C.)
PHI is one of the largest energy delivery companies in the Mid-Atlantic U.S. with consumers in three states and the District of Columbia. PHI is helping energy customers understand how smart grid technologies and energy efficiency programs will benefit them through their innovative "Day in the Life Of" video segments on their Web site.
San Diego Gas & Electric (SDG&E, part of Sempra Energy, San Diego, CA)
SDG&E is driving the progressive State of California smart grid deployment initiative through its extensive smart meter deployment, now complete, and an array of technology projects designed to benefit customers, the environment, society, and the utility. All residential and business customers have now had their electric meters replaced with smart meters, and their gas meters retrofitted with communications modules. Its customers have installed over 22,000 net-metered generation systems, and over 3,000 electric vehicles. In addition, their work on microgrids, condition-based maintenance and monitoring of substations, and state-of-the-art GIS, OMS, and DMS systems are advancing smart grid on multiple fronts.
TPDDL (Delhi, India)
TPDDL, a joint venture between Tata Power and the Delhi Government, has created a success story of Public Private Partnership Model through innovative initiatives & pioneered technological interventions. This had aided organization to tackle the key sectoral challenges by reducing energy losses by 75% , substation automation, improved reliability by multifold, enhancing consumer services at optimal cost etc.. TPDDL is also taking a leadership role in policy advocacy for promoting Sustainable Smart Grid initiatives in India.
TEPCO (Tokyo, Japan)
TEPCO, the largest vertically integrated electric utility company in Japan, serves approximately 45 million consumers in the metropolitan Tokyo area. For efficiency and optimization of the energy use, TEPCO reforms energy service with customers and society, in a large scale revolution of energy supply and demand structure after the Great Japan earthquake in March 2011.