What IBM Storage Neworking SAN96C-6 can do for your business
IBM Storage Networking SAN96C-6 Fibre Channel Switch provides high-speed fibre channel connectivity for all-flash arrays and supports multicloud environments. It offers state-of-the-art analytics and telemetry capability built into its next-generation Application-Specific Integrated Circuit (ASIC) platform. This switch allows seamless transition to FC-NVMe workloads whenever available without any hardware upgrade in the SAN. It empowers small, midsize, and large enterprises that are rapidly deploying cloud-scale applications using extremely dense virtualized servers, providing the benefits of greater bandwidth, scale, and consolidation.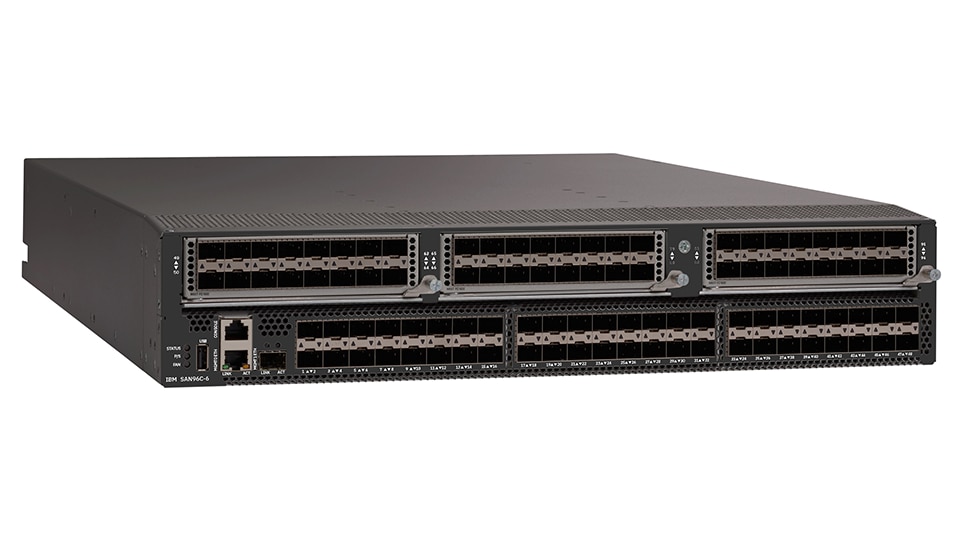 High density and scale
96 32-Gbps line rate Enhanced Small Form-Factor Pluggable (SFP+) ports provide bandwidth of 3-Tbps per switch for hyperscale environments that drive multiple virtual machine instances within the rack.
Fully integrated SAN analytics
State-of-the-art SAN analytics and telemetry data extracted from the inspection of the frame headers are calculated on board and can be streamed to any analytics-visualization platform.
High availability
Equipped with three field-replaceable 16-Port Fibre channel expansion modules that provide high availability, compared to traditional fixed switches with a single ASIC or port group.
Sophisticated diagnostics
Delivers Inter-Switch Link (ISL) diagnostics, HBA diagnostics, network analysis tools, and integrated IBM Call Home capability for greater reliability and reduced service costs.
Virtual machine awareness
Provides visibility into all virtual machines accessing storage LUNs in the fabric. This is available through HBAs tagging the Virtual Machine Identifier (VMID) on every Fibre Channel frame.
Key features of the IBM Storage Networking SAN96C-6
Next-generation ASIC
Intelligent network services
Sophisticated diagnostics
Programmable fabric
Single-pane management
Secure-boot and anti-counterfeiting technology
Capital Expenditure (CapEx) savings
Grow in small increments