Innovation is happening everywhere. It is transforming how and what people purchase, and how they communicate and collaborate. There are ever-greater demands on organizations to innovate faster and at scale. In response, data and analytics are being used to create radical new business models and disrupt traditional industry structures. How are data and analytics driving new ideas and new innovation, and what can executives do to incorporate data-driven innovation more directly into their strategies and initiatives?
In many ways, demand for innovation has become insatiable. Examples of radical innovation abound.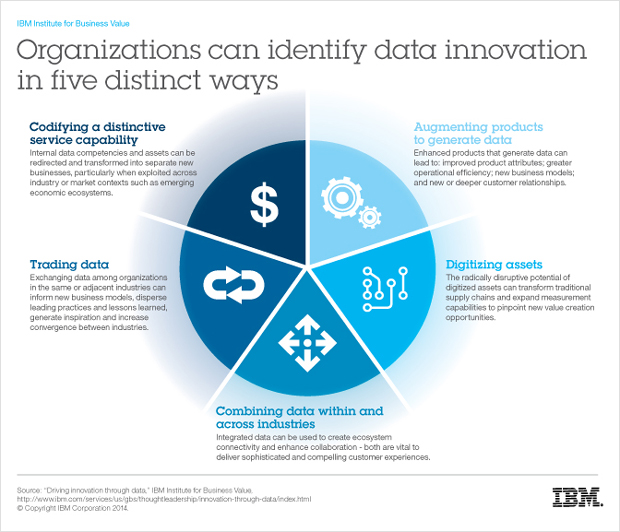 Innovation is becoming ever more disruptive, and big data and analytics has become intrinsic to the way innovation is happening. The recent IBM Institute for Business Value study, "Insatiable innovation," concluded that while innovation of products, services and operations is becoming less sustainably differentiating, innovation of business models continues to be strongly correlated with outperformance: "It's apparent that outperformers are not only engaging in more business model innovation, they are engaging in the more disruptive forms of business model innovation – moving into or creating entirely new industries".1
Outperforming organizations will be those that make data and analytics central to their innovation processes, as well as to the innovation itself. Data promises to provide the input for creative endeavors and new ideas. But the importance of data and analytics will transcend ideation and inspiration. This powerful pairing will become a central part of innovation itself, including dynamic and potentially highly disruptive new business models.
1Marshall, Anthony, Mieke de Rooij and Mauro Biscotti. "Insatiable Innovation: From sporadic to systemic." IBM Institute for Business Value. June 2013. Page 11
Download the IBM Institute for Business Value executive report
About the authors
President, IBM Academy of Technology, IBM Sales & Distribution
Connect with Rashik Parmar

David L. Cohn

Research Scientist, IBM Research

Anthony Marshall

Global CEO Study Program Director and Strategy & Analytics Transformation Leader, IBM Institute for Business Value
Connect with Anthony Marshall
Related IBM executive reports
---
Download the IBV App

Access our latest thought leadership, including C-suite studies and industry insights. Maintain a library, receive regular updates. Explore enhanced content.
---
Sign up to receive monthly e-mail updates on recent papers from the IBM Institute for Business Value.
---
Manage innovation, drive innovation and harness analytics from strategy to execution.