Now needed: Genomic medicine strategies
Since 2001, when the first draft of the Human Genome Project was announced, hope surged for genomic medicine to be a panacea for many health conditions from diagnosis to treatment. Soon after the project was complete in 2003, the early tangible examples of success did not match the high expectations of that time. But today, there is renewed confidence in the healthcare and life sciences industries that the hype could indeed match the hope.
Study highlights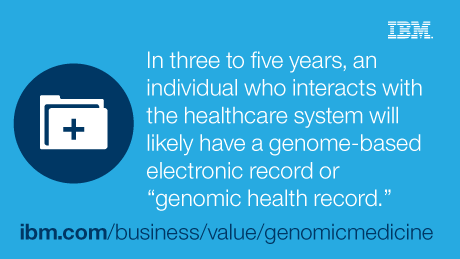 About the authors

Aditya Pai
Associate Partner, IBM Watson Health,
Healthcare and Life Sciences
Takahiko Koyama
Lead Scientist - Watson Genomics
IBM Research

Heather Fraser
IBM Institute for Business Value,
Global Life Sciences and Healthcare Lead
Read related IBM executive reports

Download the IBV App
Access our latest thought leadership, including C-suite studies and industry insights. Maintain a library, receive regular updates. Explore enhanced content.

Sign up to receive monthly e-mail updates on recent papers from the IBM Institute for Business Value.

Transform your organization's value with access to new and unprecedented amounts of data - across populations and at the level of the individual - for deeper insight, personalization and earlier interventions.