The individual-centered economy is already here.
The newest digital technologies – among them social media, mobility, analytics and cloud – keep changing how people, businesses and governments interact. These digital forces enable unprecedented levels of connectedness and so the world is already investing in consumer-centricity. However, these new technologies are truly still in their infancies. The transformation that is already underway will soon intensify, resulting in a paradigm shift from customer-centricity toward an everyone-to-everyone (E2E) economy.
The implication for value creation and allocation will be profound. New IBM research shows that many organizations are still not ready to navigate the E2E environment. To prepare for the radical disruption ahead, companies need to act now to create experiences and business models that are orchestrated, symbiotic, contextual and cognitive.
Study highlights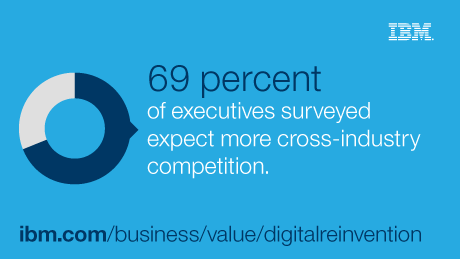 About the authors
Saul Berman
Global Strategy Consulting Service Leaders

Anthony Marshall
Research Director and Strategy Leader
IBM Institute for Business Value
Read related IBM executive reports
Digital Reinvention in action
What to do and how to make it happen
Digital transformation
Creating new business models where digital meets physical
The digital overhaul
Rethinking manufacturing for the digital age

Download the IBV App
Access our latest thought leadership, including C-suite studies and industry insights. Maintain a library, receive regular updates. Explore enhanced content.

Sign up to receive monthly e-mail updates on recent papers from the IBM Institute for Business Value.

Digital Reinvention™: Are you ready?