Data needs a leader
As the new natural resource of the twenty-first century, data has the power to transform industries and business models; but it equally has the power to overwhelm systems and stymie growth. As executives witness data's proven impact on performance and innovation and recognize its strategic significance, they also realize the growing need for a leader whose primary role is to understand and advocate on behalf of data. As a result, leading organizations across industries around the globe are appointing Chief Data Officers to deliver data-driven growth and innovation that matters.
Study highlights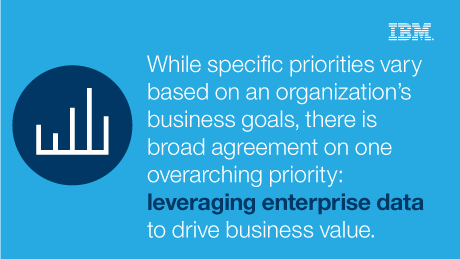 About the authors

Marc Teerlink
Chief Business Strategist,
IBM Watson Group at IBM

Brett Gow
Corporate Transformation Leadership

Kingshuk Banerjee
Associate Partner
Read related IBM executive reports

Download the IBV App
Access our latest thought leadership, including C-suite studies and industry insights. Maintain a library, receive regular updates. Explore enhanced content.

Sign up to receive monthly e-mail updates on recent papers from the IBM Institute for Business Value.

Manage innovation, drive innovation and harness analytics from strategy to execution.