The dynamics of the consumer-vehicle-enterprise relationship are starting to change drastically as traditional industry boundaries disappear. Automotive (auto) enterprises must adapt to how consumers can access vehicles in new ways and use them in their digital lives — and how cars now fit into an increasingly complex web of transportation options.
Interconnectedness is the essence of the creative disruption ahead: between consumers and automakers; between consumers and vehicles; and among traditional and non-traditional participants in the industry ecosystem. Looking toward 2025, the enterprises that welcome openness are setting the stage for success.
Study highlights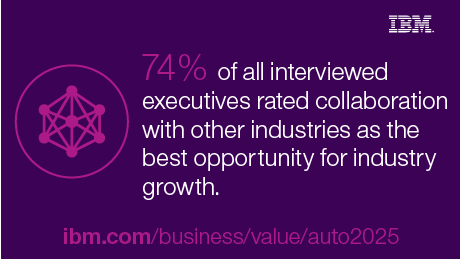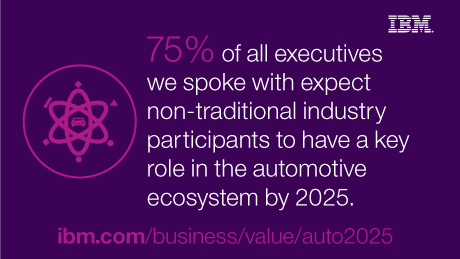 About the authors

Ben Stanley
Global Automotive Leader,
IBM Institute for Business Value

Kal Gyimesi
Automotive industry Marketing Leader,
IBM Software Group
Read related IBM executive reports

Download the IBV App
Access our latest thought leadership, including C-suite studies and industry insights. Maintain a library, receive regular updates. Explore enhanced content.

Sign up to receive monthly e-mail updates on recent papers from the IBM Institute for Business Value.

Leverage our deep automotive industry expertise and solution portfolio to develop intelligent, sustainable vehicles, expand service opportunities to exploit increasing vehicle connectivity, deliver personal and immersive customer experiences, and predict and avert manufacturing and supply chain disruptions.